August 11, 2015 We visited Sawako Daichi, who is demonstrating her work at Aoyama Square.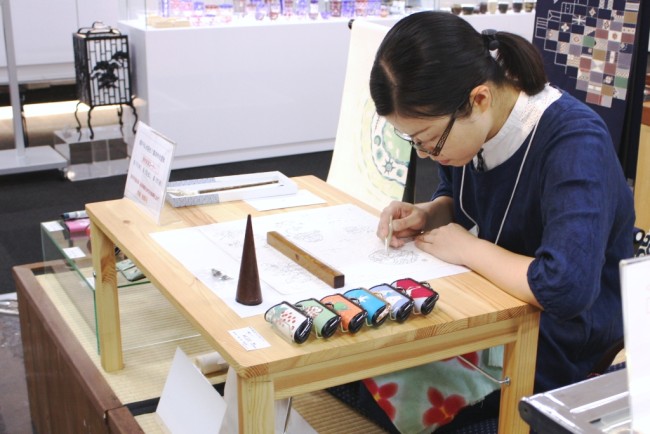 Tokyo Teki Yuzen Craftsman: Sawako Daji
Tokyo Hand-drawn Yuzen is a traditional craft that performs the process from conception,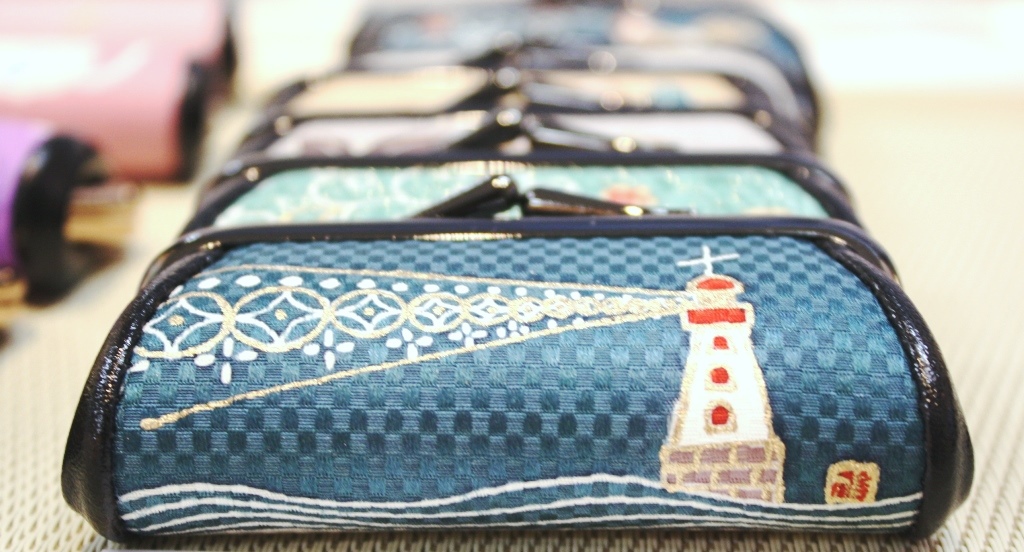 design, sketching, itomi glueing, yuzen color insertion, and finishing by one person. It is also a culture that has been in Tokyo since the Edo period.
We spoke with Daechi, a young man of Tokyo Teki Yuzen.
How I started Tokyo Teki Yuzen
Daechi has always loved drawing and traditional crafts.
After graduating from university, I went to a traditional craft exhibition held in Nakano-ku, Tokyo, and I decided to enter this industry.
The process was also very interesting, and it was a story like Tokyo Tetsuki Yuzen invited Daji.
Tokyo Teki Yuzen I met while visiting
Daichi, who met Tokyo Hand-painted Yuzen at a traditional craft exhibition in Nakano-ku, Tokyo, asks the craftsman how to get into this industry. The traditional craftsman advised me to go to Kyoto because I am not recruiting in Tokyo right now.
Daichi-san is going on an overnight trip to Kyoto at once.
That's where Kihachi Tabata, who is also known as a master of Kyo-Yuzen, met.
The answer was not so good though it was Mr./Ms. Daichi who consulted Mr./Ms. Kihachi Tabata. I wish my parents' home were in Kyoto, but I moved to Kyoto alone from Tokyo and was told that it was quite tough to enter this industry.
However, Kihachi Tabata said, "I'm in Tokyo, so why don't you ask if you can get an apprentice to Tokyo Teki Yuzen?" and gave me a letter to the president of Tokyo Teki yuzen.
Mr. Daji, who returned to Tokyo, gives a letter to the president. The president asked me, "I'm not recruiting now, but why don't you send your resume to the association?" and decided to send me my resume.
After a while, I got a voice from Professor Sadao Ogura, who is doing Tokyo Teki Yuzen.
Mr. Daji immediately went to the workshop because he said, "We are not recruiting, but would you like to visit the workshop?"
It turns out that mr./Ms. Daichi was a predecessor of Mr./Ms. Kihachi Tabata who met in Kyoto very while talking variously with Mr./Ms. Sadao Ogura in the studio.
Daichi-san was finally able to enter the world of Tokyo Hand-drawn Yuzen because it was "the edge of something".
It's not just cute, it's not just beautiful, it's a design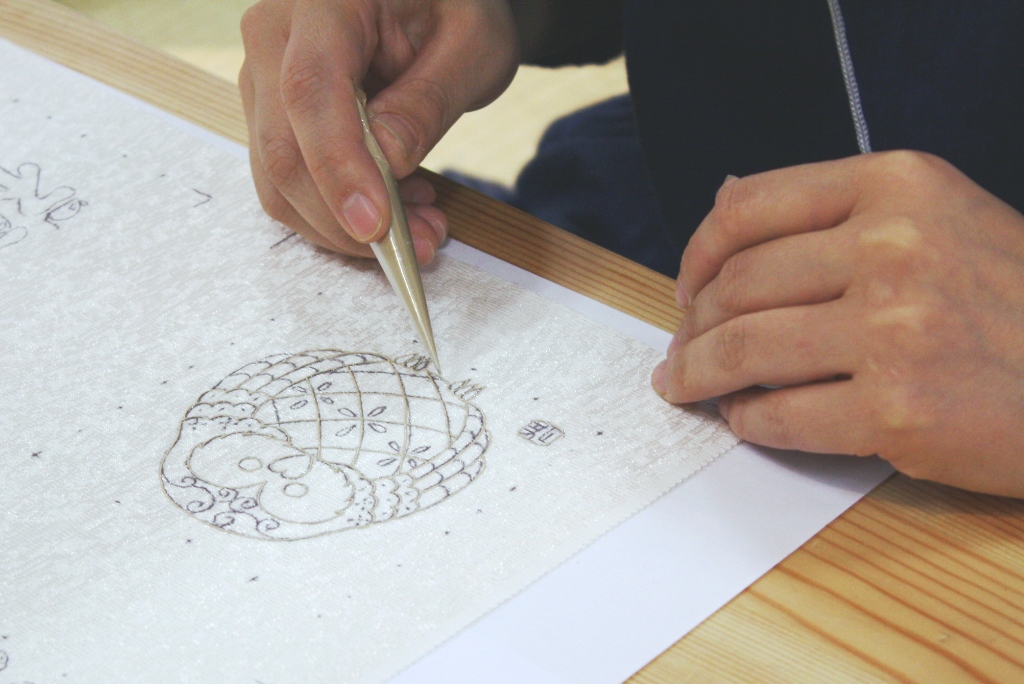 The most popular owl that Daichi-san designs.
Owls are said to be "hardship" and "Fukurai", and there are also aspects of lucky charms for good luck and fortune improvement. Everything Dachi-san designs has something to do.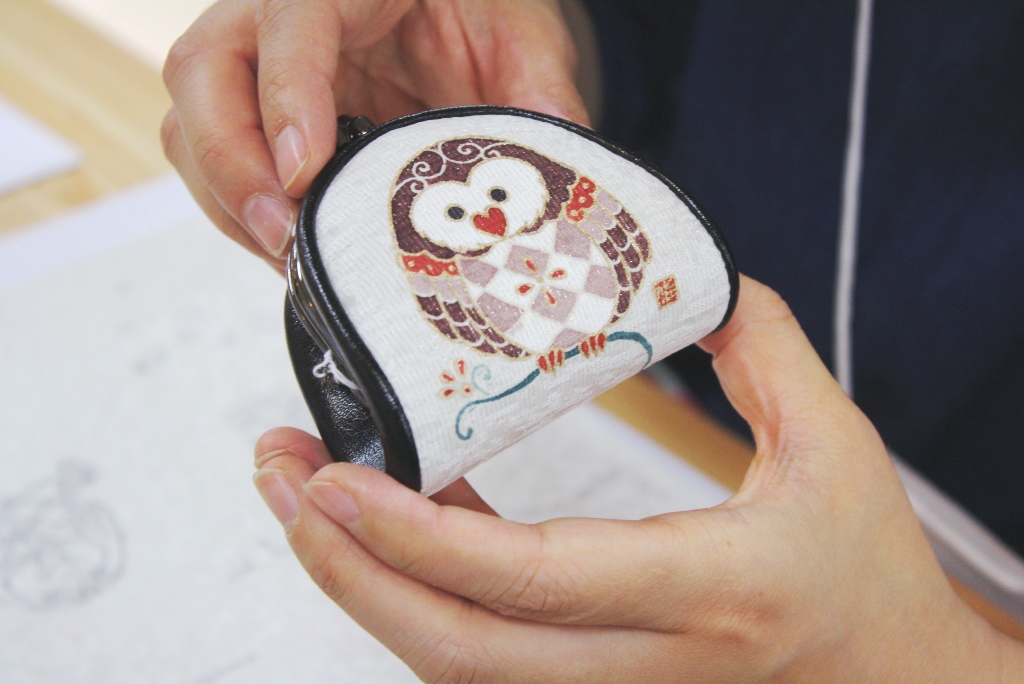 There are many types of owl designs, and this owl appears in various places of accessories and kimono.
To make the person who has it and the person who wears it happy
Shingenbukuro of the new work 12 months ~ Koinobori ~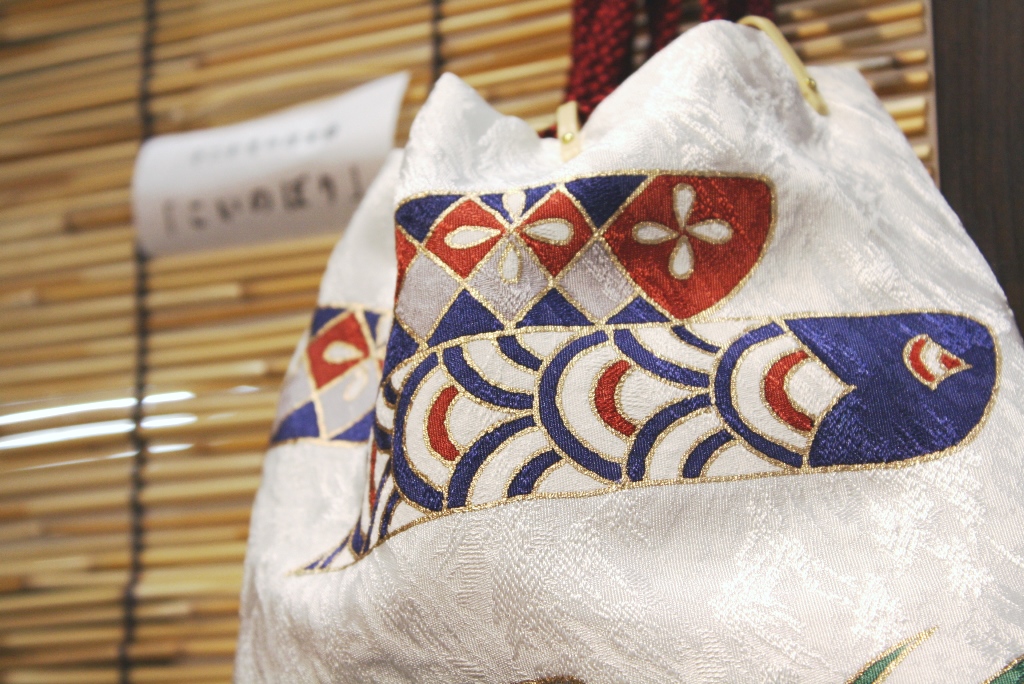 Daechi's goal of Tokyo Hand-drawn Yuzen is designed so that people who have it will want to see themselves in a mirror.
It was a little different from wanting to show off to people, and I was talking about how I could make something that would make me laugh with "suku" because there is play in the design.
12-month-long Shingenbukuro – Sesetsubebe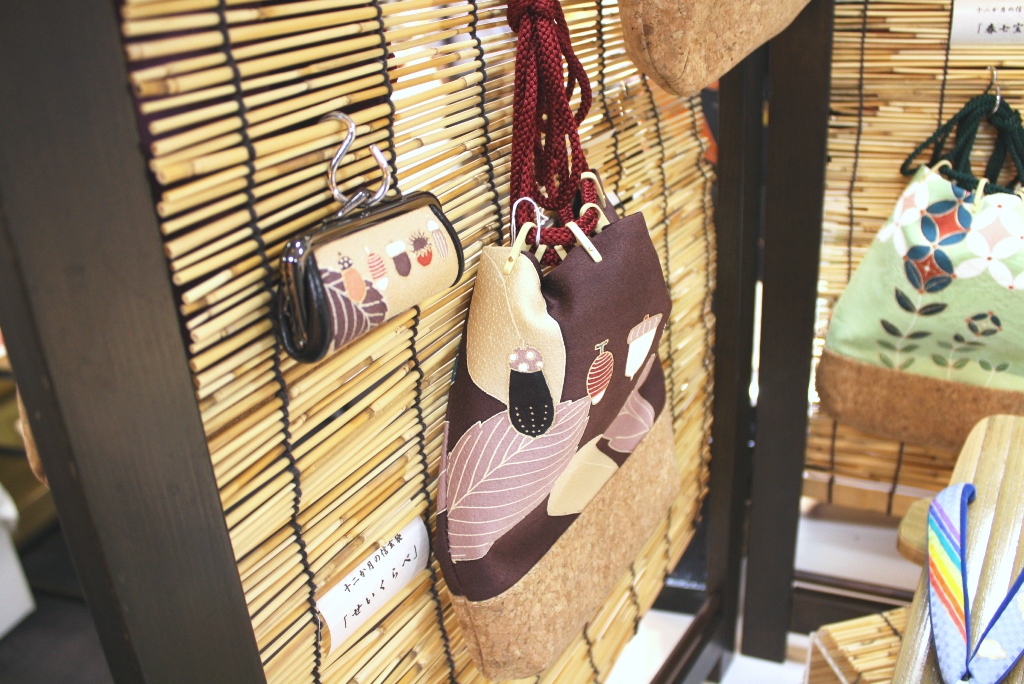 Originally, Tokyo Hand-drawn Yuzen is a stylish design of Edo. The good thing about Tokyo Hand-drawn Yuzen is that you design even a little pun.
Daechi-san is making things together with such a traditional way of thinking and a young feminine sense, so a cute but not-only wonderful Tokyo hand-drawn yuzen is born.
Other twelve-month Shingen bag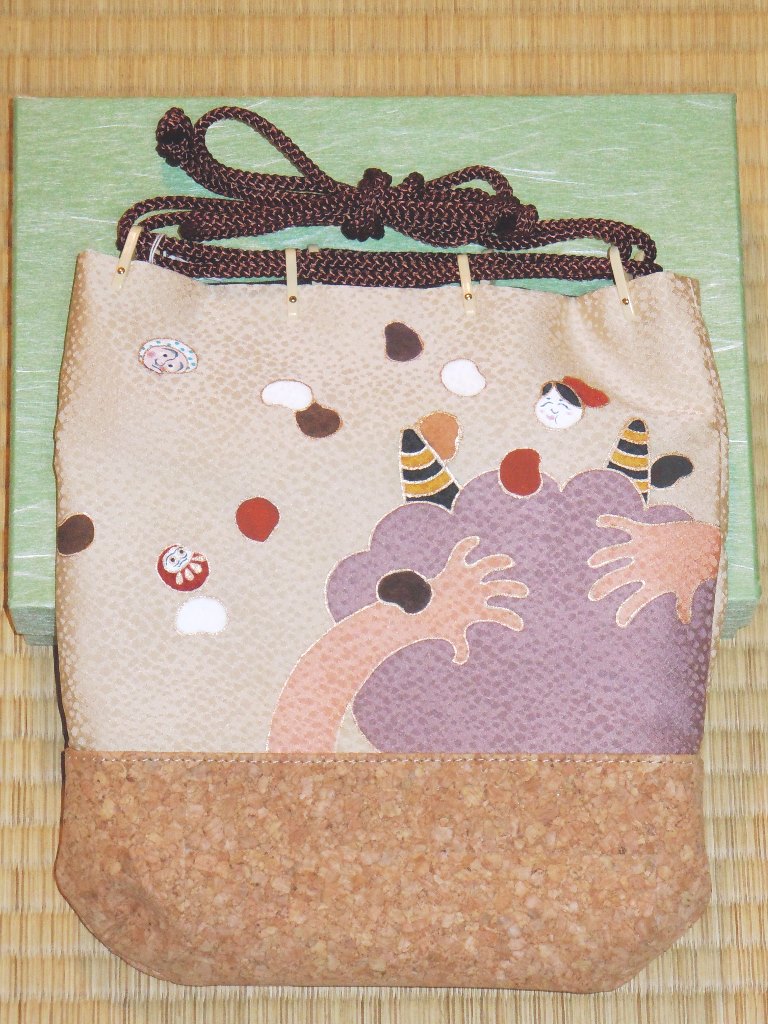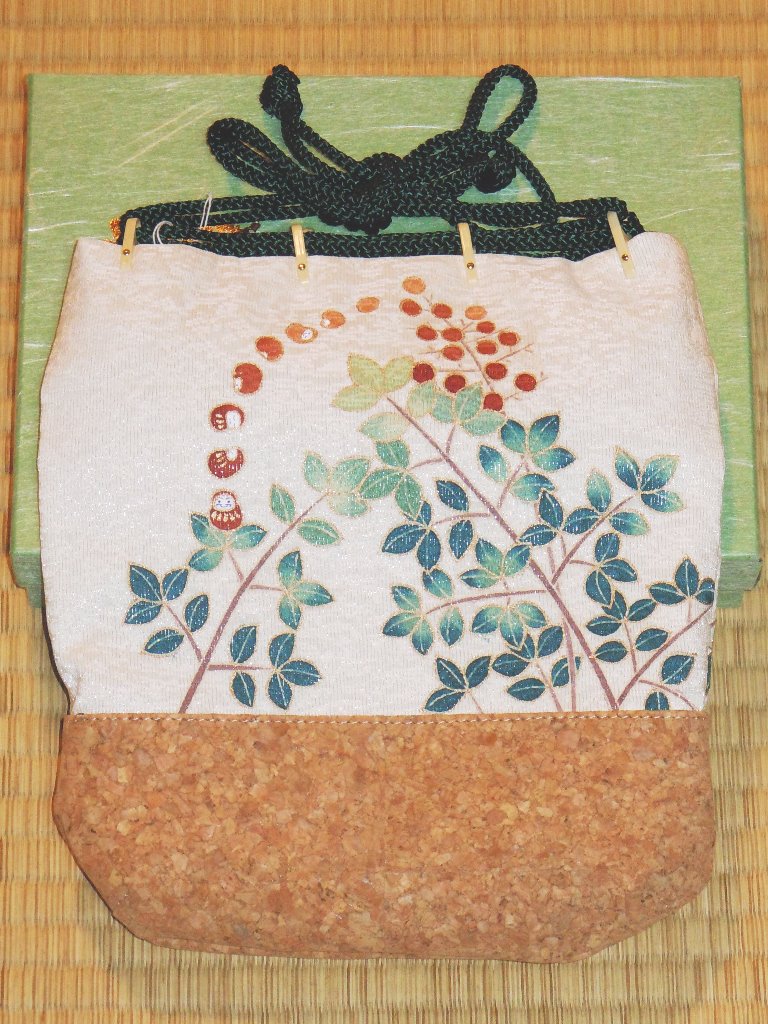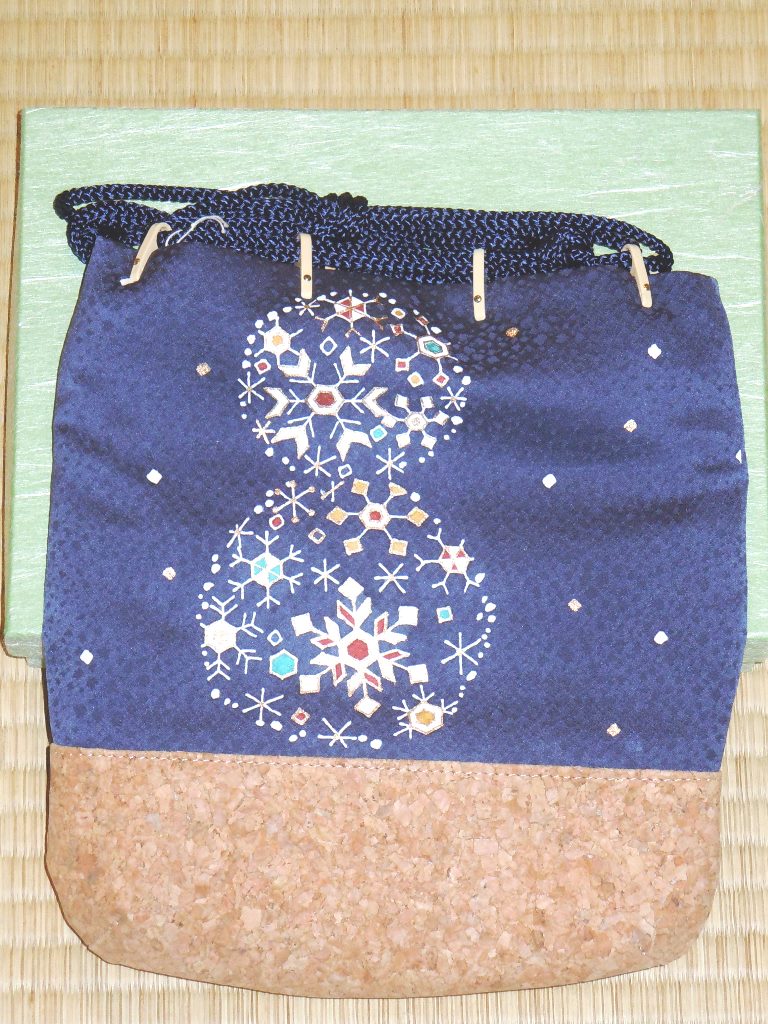 Fukuhauchi / Nanten Daruma / Winter Daruma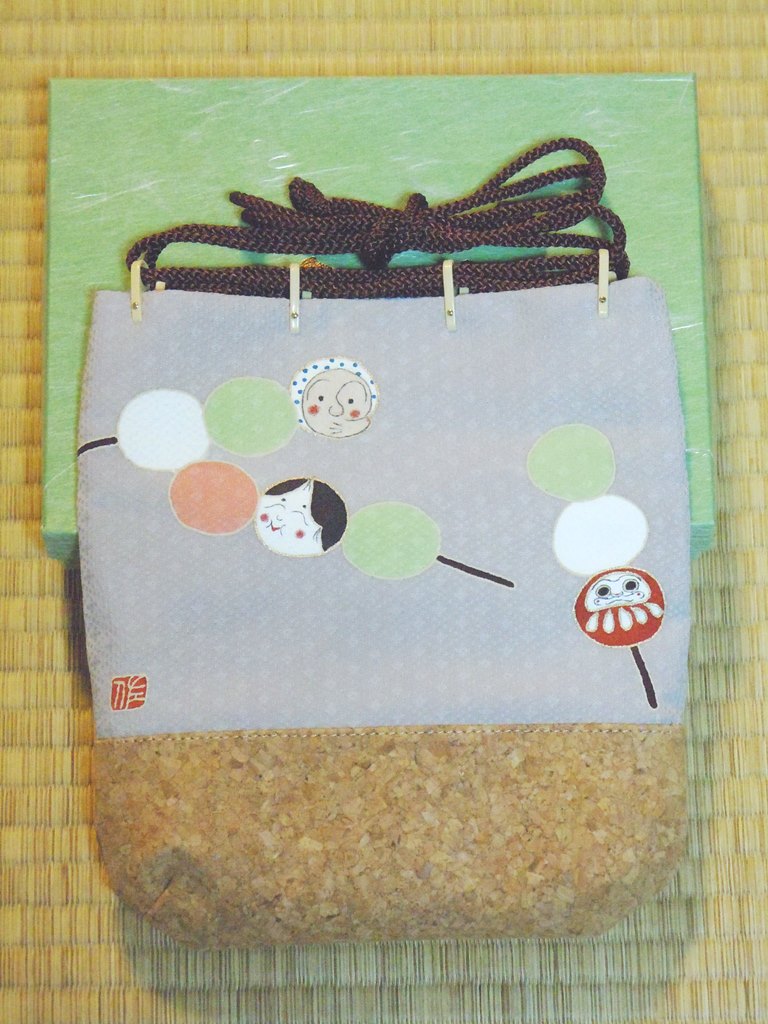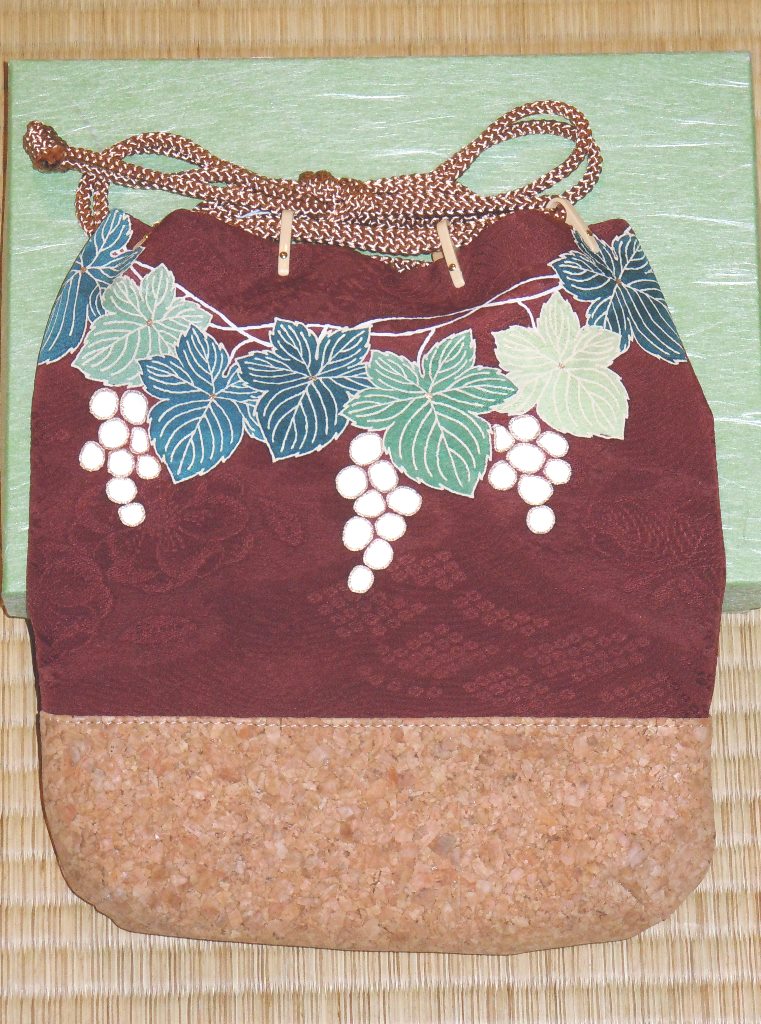 Wish/ Cherry Blossom Viewing Dango / Toast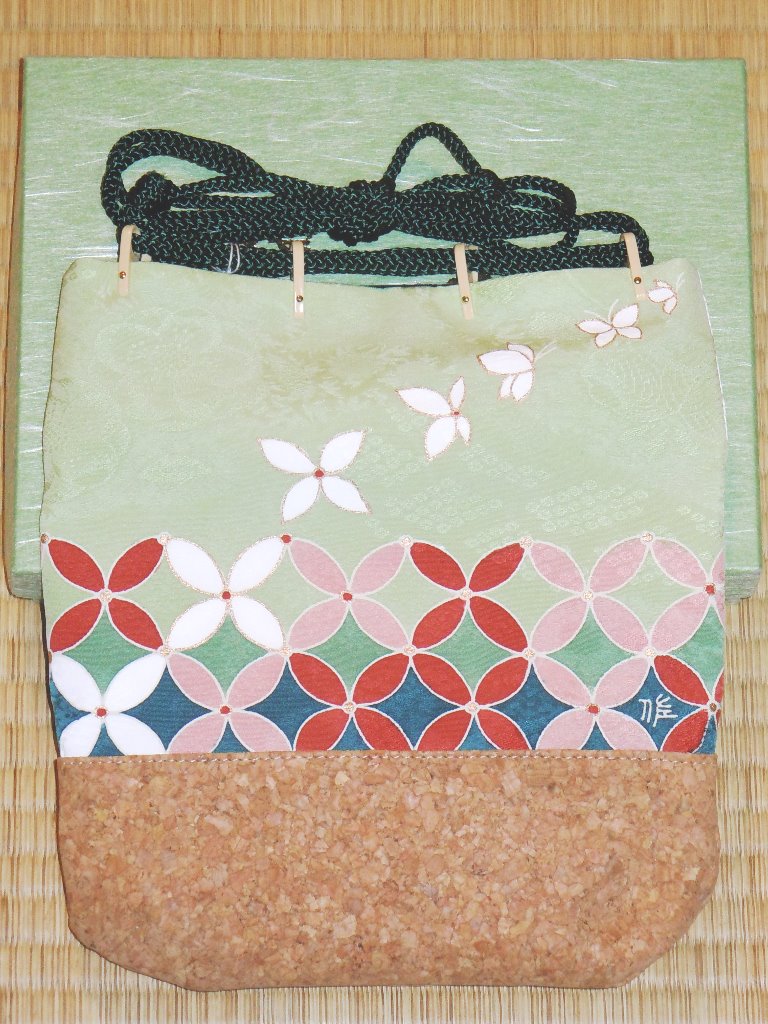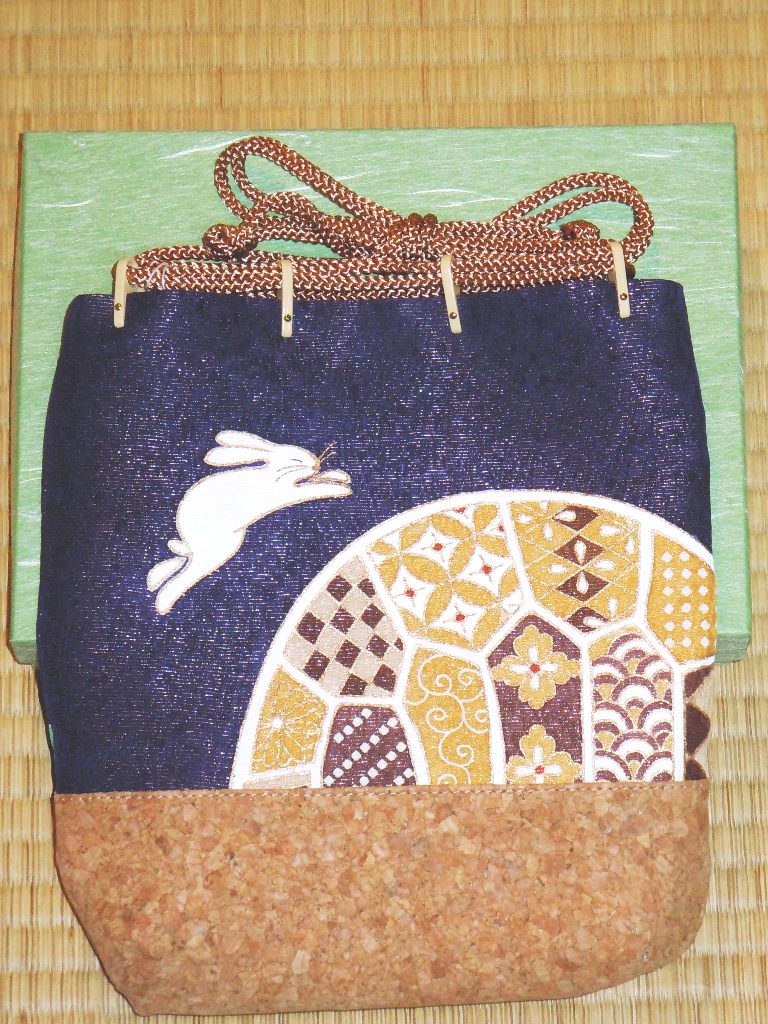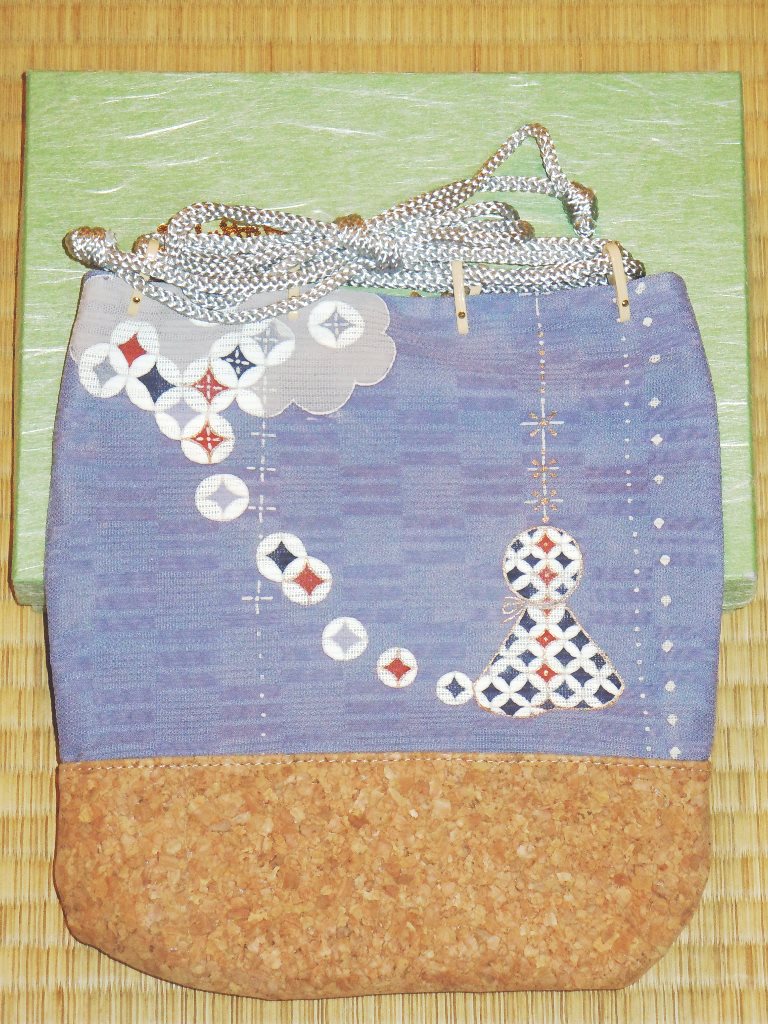 Spring Cloisonne / Moon, Rabbit and Turtle / Tomorrow's Weather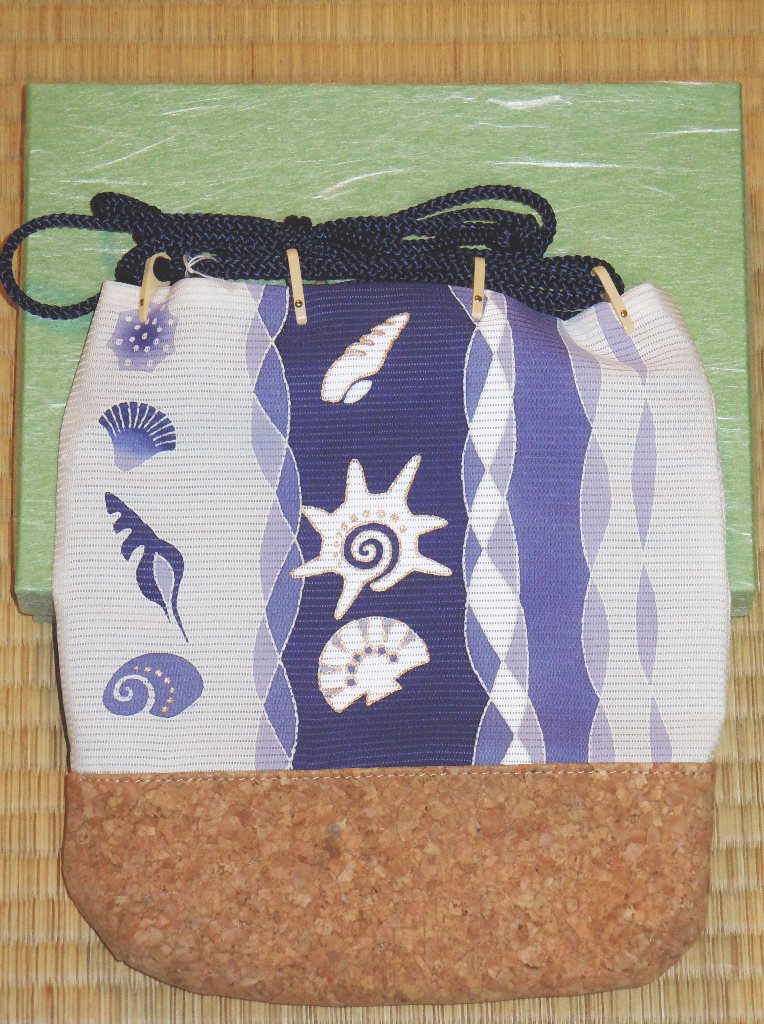 To the sea
Each pattern of 12 months' worth of Shingenba is made with their own thoughts.
I will continue to work hard and steadily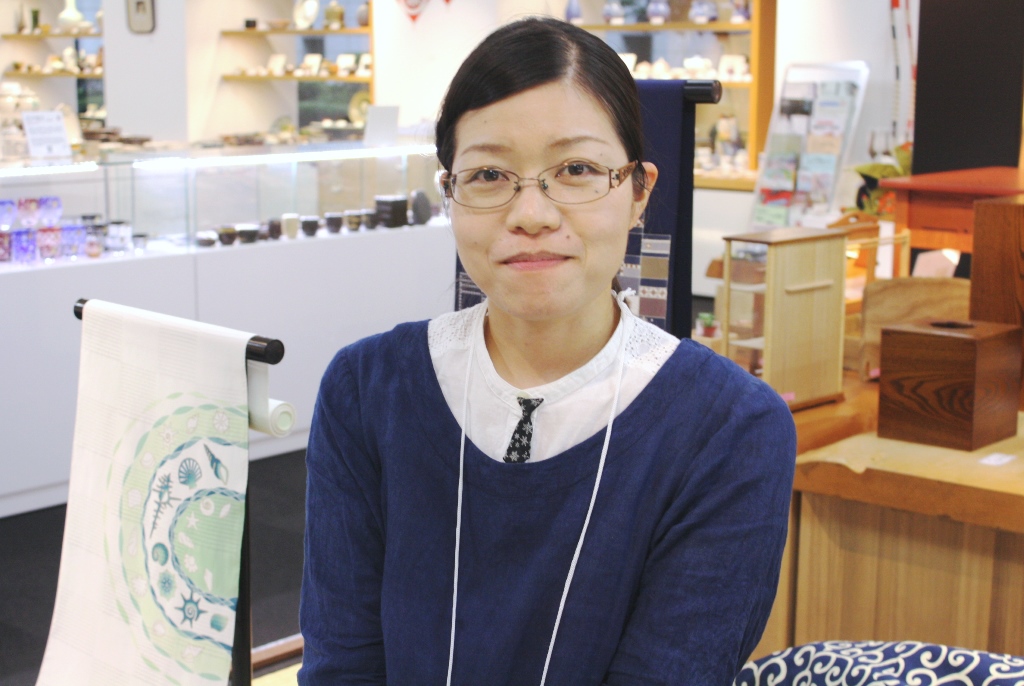 Now that his training days are over, Daichi-san was able to have his own workshop.
He is also part of the Tokyo Teki Yuzen union, and he has finally become an associate member from April of this year.
There are still many things that I have to do to live in this world in the future, but I want to do my best, and he was a person who had a passionate heart like a young craftsman.
When I asked him how big he wanted to make it a workshop, he didn't seem to think about making it too big right now, so he just wants to solidify his feet and work carefully on the work in front of him.
As for his disciples, he answered with a smile that he would like to pass on the hand-drawn Yuzen technique that he continued when he became a full-fledged student to the next generation.
Tokyo Teki Yuzen seems to have surprisingly many people of the same generation as Daji, but there seems to be few generations under Daji,and it seems to be a little uneasy in the future.
Daichi-san will continue to demonstrate his production at aoyama square events and department store events, so it may be a good idea to talk to yourself and take a look at the world of Tokyo Hand-drawn Yuzen.
Daichi-san is demonstrating his production at Aoyama Square on Saturday, August 15 and Monday, August 17.
Click here for the "Tokyo Craft Dyeing Cooperative" to which Mr. Daichi belongs
http://www.tokyotegakiyuzen.or.jp/