CJETT/Central Japan Experts, Travel and Trading, Corp., based in Hida-Takayama (f Gifu Prefecture) aims to introduce the real Japan overseas and deepen understanding of Japan and the Japanese people. Through our travels, we will introduce to the world a wide range of techniques such as the craftsmanship that Japan is proud of, the people who pass them on, and how they blend into the lives of the Japanese people, and contribute to connecting Japan and the world through excellent traditional crafts and art works woven together by the skills cultivated in the Japanese climate over the years.
◎Press release date and time, etc.
and
June 29, 2022 (Wed) 10:00 a.m. ~
Where?
Takayama City Cultural Center 4-9 (Showa-cho, Takayama-shi, Gifu)
How to participate
Attend the venue or
Join online using Zoom
zoomURL
Topic: Hida Takayama Inbound Business Launch Press Announcement (Seajet Co., Ltd.)
Time: June 29, 2022 10:00 AM Osaka, Sapporo, Tokyo
Join a Zoom meeting
https://us02web.zoom.us/j/88363369980?pwd=N1plem5LUEtIOWNNQVFFZGRsTTNpZz09
Meeting ID: 883 6336 9980
Passcode: 213446
※ There is also a convenience of preparation, so if you want to participate, we would be grateful if you could inform us by e-mail etc.
email akilatanaka@cjett.com
Telephone0577-77-9910
other
On the day, creators who are involved in the creation of traditional crafts from Tokyo to Osaka, who can accept foreign tourists in cooperation with our company, will also participate. (If you are far away, please participate online.)
◎Business Outline
(1) Business operators
SeaJet Corporation
(CJETT Central Japan Experts, Travel and Trading Corp. )
* Central Japan is not a narrow area of the Chubu area, but refers to a wider area of central Japan from Tokyo to Kyoto and Osaka, and is an acronym of an English sentence that expresses the meaning of providing travel and things as an expert in that area.
(2) Outline of the project
"Foreigners who are interested in the tangible and intangible traditional culture, climate, customs, background of creation, and human activities unique to Japan, who find value in knowing them more deeply, and who take pleasure in providing compensation for them" are invited to "Japanese life, culture, traditions, customs, etc., which are the foundation of Japanese life, customs, etc., of Japanese life.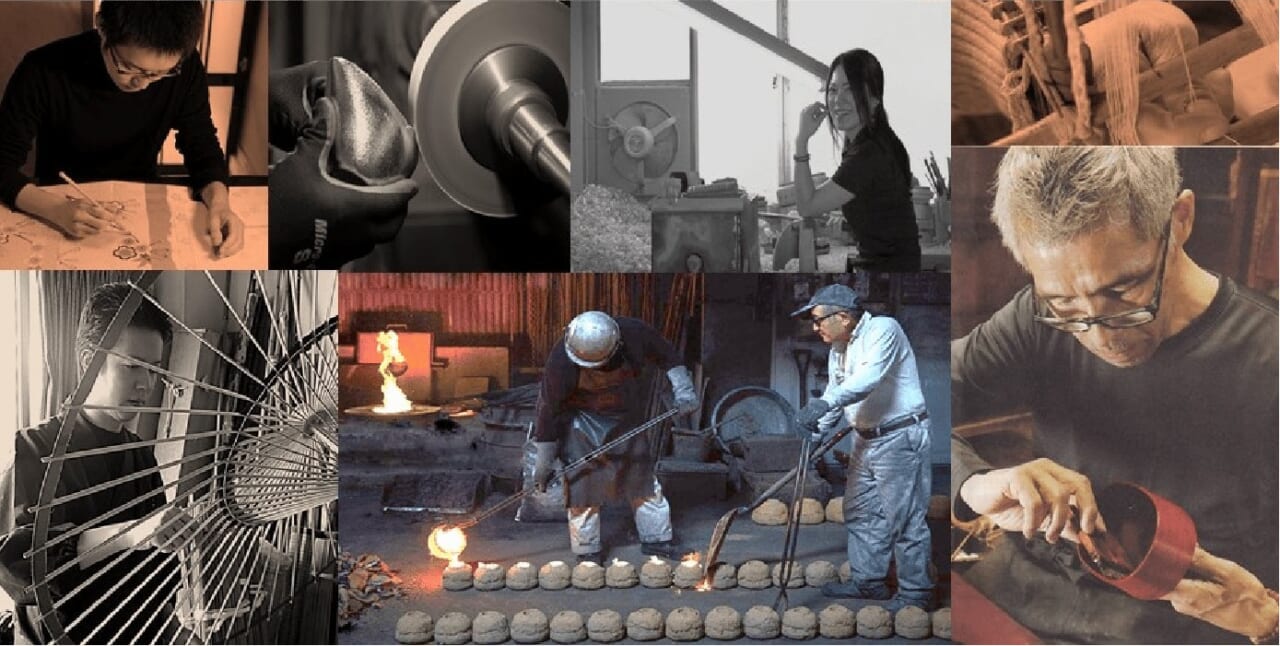 Through a trip around Japan, we will provide an opportunity to touch the deep layers" and "an opportunity to meet the creators of excellent traditional crafts and art works woven by the skills cultivated in the Japanese climate over many years, and to come into contact with the real value by touching, holding and using them."
(3) Business theme
~Encountering Authentic Japan through
Exclusive Private Journeys into the Heart of Japan~
~Meet the real Japan through your own journey that leads to the heart of Japan~
(4) Main targets
The target audience is "foreigners who are interested in the tangible and intangible traditional culture, climate, customs, background of creation, and human activities unique to Japan, who find value in knowing them more deeply, and who take pleasure in providing compensation for them."
(5) Services provided
【Encountering the Japanese Heart through Creation】
Touch excellent traditional crafts and art objects woven by techniques cultivated in the Japanese climate over many years, and pick up
By using it, we provide a trip that can deepen your understanding of Japan and the Japanese people.
◎ Providing opportunities to experience Japanese artisans
~Encountering masters with excellent skills from all over Japan and coming into contact with their stories will bring you to experience authentic value~
◎ Providing opportunities to touch Japanese gems
~Pick up and use gems created by Japanese craftsmen~
【Encountering the Heart of Japan through Travel】
Focus on the background of Japanese life, culture, traditions, customs, etc. that form the foundation of what Japanese people live in
In addition, we provide a journey that touches the deep layers of Japanese life and deepens understanding of Japan and the Japanese people.
◎ Provide opportunities to experience Japanese customs
~Touching the essence of customs (festivals, traditional events, etc.) in various parts of Japan that have been cultivated over many years ~
◎ Providing opportunities to experience Japanese life
~Touching on the essence of what kind of background Japanese people have in their current lives~
(6) Creators to collaborate with (field, shop name, representatives, etc., location)
1 Yukata Chixen Ogawa Shigeyuki Tokyo
2 Edo Woodblock Prints Sekioka Woodblock Print Studio Nobuto Ogawa Tokyo
3 Woodworking Sawmill 639 Satoshi Momose Shizuoka City, Shizuoka Prefecture
4 Enshu Weaving Warmth Workshop Ōtaka Asahi Hamamatsu City, Shizuoka Prefecture
5 Silk Miyazaka Silk Mill Takahashi Koichi Okaya City, Nagano Prefecture
6 Textiles Yamazaki Textiles Yamazaki Hiroyuki Yamanashi Prefecture Minamitsuru District
7 Dyeed Tanned Skin Innocent Kuniyuki Furusawa Nagoya City, Aichi Prefecture
8 Taiko Miura Taiko Shop Yaichi Miura Okazaki City, Aichi Prefecture
9 Scissors and other knives Nikken Blades Yuji Kumada Seki, Gifu
10 Lacquerware Shibata Lacquerware Shop Haruyuki Shibata Takaoka, Toyama Prefecture
11 Orin and tin products, etc. Shimatani Seiryu Workshop Shimatani Yoshinori Takaoka City, Toyama Prefecture
12 Tin products Nohsaku Nohsaku Katsuharu Takaoka, Toyama
13 Silk Products Matsui Kigyo Johanas Noriko Matsui Nanto City, Toyama Prefecture
14 Bronze Items Kanamori Alloy Kamahachi Yuko Takashita Kanazawa City, Ishikawa Prefecture
15 Lacquerware/Makie Nosaku Oka Yoshiyuki Kanazawa, Ishikawa
16 Nakayama Lacquerware EIKO TANAKA STUDIO Eiko Tanaka Kaga City, Ishikawa Prefecture
17 Lantern Mikuni Lantern Itoya Kojima Mariya Sakai, Fukui
18 Omi Ichikanbari Ebiya Kogei Ebiya Ryota Hunan City, Shiga Prefecture
19 Japanese Umbrella Hiyoshiya Nishihori Kotaro Kyoto, Kyoto
20 Kyo Yuzen Ikeuchi Yuzen / SOMEA Ikeuchi Masahiro Kyoto, Kyoto
21 Kyoyu Zen Kazekaze Dyeing Ichima Kobo Yohei Kato Kyoto, Kyoto
22 Kyo Buddha Gus, Orin Nanjo Workshop Kazuya Nanjo Uji City, Kyoto Prefecture
23 Textiles Edge Tree Yarn Shinsaikato Takaaki Kato Osaka-shi, Osaka
24 Japanese Cuisine Susaki Susaki Takao Takayama, Gifu
25 Kirie Yoshiki Yoshiki Kento Takayama, Gifu
26 Hida Harukei Painting Traditional Craftsman Nobuyuki Kumazaki Takayama City, Gifu Prefecture
27 First Place, One Sword Carving Higashi Naoko Higashi, Takayama, Gifu
28 Agriculture Terada Farm Mayumi Terada Takayama City, Gifu Prefecture
29 Miya Carpenter Hachino Carpenter Yasuaki Hachino Takayama, Gifu
30 Woodworking Furniture/Forest FUSHI Makino Yasuyuki Takayama, Gifu
(7) Company Profile
Name
SeaJet Corporation
Incorporation
April 14, 2021
Travel Agency Registration
June 8, 2021
Gifu Prefectural Governor's Registration, Travel Agency No. 2-359
Homepage (English)
https://cjett.com/
(8) Outline of Representative
Mr. Akira Tanaka
Biography
Born in 1961 in Takayama, Gifu Prefecture
After graduating from university, he worked for a trading company in Tokyo and was in charge of trade.
After leaving the company, he worked at Takayama City Hall
After working in charge of international exchange, he served as Deputy General Manager of the Kusano Branch, General Manager of the Regional Development Office (section manager level), and Regional Policy Division Manager, and from April 2011 to March 2021 he was General Manager of the Overseas Strategy Division (including two years from April 2017 as the General Manager of the Planning Department).
March 2021 Retired from Takayama City Hall
April 14, 2021~ Representative Director, SeaJet Co., Ltd.
May 30, 2022~ Managing Director, Hida-Takayama Convention and Visitors Association