Noboribetsu Grand Hotel Co., Ltd., which celebrated its 85th anniversary in June 2023 after operating accommodation facilities in Noboribetsu in Hokkaido, is undergoing renovation work on the open-air area and indoor sauna facilities under the theme of "W protagonist of hot springs and saunas". Following the first "Oni Sauna", the second stage "Clear Stream Sauna", and the third "Barrel Water Bath", the fourth "Bear Sauna" has been completed and will have a grand opening from July 19th!
All of them are produced by the sauna specialty brand TTNE, Totoe Oyakata, and each of the three types of saunas has a different concept. Please enjoy a variety of sauna experiences and hot springs at the hotel.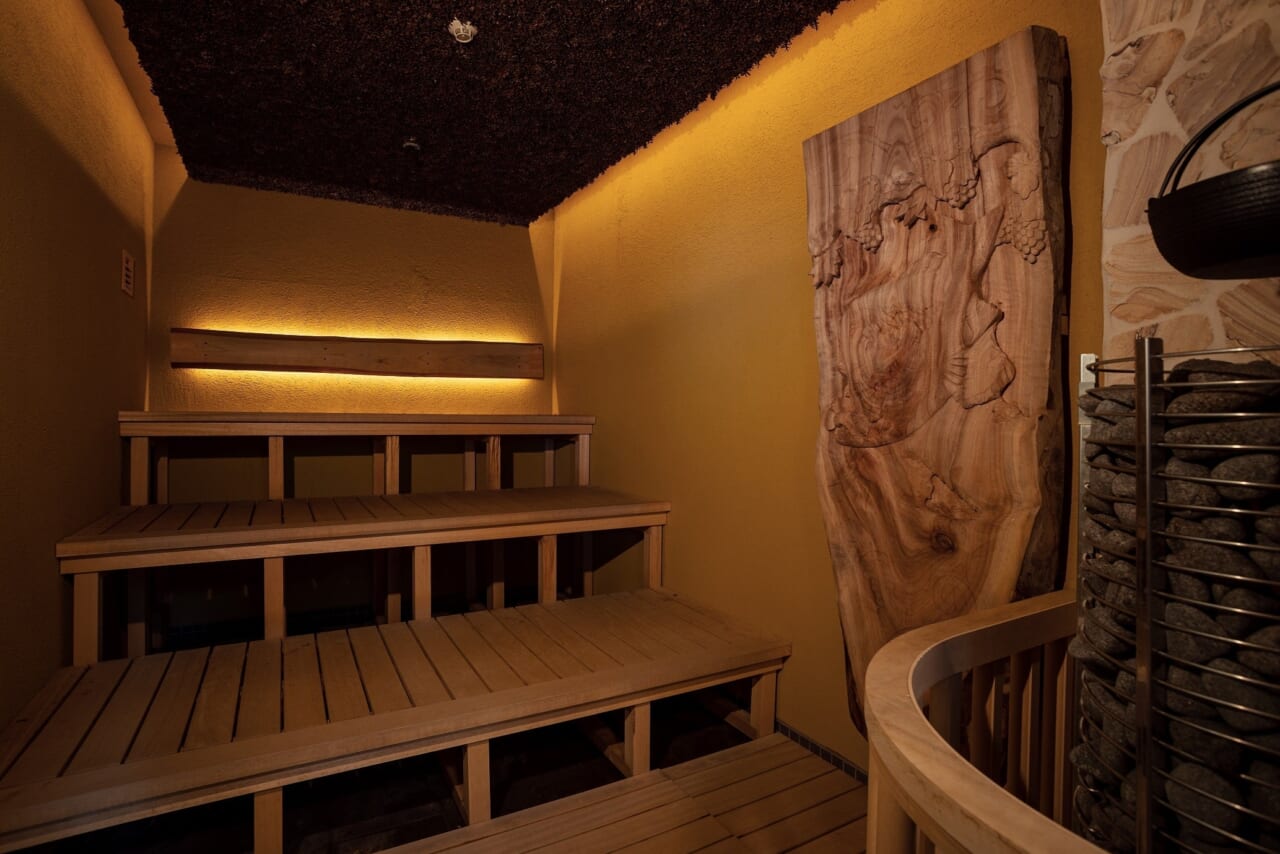 The sauna renovation plan that began with the demon sauna was temporarily completed by the bear sauna. We hope that many customers will come to Noboribetsu and Noboribetsu Grand Hotel as a sauna tourism destination.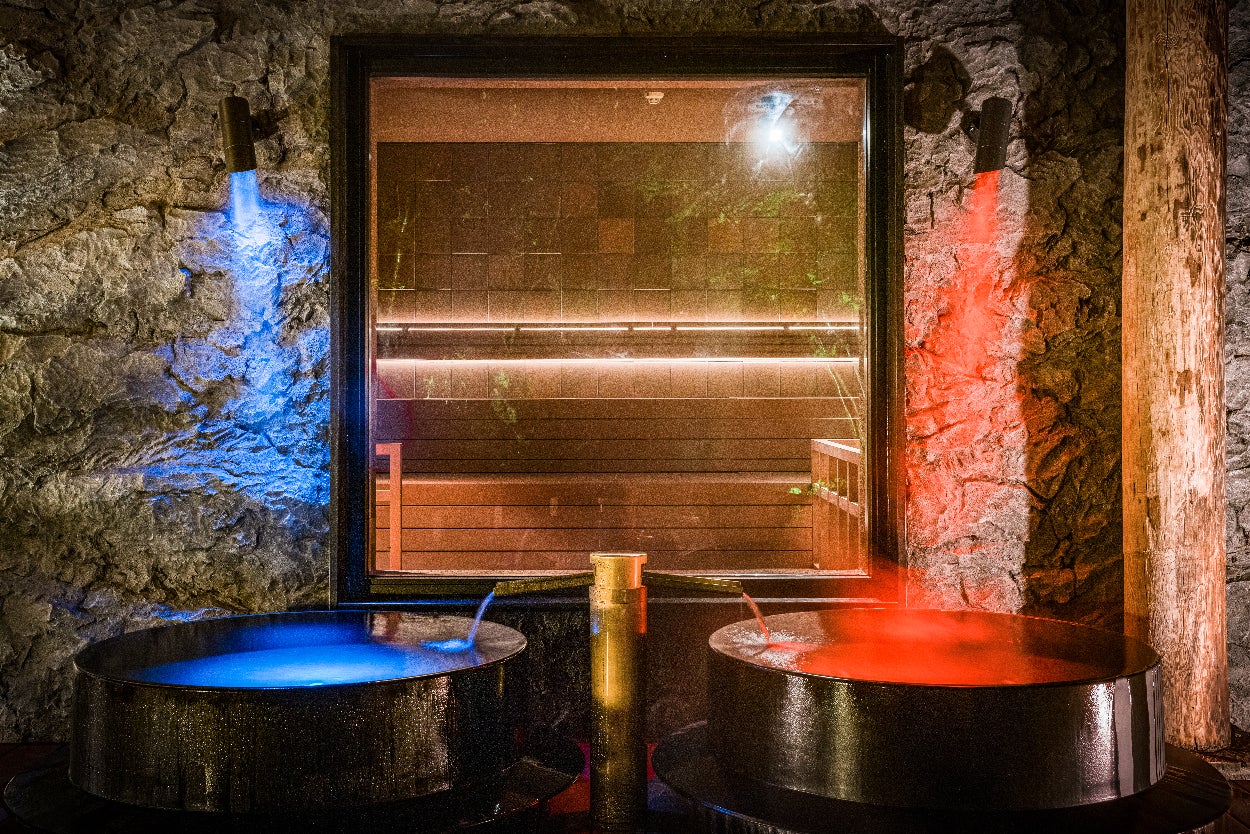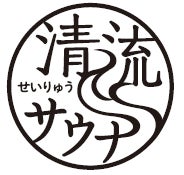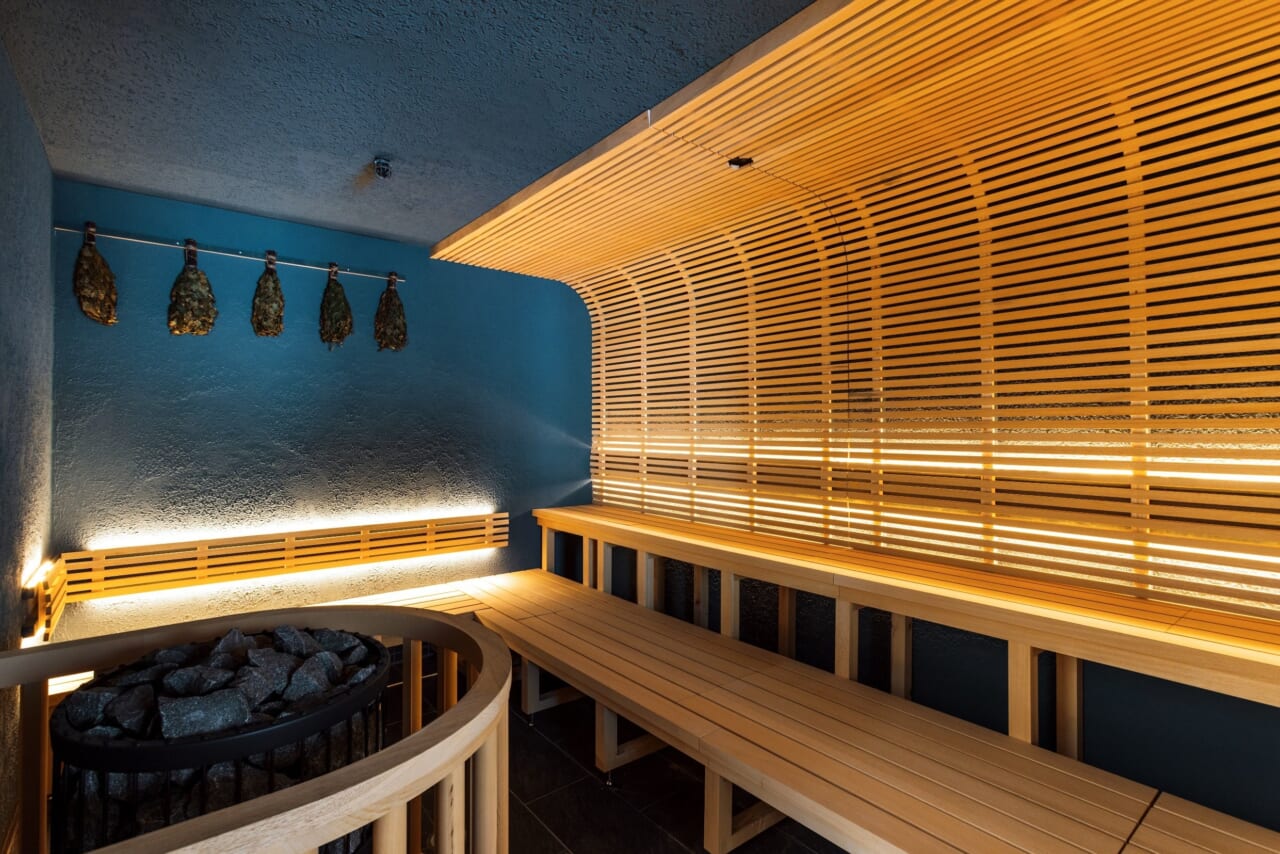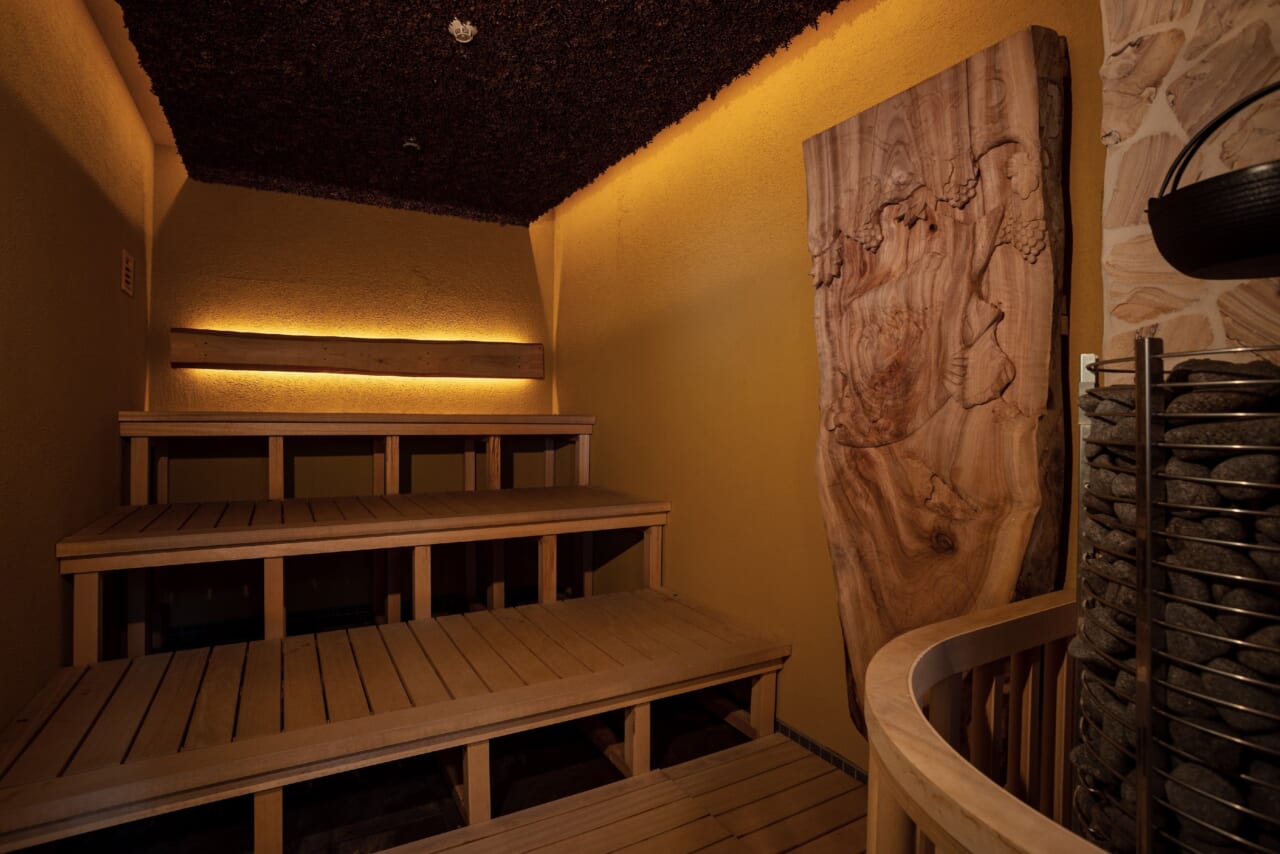 Features of "Kuma Sauna"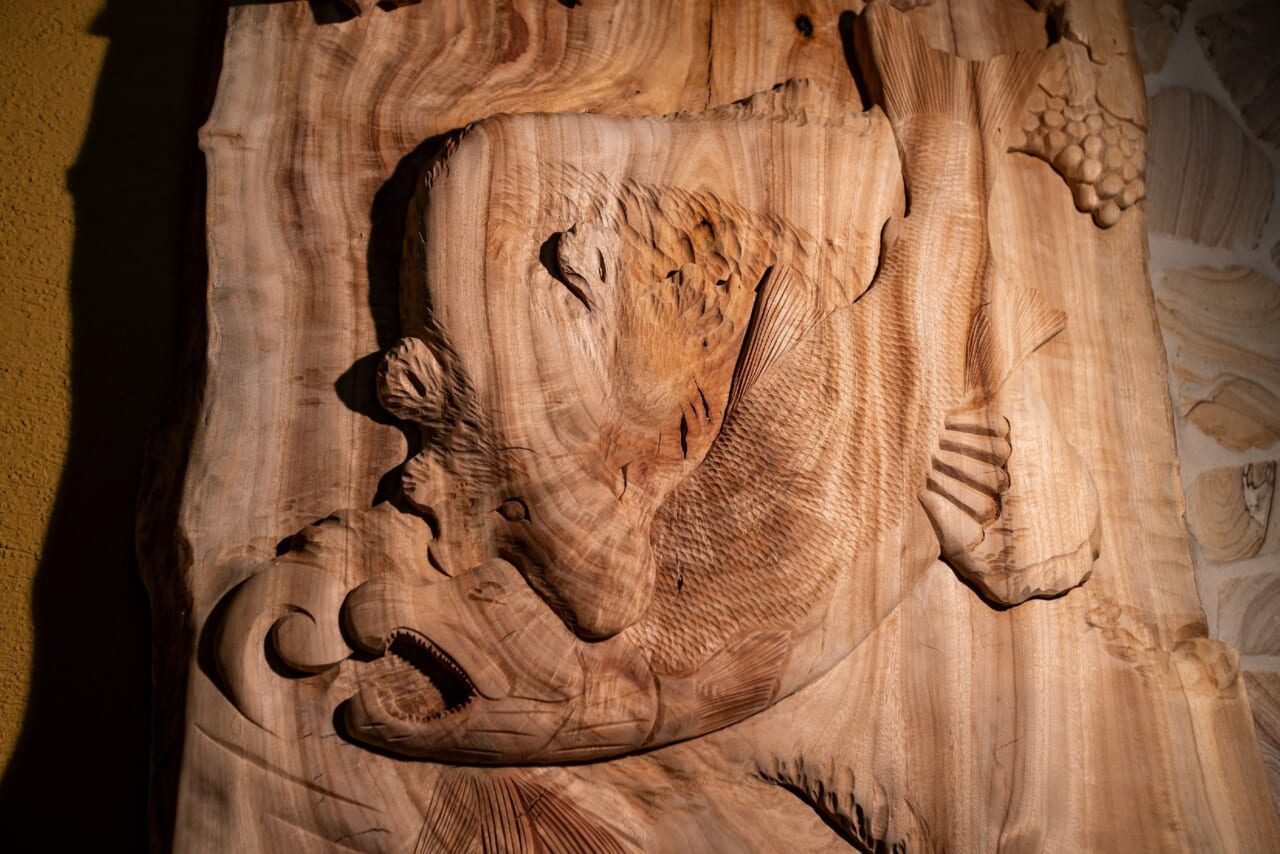 ■ Anagura-themed sauna where bears hibernate
Gentle 80°C setting + Warm & mild warm sauna with Warrior & Kumasasa extract self lauryu
Hokkaido is home to many brown bears, and reliefs and bear wood carvings are popular as one of the famous souvenirs of Ainu culture. And in Noboribetsu Onsen Town, there is a popular tourist spot [Noboribetsu Bear Farm], which is visited by many customers regardless of age.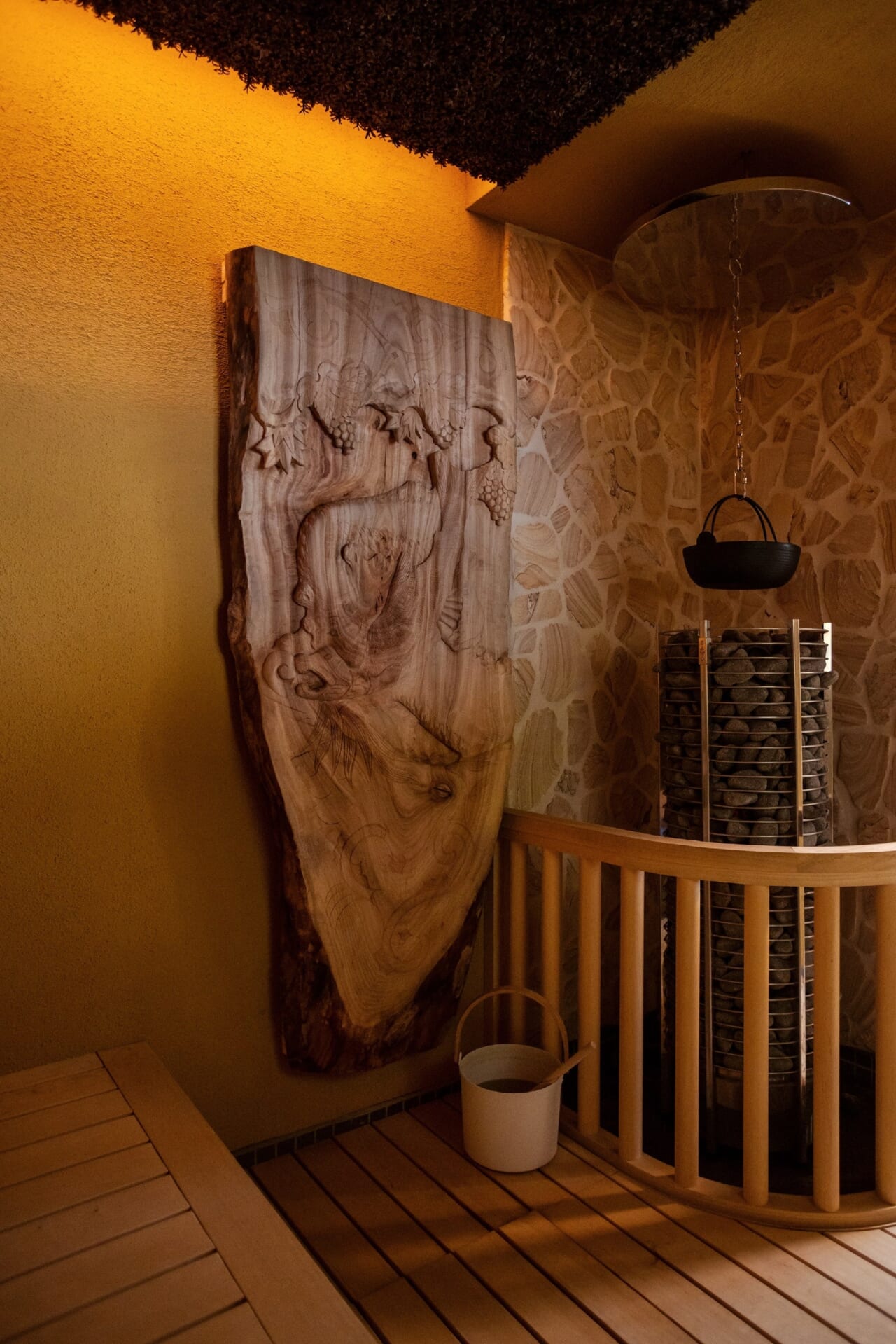 This time, Noboribetsu Grand Hotel has newly established a bear sauna reminiscent of "bears" that are closely related to Hokkaido and Noboribetsu, and you can enjoy a different experience from the other two saunas in the hotel through the sauna.
Bear relief in sauna room
Installed one solid wood camphor board for waryu
The relief is carved by Ainu traditional craftsman Tsuyoshi Ozaki.
※Warryu・・・"Loulu" with "wall"
■Kumasasa Rouryu! On the sauna stove with a free hook and iron pot
Hokkaido's "Cold Brew Kumasasa Tea" can be self-roasted in iron pots and sauna stones
■Pine cone paneled ceilings and earth-colored walls
A sense of security as if you were wrapped up and in your own cave
Commemoration of the completion of the bear sauna! Noboribetsu Bear Farm Collaboration (until August 10)
Hotel guests only: Noribetsu bear farm special ticket commemorating the completion of the bear sauna is on sale. You can purchase it for an additional 500 yen cheaper than the advance ticket.
Noboribetsu Bear Farm official website https://bearpark.jp/
・Noboribetsu Grand Hotel Director Hiroyuki Kuribayashi's comment
With the desire to restore the former bustle of Noboribetsu Onsen, which was becoming less and less visited by customers, we started a sauna project in 2022 with the theme of "hot spring × sauna". Many people sympathized with the philosophy of regional revitalization, and we were able to raise 75 million yen in funds for the construction of the "Oni Sauna" through impact investment, and we realized the expectations for the "sauna" for the revitalization of the Noboribetsu hot spring town.
And now, I am most happy to hear that customers who actually came to Noboribetsu for the purpose of sauna enjoyed the hot springs, meals, and sightseeing. The hotel's sauna project has been promoted in all four phases, "Oni Sauna", "Clear Stream Sauna", "Barrel Water Bath", and "Bear Sauna", and in all of them, Totonoe's creativity and commitment to sauna have come to fruition, and it has become a facility that embodies and enjoys the charm of Noboribetsu nature.
We hope that this sauna renovation will be an opportunity for more customers to experience Noboribetsu and the charm of our hotel. Noboribetsu Grand Hotel, which celebrated its 85th anniversary this year, aims to be a hotel that will satisfy our guests even more.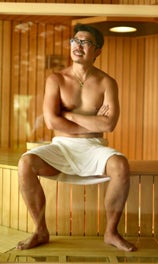 ・Comments from TTNE and Totoe Oyakata
The tip of the entertainment sauna in Noboribetsu has been completed. The "demon sauna" that matches the image of Jigokudani and the hot spring town has received more response than I imagined, which makes me happy! And this time, the newly established "Bear Sauna" was created in the image of a bear cave storehouse. I want you to feel like a hibernating bear with pine cones and bear reliefs on the ceiling!
Taking advantage of the characteristics of the region such as demons and bears, the straight naming sauna is an "entertainment sauna unique to Noboribetsu that cannot be imitated anywhere else".
I want sauna fans all over the country to come to the Noboribetsu Grand Hotel and taste Noboribetsu in the sauna!
・Comments from traditional Ainu craftsman Tsuyoshi Ozaki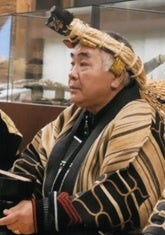 When I received a request from Noboribetsu Grand Hotel to create a relief based on the theme of "bear", I incorporated the original scenery of Hokkaido, which is rich in nature, into my work.
Focusing on the lively image of a bear about to hibernate in the autumn forest where grapes are growing and maples grow naturally, part of the flow of the river is expressed in traditional Ainu patterns.
I usually make works with walnut and Katsura boards, but this time I had a hard time carving a work on a special camphor tree, but I think it turned out to be a powerful work.
Noboribetsu Onsen is a hot spring resort with good access one hour from New Chitose Airport and one and a half hours from Sapporo, and the spring quality is so rich that it is called a "department store of hot springs". Since the renewal of the open-air space of "Oni Lantern no Yu" and the opening of "Oni Sauna" in September 2022, many customers have come, and the number of customers for day-trip bathing has reached 170% of the previous year.
In addition, many customers have visited and stayed at the sauna, and it has been well received for accommodation, buffet, sauna food, etc.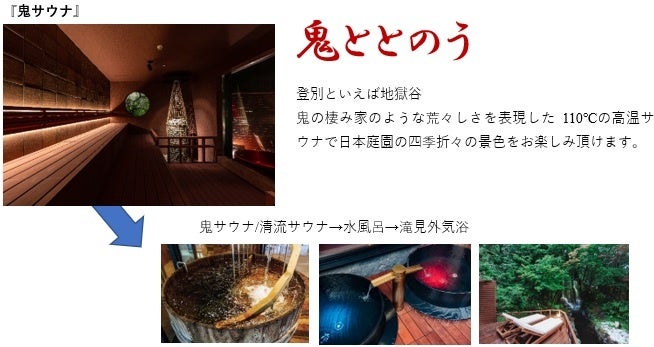 【About Noboribetsu Grand Hotel】
Noboribetsu Grand Hotel is a long-established hotel that opened in 1938 (Showa 13) and is called "Noboribetsu State Guest House" where Emperor Showa and His Majesty the Emperor stayed at the hotel.
The large public bath is a Roman bath where you can relax in a relaxing and elegant space. In the open-air bath, you can enjoy the Japan garden that reflects the change of seasons, and you can enjoy the three qualities of salt spring, sulfur spring, and iron spring.
There are two large public baths, [Demon Lantern Hozuki no Yu] and [Ryuubirin Dou no Yu]. Men and women are replaced daily. You can heal your fatigue in the abundant hot springs and sauna in Noboribetsu .
Noboribetsu Grand Hotel
Address: 〒059-0592 154 Noboribetsu Onsen-cho, Noboribetsu City, Hokkaido
Official website: https://www.nobogura.co.jp
Official Movie: https://www.youtube.com/watch?v=viN5kGOsg7g&t=19s
Official Instagram: https://www.instagram.com/noboribetsu_grandhotel/

A sauna specialty brand presided over by Daisuke Matsuo, the master of Totoe, and Daisuke Akiyama, the sauna master. It was established in 2017 with the desire to establish a sauna culture designed to be accepted by a wide range of people, mainly young people, like in Scandinavia, in the Japan sauna, which has a strong image of "Oji-san". Produces saunas, organizes events, and sells fashion and goods with the "Saunner" logo. People who are engaged in "hard and creative" activities both physically and mentally work together to rebrand saunas in Japan.
TTNE Official Site: https://ttne.jp
TTNE Official Instagram: https://www.instagram.com/ttne_official/?hl=ja
【Ainu Culture Craftsman Tsuyoshi Ozaki】
He is active as a wood carver of reliefs on the subject of salmon and menoko (woman).
Currently, in addition to the traditional Ainu ita (tray), tashiro (mountain sword), and nima (vessel), he is also working on creating original works. He is also a leading expert in the construction of the traditional Ainu house "Chise", and is passionate about passing on the skills and knowledge he has acquired and training successors.
At the Hiratori Ainu Craft Museum Uresipa, he teaches experience programs.
http://nibutani.jp/artisan/t_ozaki.html
【Noboribetsu Bear Farm】
Noboribetsu Bear Farm is a zoo that mainly deals with bears in Noboribetsu Onsen-cho, Noboribetsu City, Hokkaido.
About 7 minutes by ropeway from Noboribetsu Onsen Town, at the top of Mt. Shikatamine at an altitude of 550 meters, there is a bear farm, human ori, eukara no sato (Ainu museum), a brown bear museum, an observatory, etc., where you can experience the nature and culture of Hokkaido.
Official website https://bearpark.jp/
【Inquiries about this release and coverage】
Noboribetsu Grand Hotel Public Relations Officer
TEL:0143-84-2101 Email:t.nakata@nobogura.co.jp Contact:Tomoyuki Nakata
【Where to obtain high-resolution images related to this release】
・Oni sauna
https://drive.google.com/drive/folders/1ocvnqw-YDfHpdalwfS3G5L33TTQVy32y?usp=drive_link
・Clear sauna
https://drive.google.com/drive/folders/1z59_z8UP6MhxW-A1eW51XNfhzc2fIJFc?usp=drive_link
・Barrel water bath
https://drive.google.com/drive/folders/1k_cnNNBxah8Kgd4KOoB8e3UYTxxm-C8d?usp=drive_link
・Bear sauna
https://drive.google.com/drive/folders/1VQXIUSdtuRXC_MU_JVJDs2KehOgS1Uy-?usp=drive_link
・Large public bath
https://drive.google.com/drive/folders/1TjQQnCdfwCeLuJw5mq8z2ADTWxMFjfp7?usp=drive_link
・Meals (subject to change depending on the season)
https://drive.google.com/drive/folders/161k1F6Xuv0Da6q67paMZkDpRMKu5sXTn?usp=drive_link
・Others
https://drive.google.com/drive/folders/1lWbi6ryoq7-g4_mX9nmwcbujeGcqluoo?usp=drive_link
【Past Related Releases】
・Oni Sauna Fund established!
https://prtimes.jp/main/html/rd/p/000000005.000101745.html
・ Oni Sauna Fund full fund raising!
https://prtimes.jp/main/html/rd/p/000000014.000101745.html
・Make Hokkaido Noboribetsu a sacred place for sauna tourism! < The first > demon sauna
https://prtimes.jp/main/html/rd/p/000000012.000101745.html
・Make Hokkaido Noboribetsu a sacred place for sauna tourism! < 2nd > clear stream sauna
https://prtimes.jp/main/html/rd/p/000000016.000101745.html
・Make Hokkaido Noboribetsu a sacred place for sauna tourism! < 3rd > barrel water bath
https://prtimes.jp/main/html/rd/p/000000019.000101745.html
・Make Hokkaido Noboribetsu a sacred place for sauna tourism! < 4th > Bear Sauna
This release