ZenGroup Co., Ltd. (Location: Osaka City, Osaka), which provides total support for cross-border EC, has defined its tagline as "Beyond Boundaries" and has renewed its corporate logo.
In the future, we will promote the elimination of complexity in cross-border EC and contribute to connecting the diversity of Japan and the world.

The new corporate logo is designed to symbolize ZenGroup's role as a bridge between Japan and the world, as well as ZenGroup's transnational borders.
・The black circle represents the "circle phase" that is one of the calligraphy paintings in Zen and is drawn with a single stroke of a circle of figures, expressing the moment when the mind is free and the body creates.
The blue circle symbolizes the earth and harmony. The unique shape reflects the diversity and personality that each member of ZenGroup brings.
・For the logo color, we chose a gentle yet playful turquoise blue that represents the sky and water. Also, turquoise blue expresses creativity, intelligence, loyalty, wisdom and trust.
Through its corporate activities, ZenGroup aims to increase its share of the Japan's cross-border eCommerce market to 20%.
We cater to different purchasing needs and work with companies of all sizes to create a holistic ecosystem. It starts with transforming the complexity of cross-border EC into a simple and lean form like the traditional crafts of Japan.
It fosters a wider mutual cultural understanding and leads to a life where goods can be exchanged without national restrictions.
These perspectives are condensed into the tagline "Beyond Boundaries."
Comment by CEO Slovej Vyacheslav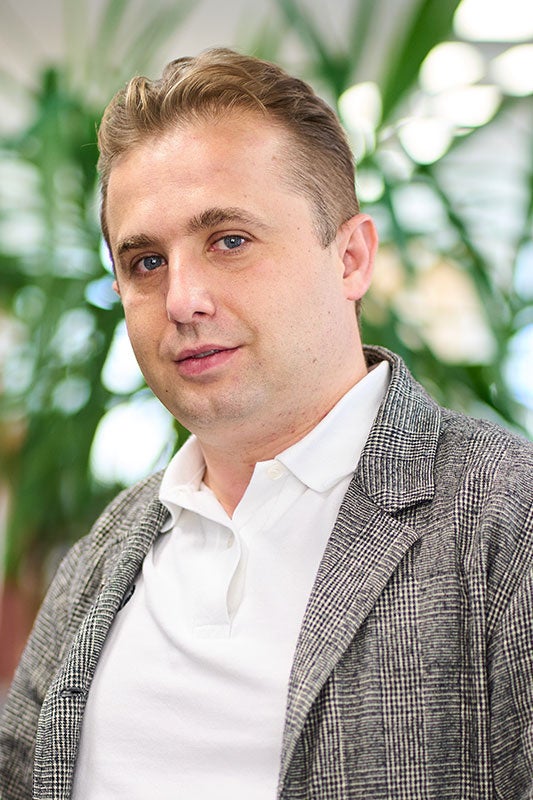 With the changing times, our business has evolved and grown. Currently, companies in Japan are facing serious challenges, such as a declining population due to the declining birthrate and aging population, and a shrinking domestic market. In order to further declare our determination to innovate to solve these issues and aim for discontinuous growth, we have decided to renew our corporate logo. The new logo more clearly expresses the values and direction of our brand and demonstrates our determination to take another leap forward.
At the same time, we also developed a tagline. This tagline concisely expresses our vision and mission and serves as a bridge to deepen our relationships with our customers and partners. We hope that this tagline will be at the heart of our communications and strengthen our solidarity with you as we build the future together.
We pursue more creative and innovative ideas than ever before, simply connecting Japan and the world. We hope that more people will foster mutual cultural understanding and embrace diversity.
CEO Slovey Vyacheslav
ZenGroup Inc. aims to achieve a 20% share of Japan's sales value in global cross-border e-commerce with the mission of "Japan 20% of global cross-border EC sales."
ZenGroup Inc. operates the overseas purchase agency service "ZenMarket", the overseas subscription box service (subscription service) "ZenPop", the cross-border EC mall "ZenPlus", and the overseas promotion agency service "ZenPromo". Currently, it has more than 1.9 million members and has shipped to 174 countries around the world.
ZenMarket, an overseas purchase agency service, is available on Rakuten Ichiba, Yahoo! This is a service that allows customers to purchase products from shopping, Mercari, and other Japan online shops on their behalf and deliver them internationally. Just by paying a service fee of 300 yen (tax included) in addition to the product price, we will take care of the necessary procedures, taxes, customs duties, etc. for international shipping (separate overseas shipping fee is required). Purchases, inquiries, etc. are handled by ZenMarket representatives, so you do not need to use foreign languages. It supports 19 languages: Arabic, German, English, Spanish, French, Indonesian, Italian, Japanese, Korean, Malaysian, Polish, Portuguese, Russian, Thai, Turkish, Ukrainian, Vietnamese, Simplified Chinese, and Traditional Chinese.
ZenPop, a subscription box service for overseas markets, is a service that delivers boxes of attractive products according to themes according to trends and seasons overseas. You can subscribe to your favorite box service from anime goods, stationery, ramen, sweets, ramen + sweets, and limited-time boxes.
The cross-border EC mall "ZenPlus" adopts a simple and simple sales system in which there are no initial or monthly costs for opening a store, and the commission is only 10% of the sales amount of the product. Customer support, overseas shipping, and payment are handled by ZenPlus. It is possible to open and sell stores immediately.
ZenPromo, an overseas promotion agency service, supports not only cross-border EC but also overseas promotions in multiple languages. We provide optimal plans according to the target overseas market, such as overseas listing advertising management agency and support for attracting inbound (foreign visitors to Japan).
Going forward, we will continue to strive to create a system that simply delivers Japan products to overseas users.
Company Name: ZenGroup Inc.
URL:https://zen.group/
Representatives: Naumov Andriy, Oleksandr Kopil, Slovey Vyacheslav, Son Margarita
Location: Osaka Sakaisuji L Tower, 1-7-7 Kawaramachi, Chuo-ku, Osaka-shi, Osaka
Established: April 2014
Capital: 80,000,000 yen
Antique dealer license number: 621150153358