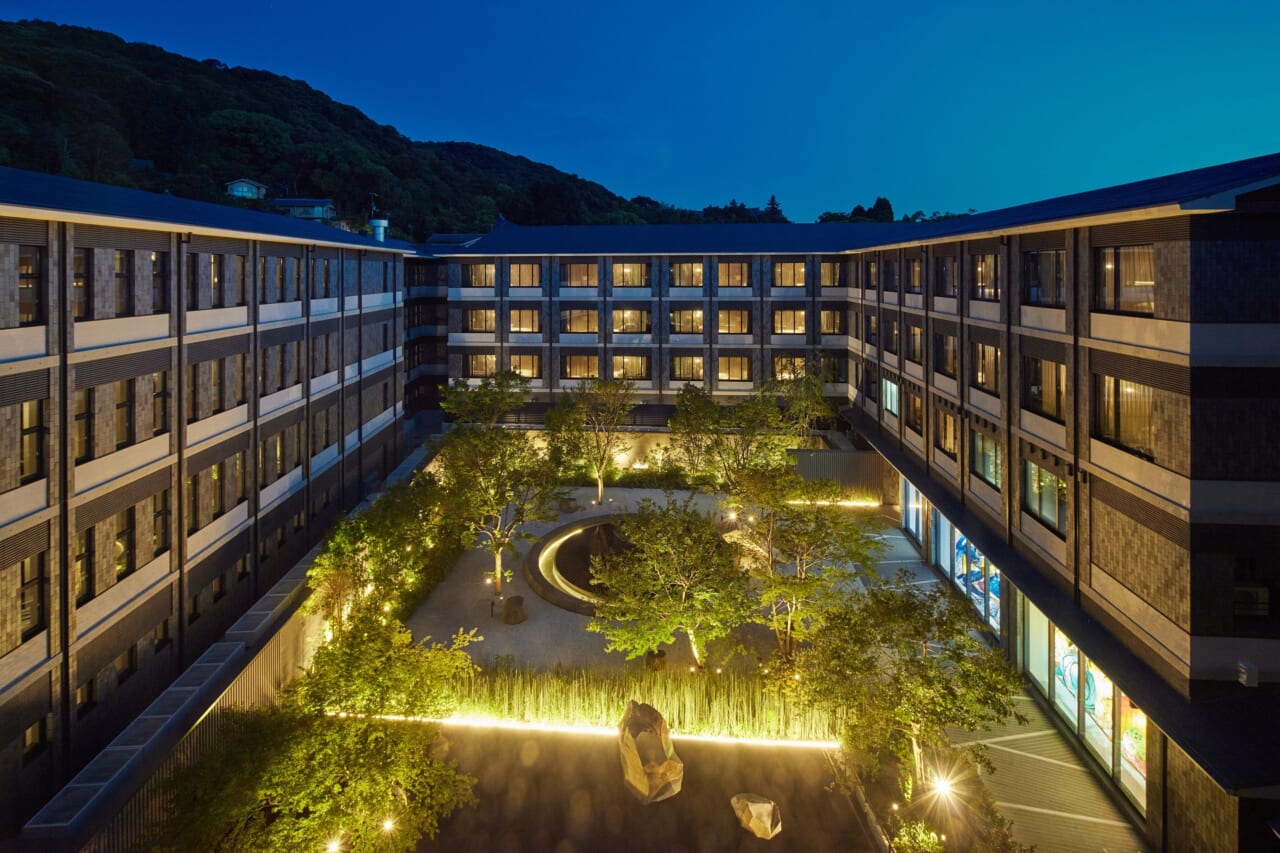 Tokyu Hotels Co., Ltd. (Headquarters: Dogenzaka, Shibuya-ku, Tokyo, President & CEO: Jun Murai) will open "THE HOTEL HIGASHIYAMA by Kyoto Tokyu Hotel" on July 7, 2022, which is currently planned in Higashiyama-ku, Kyoto.
Based on the concept of "The Height of Kyoto: Dwelling in the East", THE HOTEL HIGASHIYAMA is a hotel whose purpose is to stay in Higashiyama, Kyoto, where many cultural and artistic facilities are concentrated and where you can feel diverse culture, and where you can feel the beauty that is handed down to the hearts of modern Japan people in various ways beyond time and space.
Features of THE HOTEL HIGASHIYAMA
lobby
Tea & Bar "Sarei produced by Gion Tsujiri" attached to the lobby floor
Restaurant "Nana Nano Ichi"
Activity Program "Kyo Iroha"
The plastered, calm lobby that welcomes guests first through the entrance displays original artworks that can only be seen at this hotel. What jumps out at your eye is the textile art that uses the Nishijin weaving method to express it in a modern way, incorporating the motif of the pattern and school emblem derived from Awada Elementary School that was once located in this area and the school building map of the time. It is a powerful and vivid work with two layers of atrium and a length of 15 meters. In addition, one of the Kyo-yaki, works of "Awada ware" that have continued since the middle of the Edo period are also exhibited here. While experiencing the culture through the unique works of the hotel, we will raise the anticipation of the stay that begins from this point.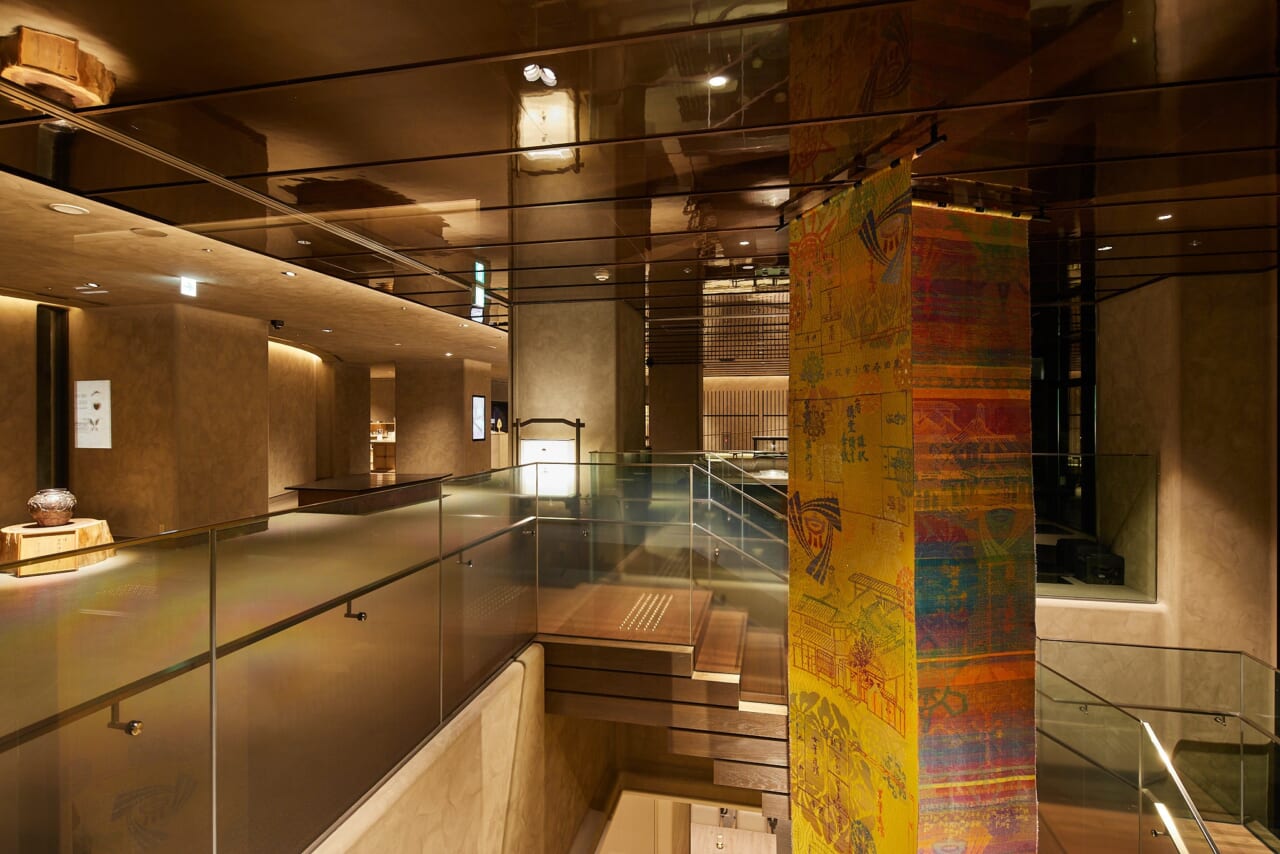 lobby
Adding to the experience of your stay is the Tea & Bar "Sarei produced by Gion Tsujiri" attached to the lobby floor. In a sophisticated space that makes you feel history and tradition, you can enjoy original items such as bottling tea produced by the long-established "Gion Tsujiri" founded in 1860, as well as workshops such as Uji tea experience courses.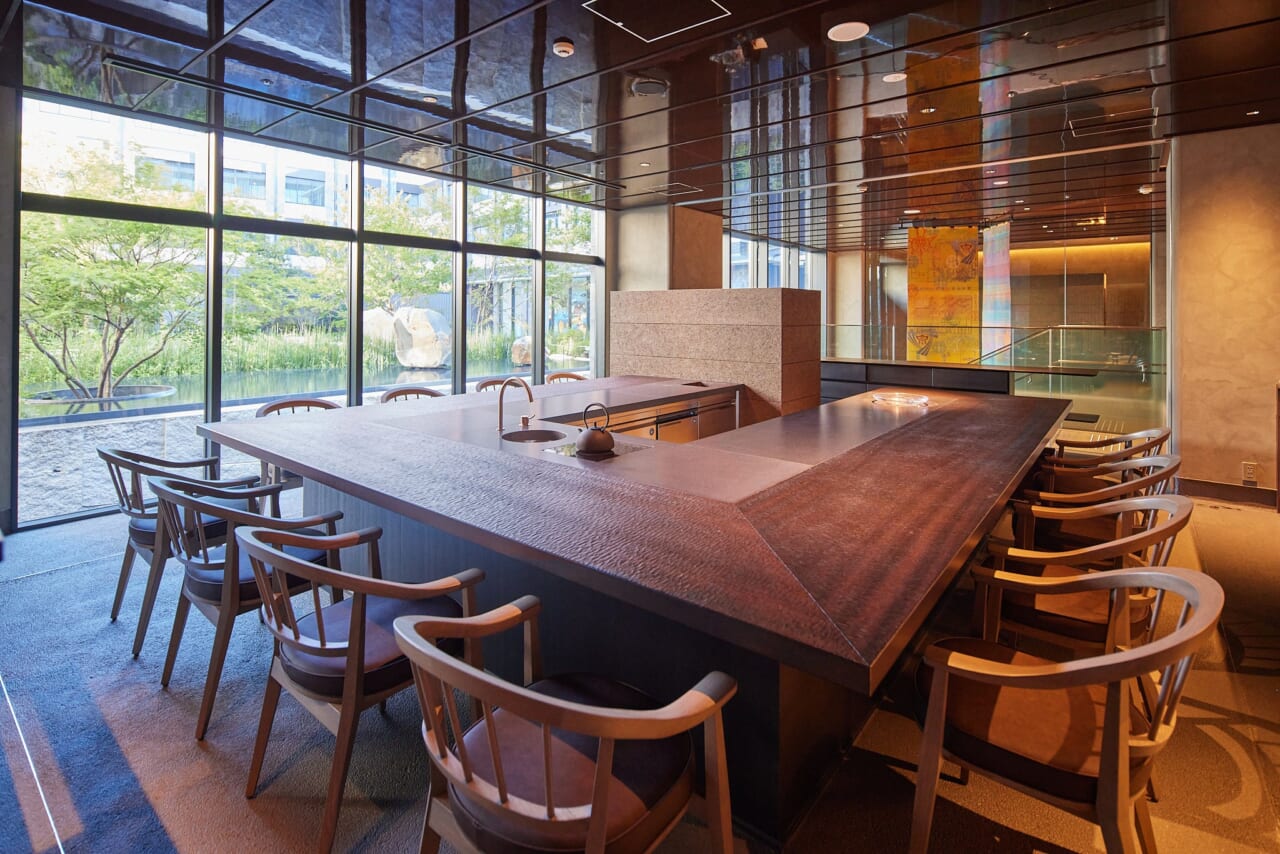 Tea & Bar「Sarei produced by Gion Tsujiri」
The restaurant is "Nana no Ichi" that multiplies the tradition of French cuisine with the essence of Japanese cuisine and offers unique Kyoto French. In addition to incorporating local ingredients from seasonings to vegetables, you can enjoy various scenes such as high-quality meat dishes recommended by the chef and snack menus that match alcohol. At AMUSE BAR, which offers a large selection of one-handed amuses, you can indulge in luxury with a cocktail made by a bartender.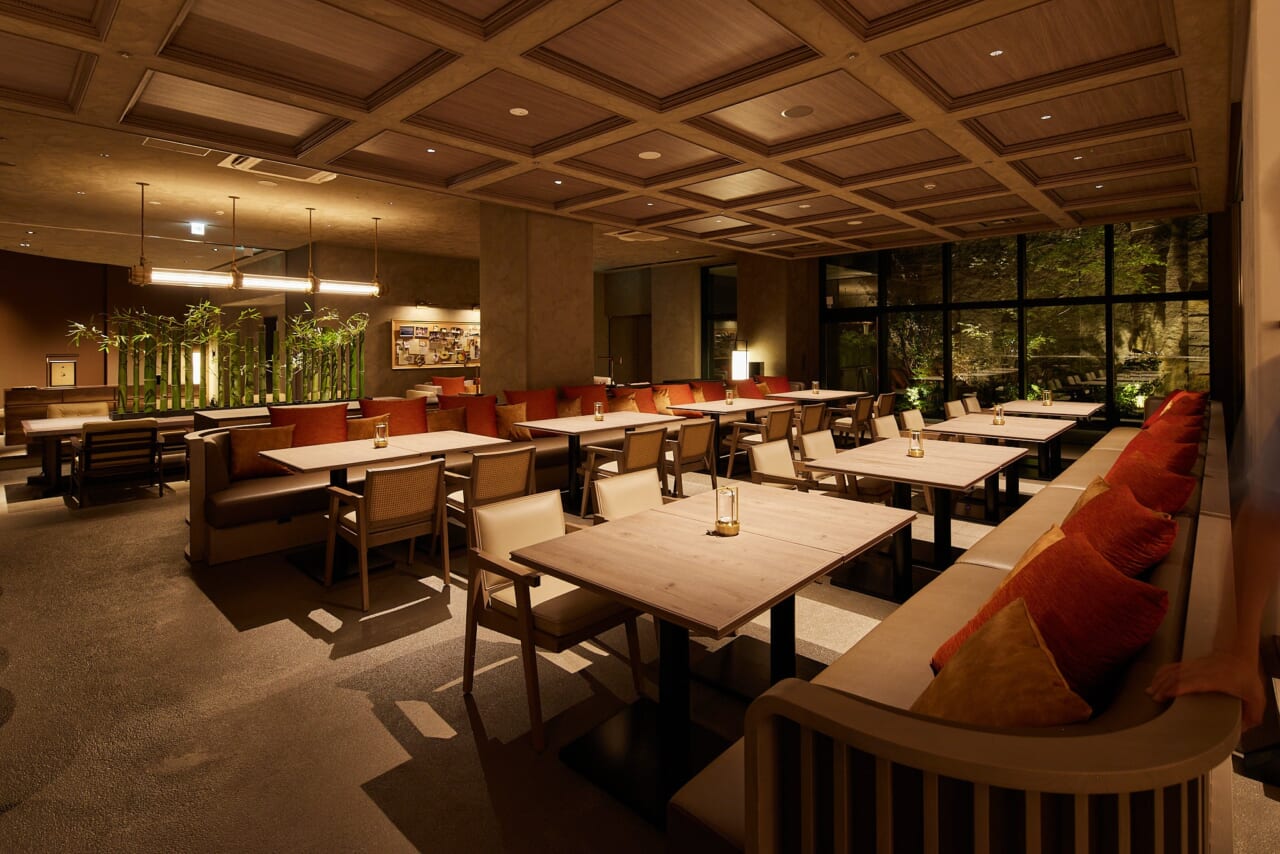 Restaurant "Nana Nano Ichi"
At THE HOTEL HIGASHIYAMA, we offer an original program "Kyo Iroha" that touches on the aesthetic sense unique to Kyoto and enhances the attractiveness of your stay. "Kyo Iroha" is an activity program that approaches Kyoto and the Japan from five angles according to the five senses, and you can enjoy and feel the culture that has been alive in Kyoto and for a long time. You can actually see with your eyes, feel the aroma, taste, touch, listen, move your hands, and learn and enjoy the culture of Kyoto from "Iroha" through the menu that can only be experienced here.
In Higashiyama, where you can enjoy a quaint sensibility, it finally opened on July 7 as an entrance to travel to the pinnacle of Kyoto. The hotel higashiyama by Kyoto Tokyu Hotel delivers a "deepening" journey.
The Hotel Higashiyama by Kyoto Tokyu Hotel Overview
Name The Hotel Higashiyama by Kyoto Tokyu Hotel
Location: 175-2 Higashiyama-ku, Kyoto-shi Sanjō-dōri Shirakawabashi Higashi-iri 3-chome Yomicho
Number of rooms: 168
Facilities Front desk, lobby, restaurant, Tea & Bar, shop, private spa, etc.
Access 4 minutes on foot from "Higashiyama Station" on the Kyoto Municipal Subway Tozai Line / About 20 minutes by taxi from JR "Kyoto Station" / About 15 minutes from Meishin Expressway "Kyoto Higashi IC"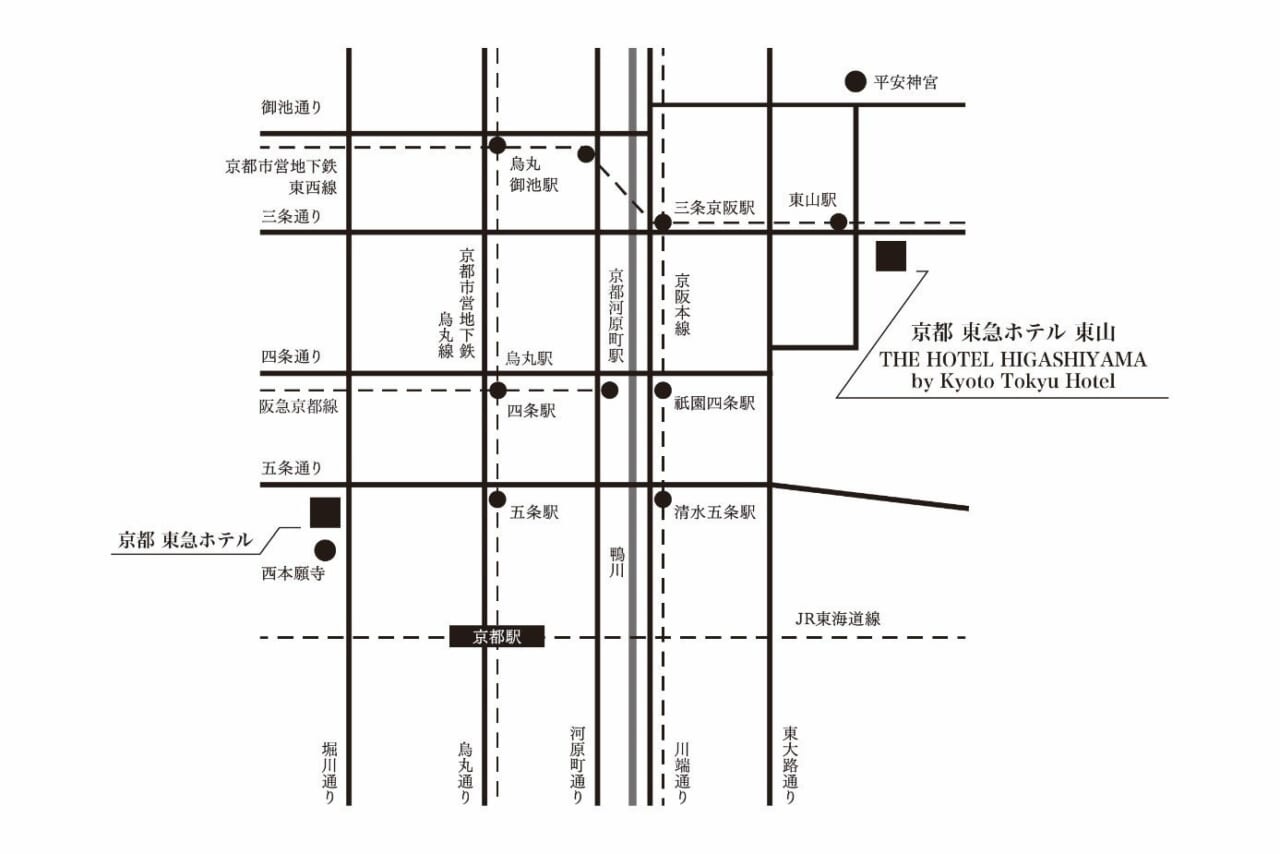 inquiries from customers regarding this matter>
The Hotel Higashiyama by Kyoto Tokyu Hotel Room Reservation
Tel: 075-341-2655 / Email: higashiyama-h@tokyuhotels.co.jp
Website and Online Booking www.hotelhigashiyama.com

The Hotel Higashiyama by Kyoto Tokyu Hotel Details
■About the activity program "Kyo Iroha"
We will prepare various cultural experiences unique to Kyoto inside and outside the hotel, such as special opening and special viewing of shrines and temples, production experiences such as lacquerware, kiln things, crafts, etc., and lectures on "food" such as broth and Kyoto confectionery.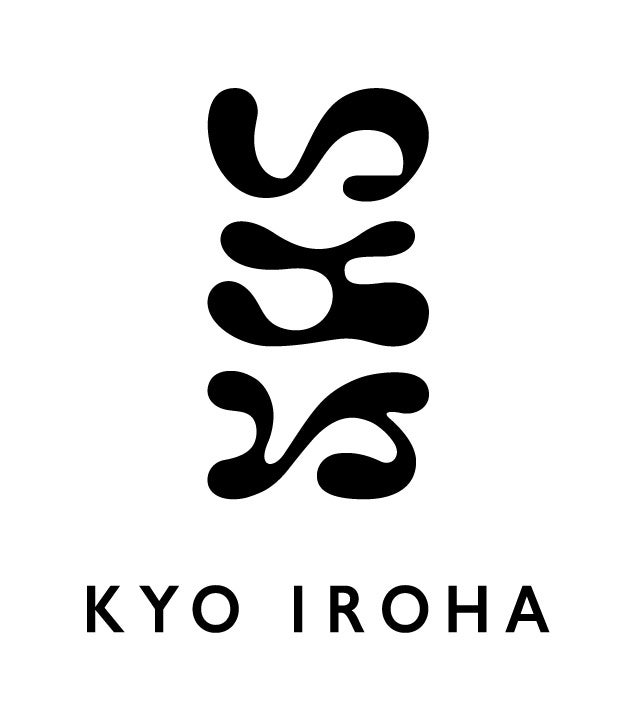 ◆About Logo Design
I symbolically expressed that it is an experience of learning, deepening, and expanding from the first form (the first Iroha).
An example of "Kyo Iroha": Fan Xing and tea ceremony experience
When you go through the gate, you will see the appearance of Kyomachiya unique to Kyoto and a garden with stone lanterns. In the seat of Kyomachiya, we reproduced the "throwing fanning" that is said to have been popular among the common people in the Edo period. It is a game to throw a fan at a target set up on a paulownia box stand and compete for points. After enjoying it while being taught carefully with reference to the model of the young lady general, you can guide you to a full-fledged tea room and experience "tea table". It is a program where you can enjoy the traditional culture of play and tea from "Iroha".
・Venue: Onishi Tsuneyoshi Shoten (23 Honkangocho entering Matsubara-dori-Takakura Nishi, Shimogyo-ku) About 15 minutes by taxi from the hotel
・How to use: Advance reservation system at the hotel
・Fee: 3,500 yen per person (including consumption tax)
・Time required: Approximately 90 minutes
■The Hotel Higashiyama by Kyoto Tokyu Hotel Facility Details
(1) Guest rooms 1F~5F
The interior design imagines the flow and fluctuation of the water of the Shirakawa River, and multiplies the essence of Japanese and Western to produce a calm space. Items that support the time spent relaxing in the room are also one of the attractions.
・Number of guest rooms 168 (Superior 25㎡~, Executive 43㎡~, Suite 57.7㎡~)
・Individual air conditioning (air conditioning free), all rooms bath and toilet separate
・Wired and wireless LAN installation for Internet connection, Bluetooth speaker in all rooms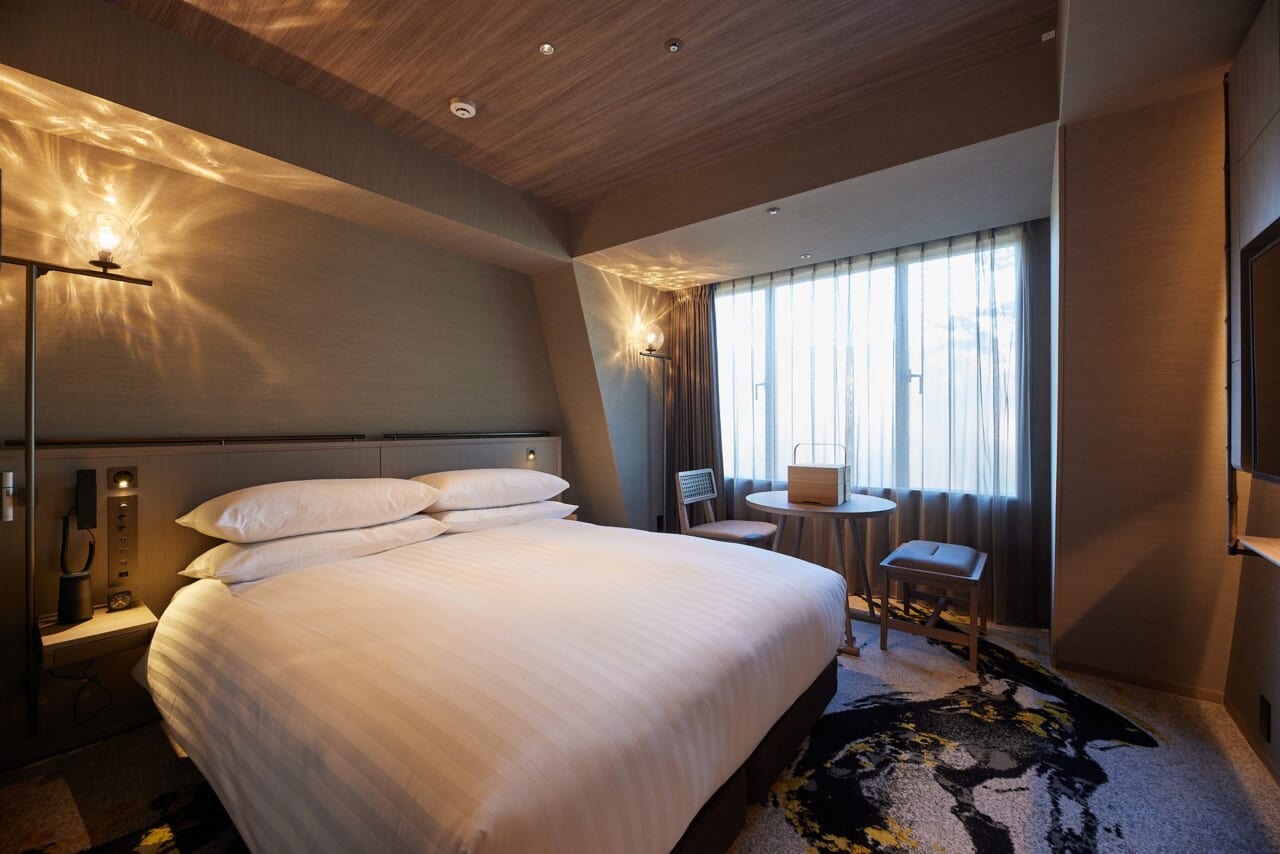 Superior Double
​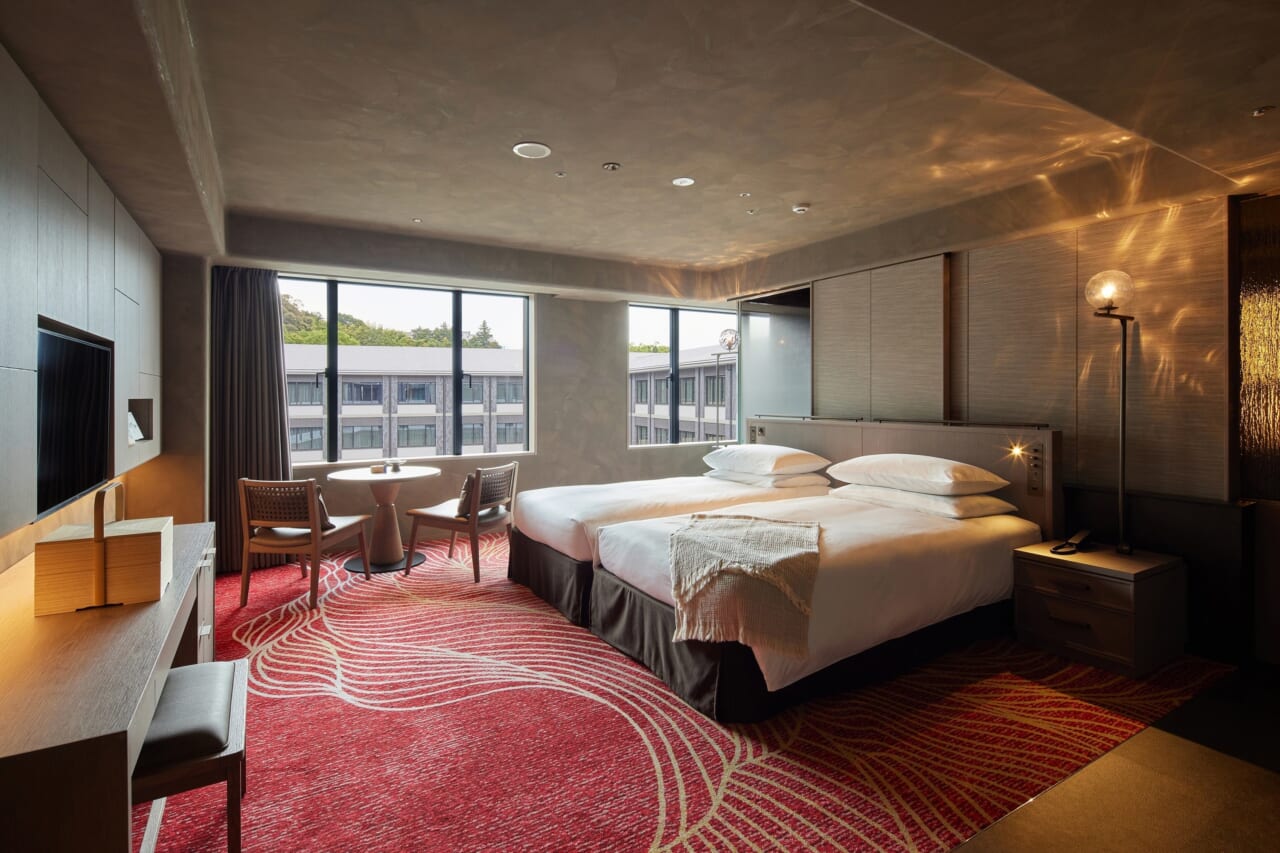 Executive Hollywood Twin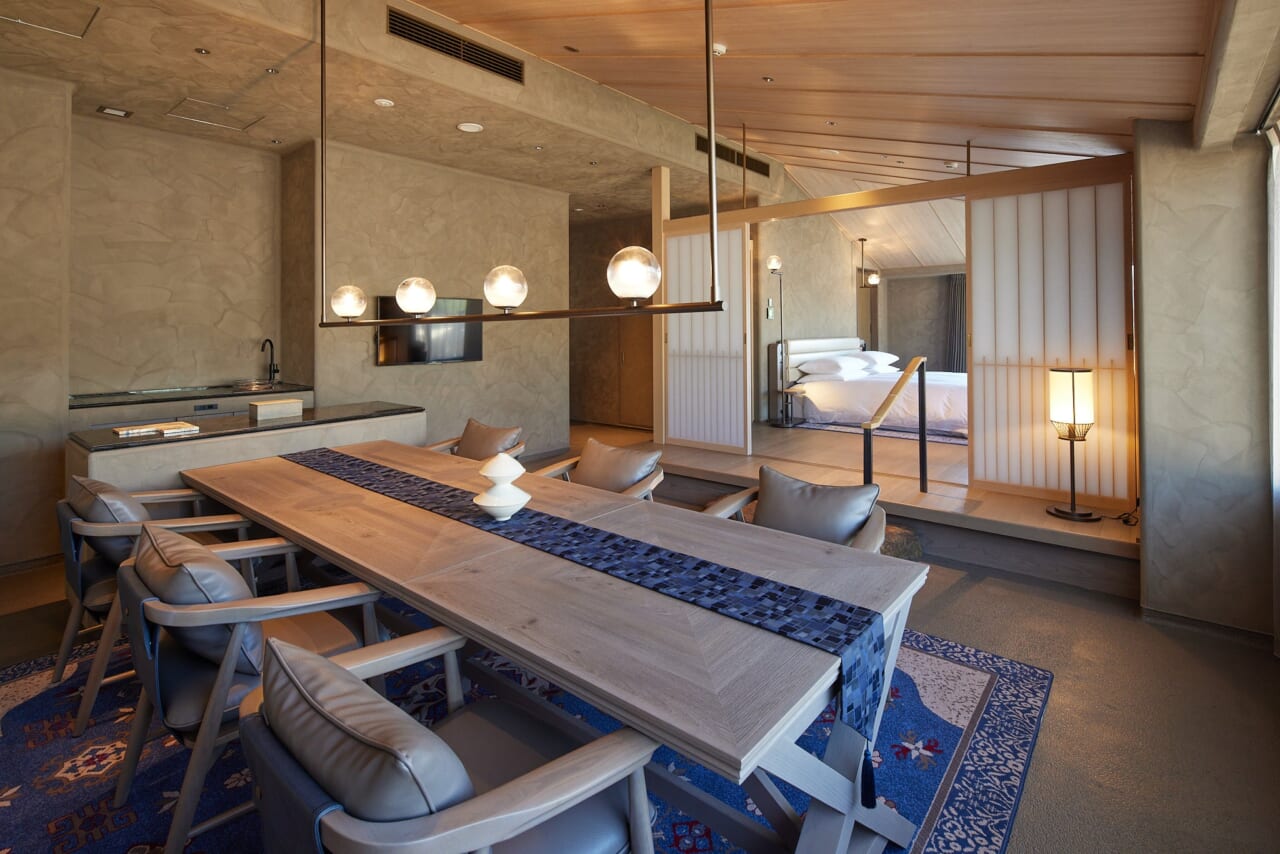 Suite higashiyama
【Favorite in-room items】
・ Original tea box: The tea box made by artisans by combining paulownia by combining all by hand contains Shinji Terauchi's teapot, Yugure tea bowl, Japan tea
・Books: Curated books on the theme of Kyoto and culture are installed in all guest rooms
・Mattress: Adopts the world brand "Sealy" to deliver a comfortable sleep
・Roomwear: Original roomwear made of linen featuring a fluffy and gentle touch
・ Skin care set: "MINUCA" that leads to moisturized skin with rice-derived ingredients is prepared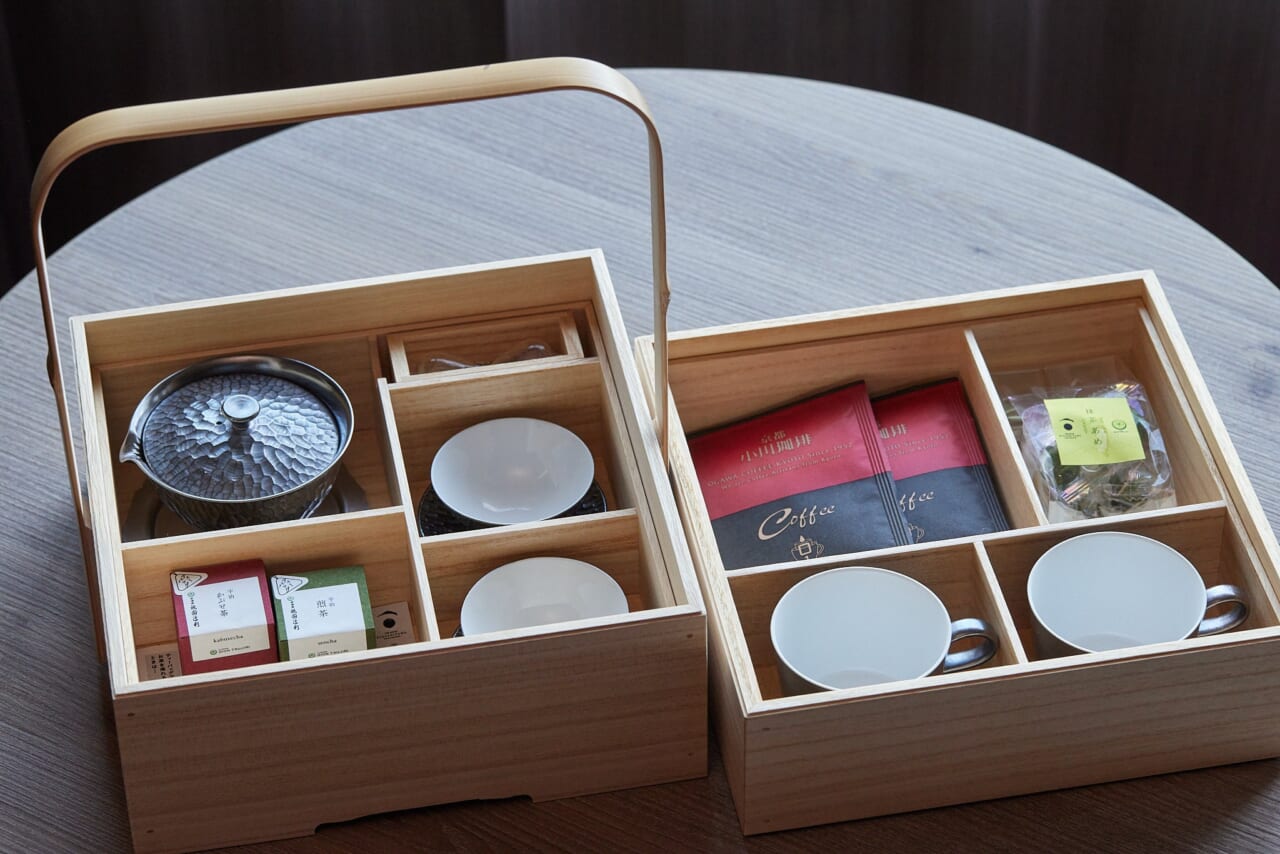 Original Tea Box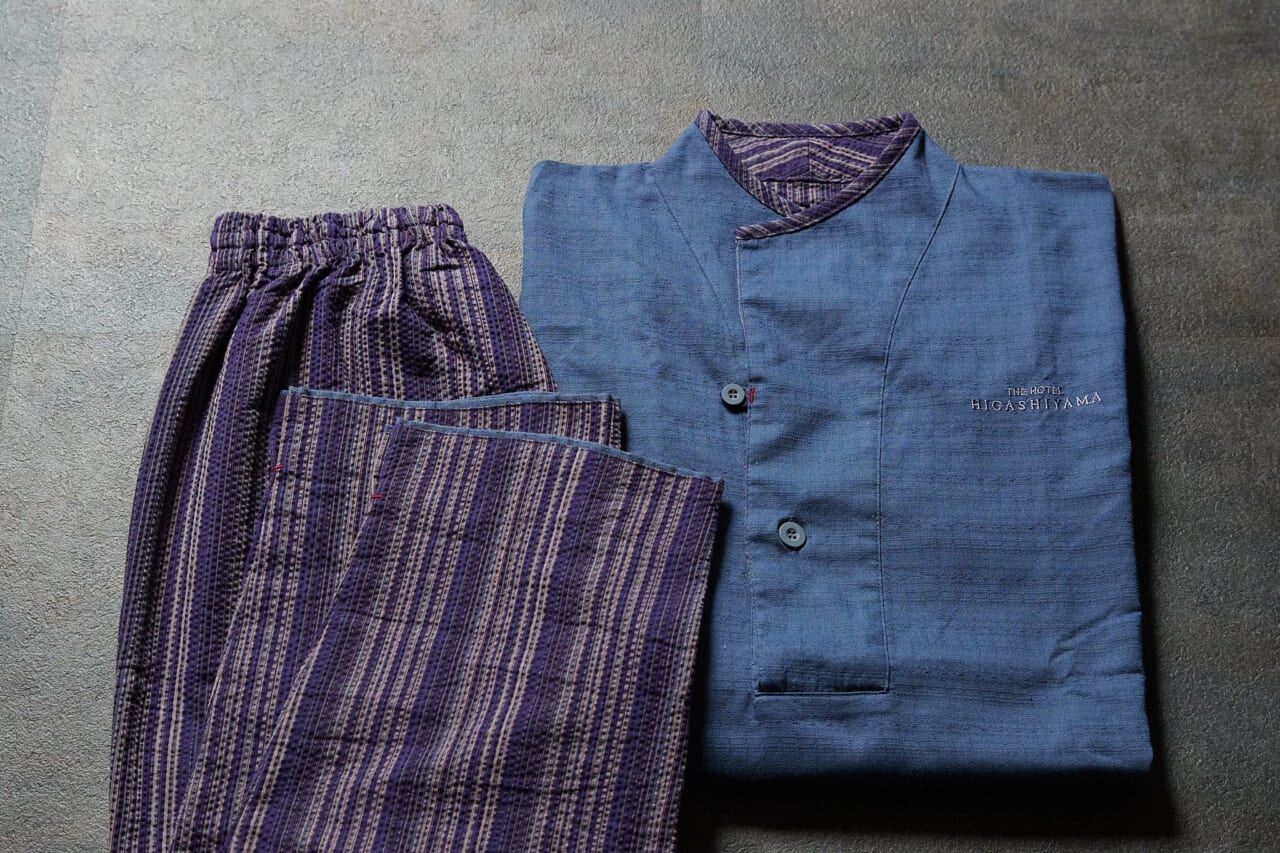 Roomwear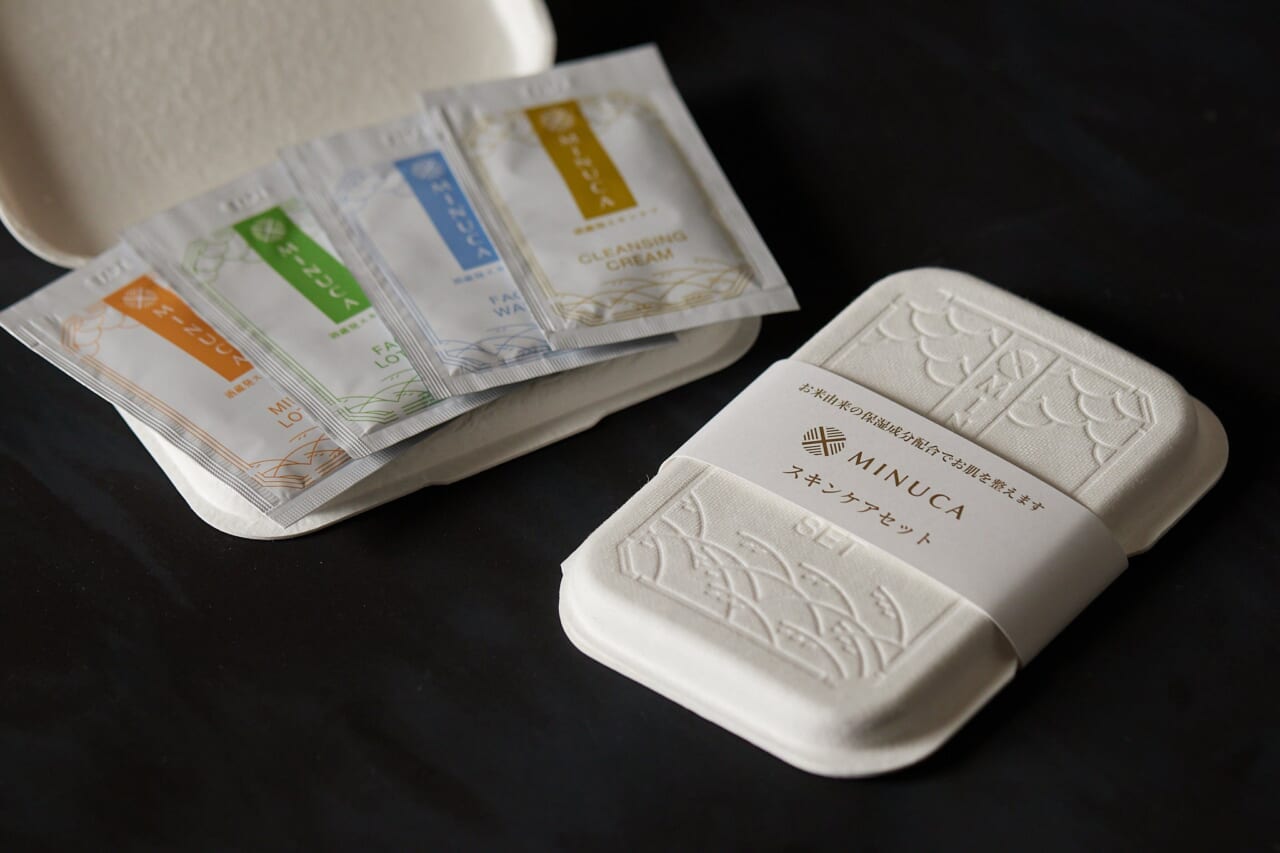 Skin care set "MINUCA"
(2) Restaurant Kyoto French "Nana Nano Ichi" B1F
We will multiply the tradition of French cuisine with the essence of Japanese cuisine and prepare a unique Kyoto French that incorporates local ingredients from seasonings to vegetables. In addition, according to your preference, you can choose from Japanese breakfast using local ingredients mainly with obanzai, and western cuisine boasting freshly baked bread and egg dishes, so you can fill the start of the day both mentally and physically.
◆ About the store name
"Nana no Ichi" was named with the thought that the hotel is located in Awadaguchi, one of the seven mouths of Kyoto, and that it is a restaurant that you will want to visit once every 7 days.
Number of seats: 78 seats
business hours:
・Breakfast 07:00~10:30 (Last order 10:00)
・Lunch 11:30~15:00 (Last order 14:00)
・Tee 15:00~17:00 (Last order 16:30)
・Dinner 17:00~22:00 (Course Last Order 20:00)(A la Carte Last Order 21:00) (Drink Last Order 21:30)
Example menu:
・Opening Anniversary Lunch: 3,000 yen (Sparkling Wine, hors d'oeuvres, main dessert, bread, coffee)
・Dinner course: 7,000 yen (amuse, hors d'oeuvres, soup, fish, meat, dessert, bread, coffee)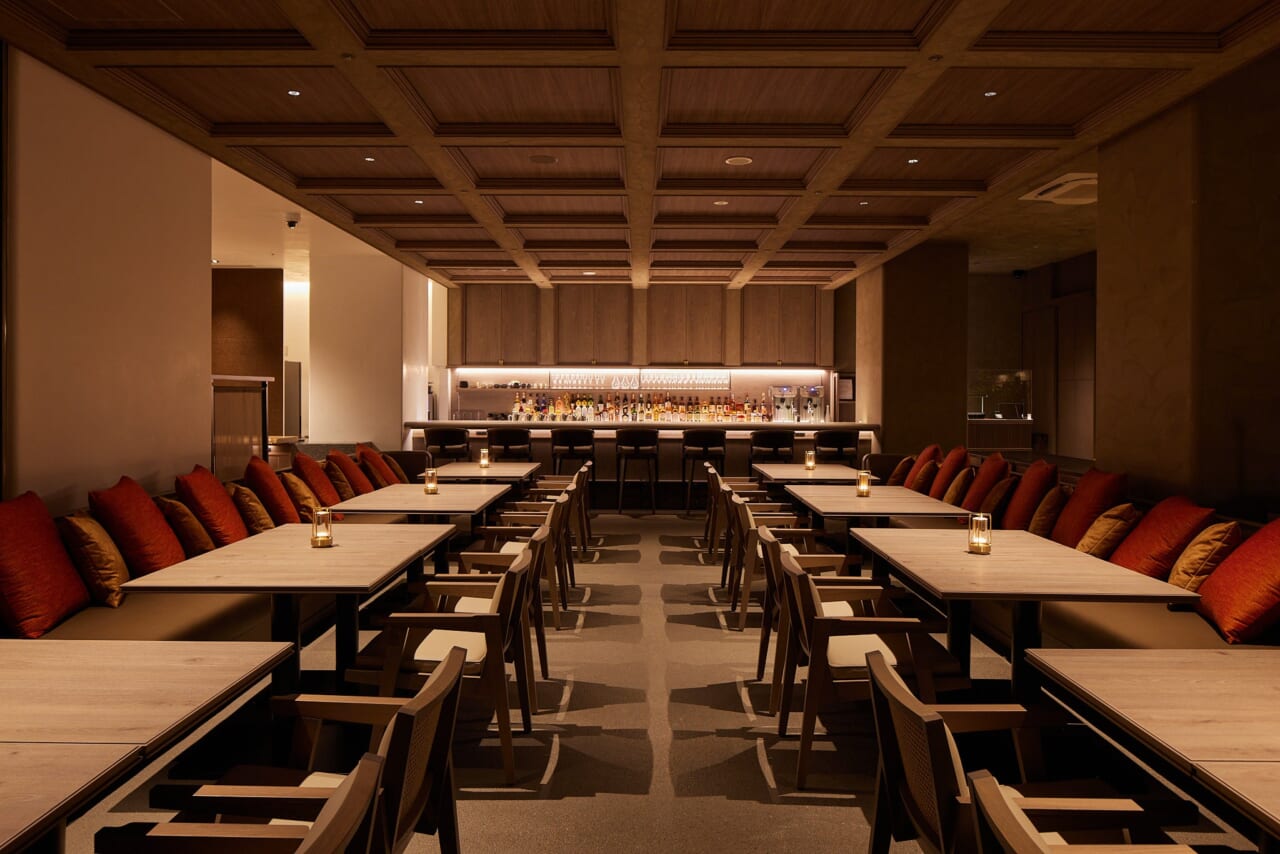 Restaurant "Nana Nano Ichi"
③Tea Bar「Sarei produced by Gion Tsujiri」 1F
In a space that makes you feel history and tradition, you can enjoy original items such as bottling tea produced by the long-established "Gion Tsujiri" founded in 1860.
・Business hours:10:00~19:00
・Number of seats: 12 seats
・Menu example: Seasonal tea 800 yen, Bottled Tea "Tea Zero" 2,600 yen, Drink comparison 3,200 yen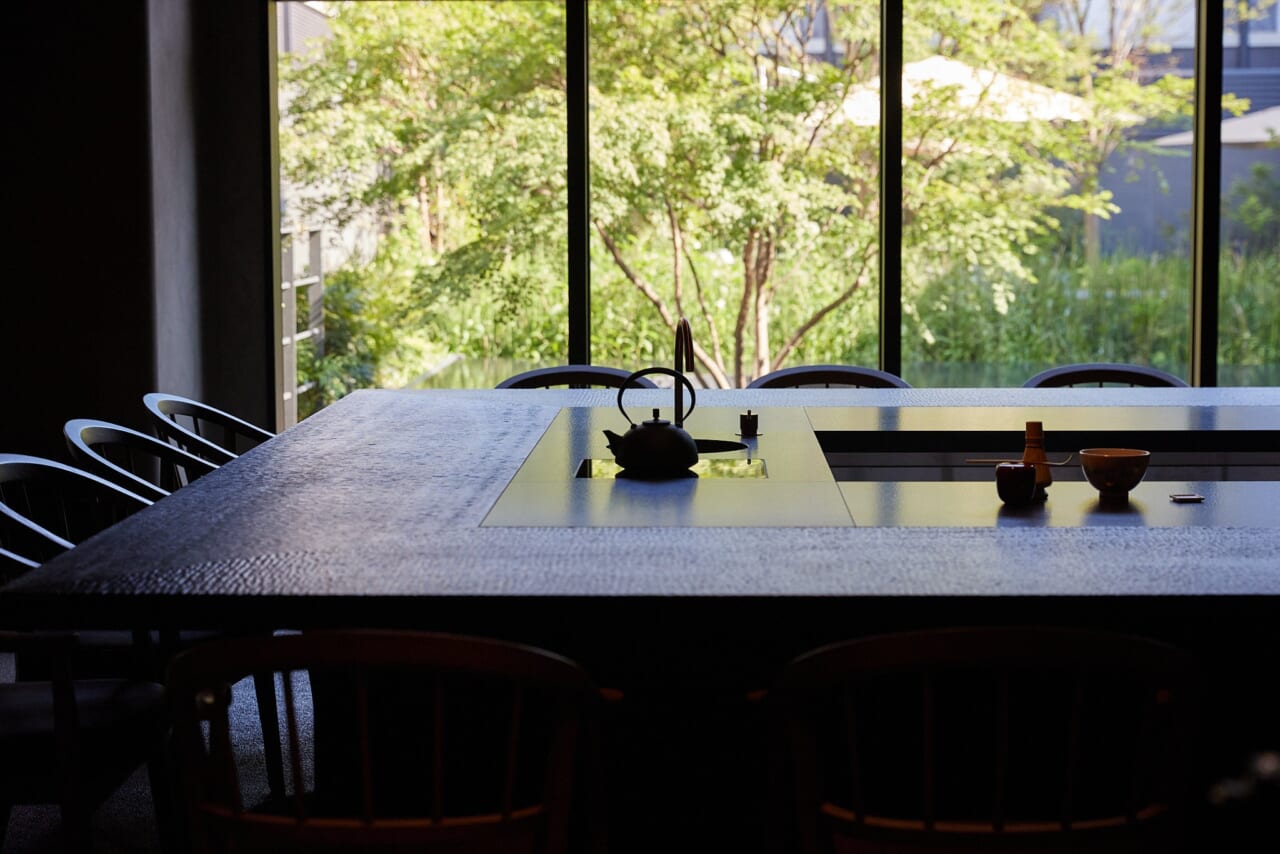 Tea Bar「Sarei produced by Gion Tsujiri」
④SHOP「Craft Editions produced by Kyoto Museum of Crafts and Design」 1F
Items of craftsmen who make traditional things in Kyoto, such as "Kyo-yaki and Shimizu-yaki", "Kyoyuzen" and "Kyo fan" selected by the Kyoto Museum of Traditional Industries, are lined up. We will exhibit and sell selected gems that can only be encountered in Kyoto, such as the Kyoto Karakami production kit by "Kyokarakami Maruji", which manufactures and sells Kyoto's traditional craft "Kyokarakami".
・Business hours:10:00~19:00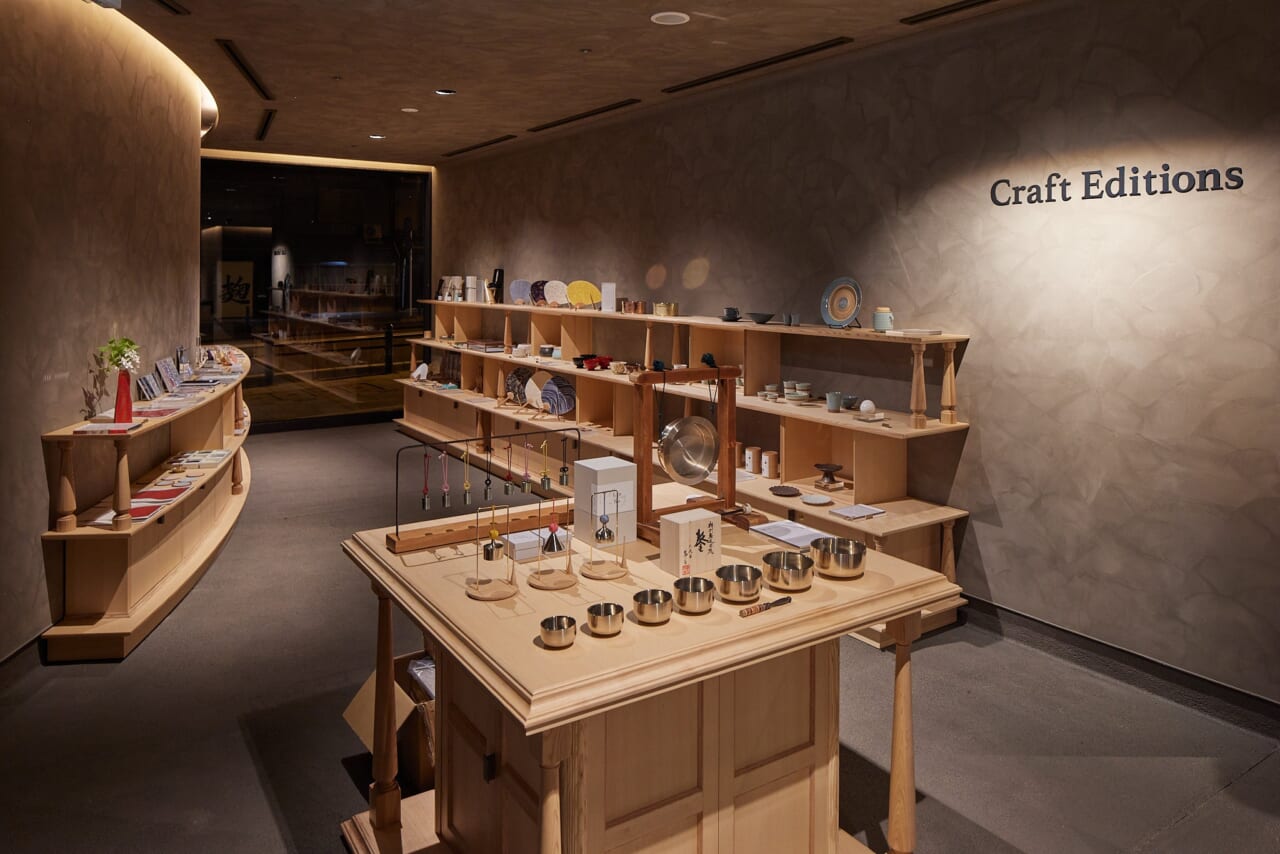 shop
(5) PRIVATE SPA Private Spa 1F
It is a private spa with the motif of tea, which is the hospitality of Kyoto. The spacious healing space surrounded by the faint aroma of tea from the tea incense burner consists of a wet area and a dry area. In the dry area, you can connect BOSE speakers to your own smartphone and enjoy music. An original spa menu such as oil treatments is also available as an option.
・Standard capacity: 2 people (maximum capacity 3 people)
・Size: 26.0㎡,30.7㎡,37.9㎡
・Price 5,000 yen ~ / 1 hour
・Reservation required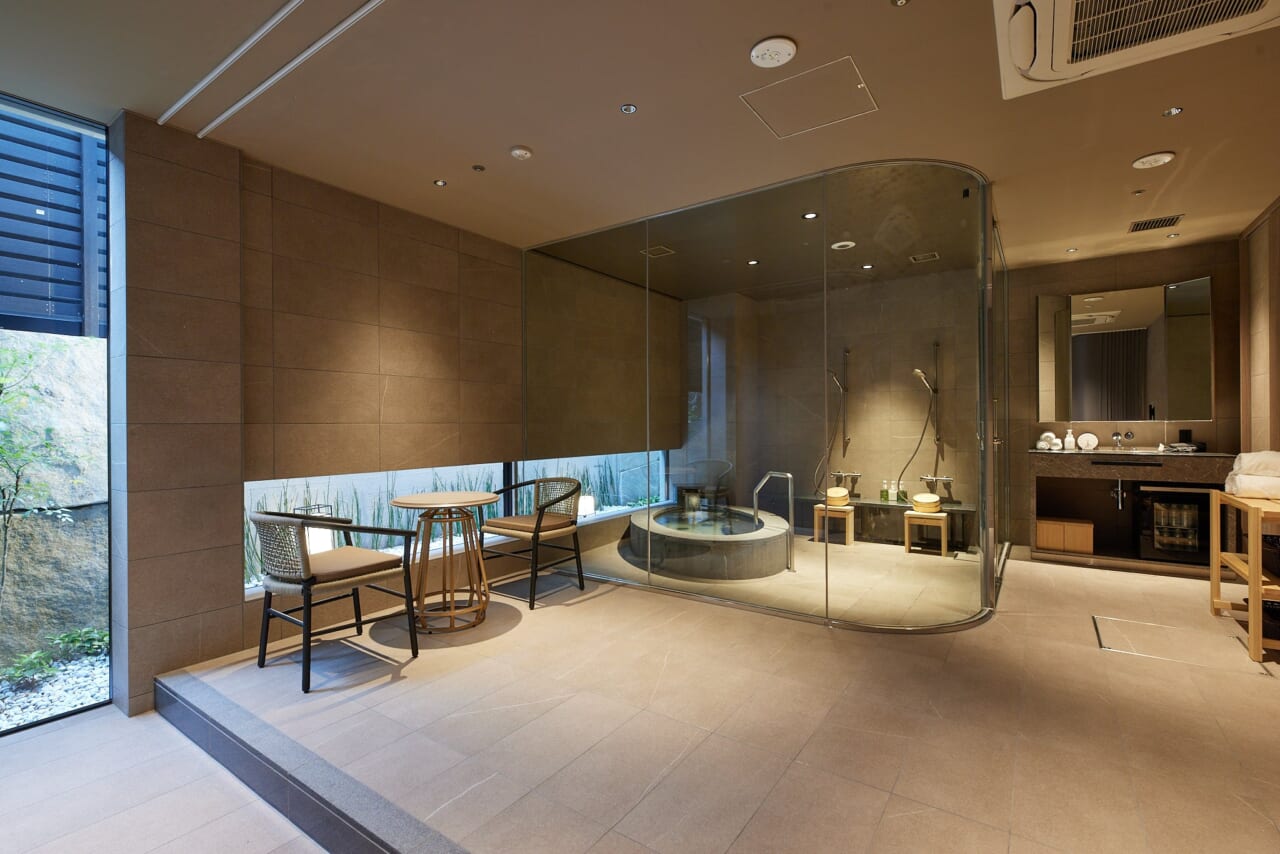 Private Spa
【Tokyu Hotels Overview】
Company Name: Tokyu Hotels Corporation
Location: 〒150-0043 3rd Floor, Goto Ikueikai Building, 1-10-7 Dogenzaka, Shibuya-ku, Tokyo
Tables President CEO Jun Murai
Establishment 01-09-2001
Tokyu Hotel, Excel Hotel Tokyu, and Tokyu REI Hotel under three brands: 48 hotels nationwide
Official website https://www.tokyuhotels.co.jp
◆Efforts to prevent the spread of infectious diseases
Tokyu Hotels places the highest priority on the safety of its guests and employees and is implementing initiatives to prevent the spread of the new coronavirus infection.
https://www.tokyuhotels.co.jp/information/61913/