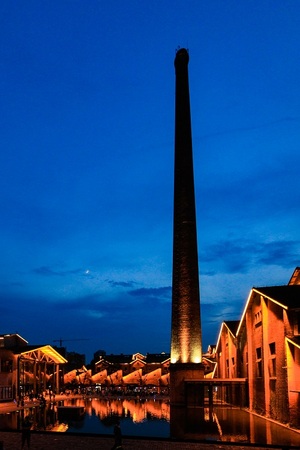 Taoxichuan Ceramic Art Avenue in Jingde zhen, Jiangxi Province
AsiaNet 92042 (2310)
BEIJING, September 30, 2021 PR Newswire=Kyodo News JBN: Taoxichuan Ceramic Art Avenue, a tourist attraction and art attraction in Jingdeen, eastern China's Jiangxi Province, appeared brilliantly at the 5th NEXT Summit (Singapore 2021) held on September 29.
With a total planning area of 2 square kilometers, Taoxichuan Ceramic Art Avenue has been renovated and built with ceramic industrial heritage, including the former state-owned Yuzhou Porcelain Factory in today's central area, integrating traditional crafts, cultural industries and technology into regional urbanization.
Jingdezhen became a place where young people pursuing dreams feel attractive, more than 18,000 young people gather to start business with 2,902 business, and 1,049 small and small businesses have been registered.
It routinely makes revenues of about 10 million yuan and employs more than 100,000 people through e-commerce live streaming.
Jingdechen, known as the world-famous capital of ceramics by taking an open and comprehensive method of free production, is now connected to the world through the gathering of craftsmen and design scholars to learn and interact with the Tokei River. Gang Hao, deputy general manager of Jingdezhen Towyi Culture Development Co. Ltd. said:
A large number of young artists and designers who have come here and settled down are injecting much vitality into the area, Gang added.
Since its establishment in 2016, Tokeigawa has attracted about 200 craftsmen and designers from overseas, and they have held lectures and solo exhibitions, and have published academic reports to promote cultural exchange.
Ceramic Industry Museum, Ceramic Art Avenue Art Gallery, Taoxichuan Ceramic Academy, Yi Creative Space, Taoxichuan Art There is a center (Tokeigawa Art Center), and everything was rebuilt from the historic district. These are examples of heritage conversion, cultural industry renovations.
Tokeigawa has received more than 80 world, national, and provincial awards, including the 2017 UNESCO Asia-Pacific Protection Heritage Innovation Award (UNESCO Asia-Pacific Heritage Conservation Innovation Award), and has been recognized as a National Cultural and Industrial Demonstration Park by the Ministry of Culture and Tourism.
See original link: https://en.imsilkroad.com/p/324107.html
Source: Xinhua Silk Road
Image attachment link:
Link: http://asianetnews.net/view-attachment?attach-id=402642
(Photo description: Taoxichuan Ceramic Art Avenue in Jingde, Jiangxi Province)