Tan-Yōse Co., Ltd. (Head Office: Minato-ku, Tokyo/ Representative Director & President: Takashi Takahashi/ hereinafter Tan-sha), which creates spaces for commercial facilities and cultural facilities, is developing the fashion brand "ANREALAGE" as a new initiative related to NFT (*1), Henri Arrayi Co., Ltd. (Head Office: Minato-ku, Tokyo / President: Kunihiko Morinaga / hereinafter Henri Arrayi) I was in charge of coordinating the entire NFT project where
As part of its co-creation project with Henri Ailej, Tan-sha supported the creation of NFT content by utilizing the know-how it has cultivated in the NFT field. Reflecting the world view of the collection announced by Henri Aleisi in collaboration with Studio Map on October 2 in the Paris Fashion Week 2022 Spring/Summer Collection (paris collection), we coordinate the entire NFT project, from planning to publication, web production, operation, marketing, etc. related to NFT. In the private sale held in parallel with the Paris Collection, we utilized Tan⻘'s network to sell art and art works in Japan to the NFT Naruto Museum of Art, Japan's first NFT museum, which aims to spread and develop NFT.
In addition, the B-OWND (*2) operated by Tan-sha uses blockchain and NFT in collaboration with Start Barn Co., Ltd. (hereinafter referred to as "Start Burn"), and this project also adopts "Startrail", a blockchain infrastructure for art built by StartBurn, We support the long-term value succession of content.
Tan-sha will continue to promote projects that continuously enhance the value of its work and aim to create new experience value by connecting virtual and real spaces. In addition, we will propose the ideal way of NFT unique to Tan⻘, which has been engaged in real spaces, contribute to the maturation of the NFT market, and promote a wide range of initiatives to create new experience value of space by digitally utilizing it.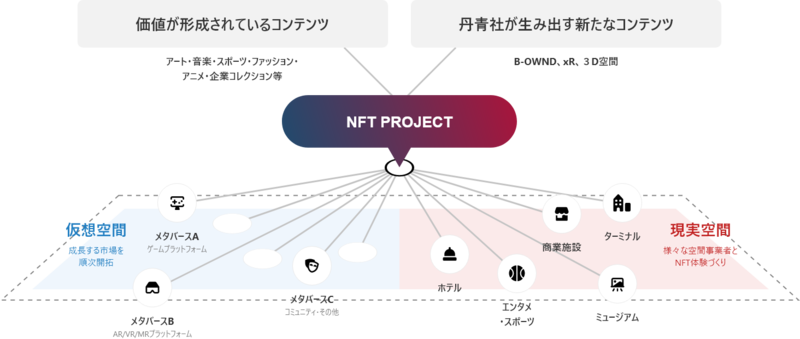 Image of Tan-sha's NFT initiatives
NFT (Non-Fantastic Token): An insubstible token that can create the value of one and only "data in the world". By utilizing blockchain technology, digital data that cannot be copied can be created.
B-OWND: A platform for craft works as art, launched in 2019. It utilizes blockchain.
Background of Henri A largege's participation in NFT project
The NFT area is currently expanding rapidly. NFT is said to have a very high affinity with the art and entertainment fields from the viewpoint of valueing the "rarity of one point" and developing it through "digital convenience". Since 2019, when Tanseisha started "B-OWND", we have issued digital certificates of NFT using blockchain when selling works.
Tanseisha and Henri Aileij signed a business alliance agreement in June 2019. Since then, as a partner, we have been promoting co-creation projects with the aim of embodying unprecedented fashion experience spaces by fusing the design capabilities, technical capabilities, and technology of "fashion" and "space". As part of this initiative, tanseisha has utilized the know-how and network it has cultivated in the NFT field to support the creation of NFT content that extends Unrealage's physical fashion to the digital domain.
From Sunday, October 17 to Sunday, October 24, a public auction of unsold digital works will be held at OpenSea, the largest NFT Marketplace company, from the time it was shown at the Paris Collection. NFT now records the trajectory to the creation of the collection, allowing buyers to enjoy a consistent experience of viewing stories related to their work.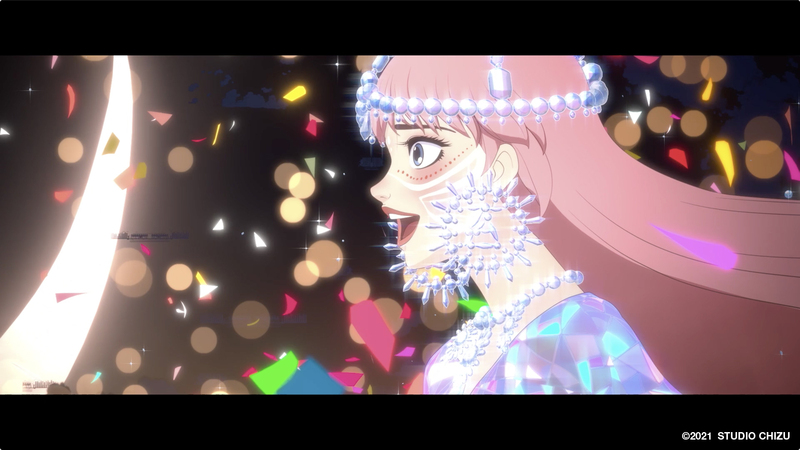 Some of the data contained in ANREALAGE NFT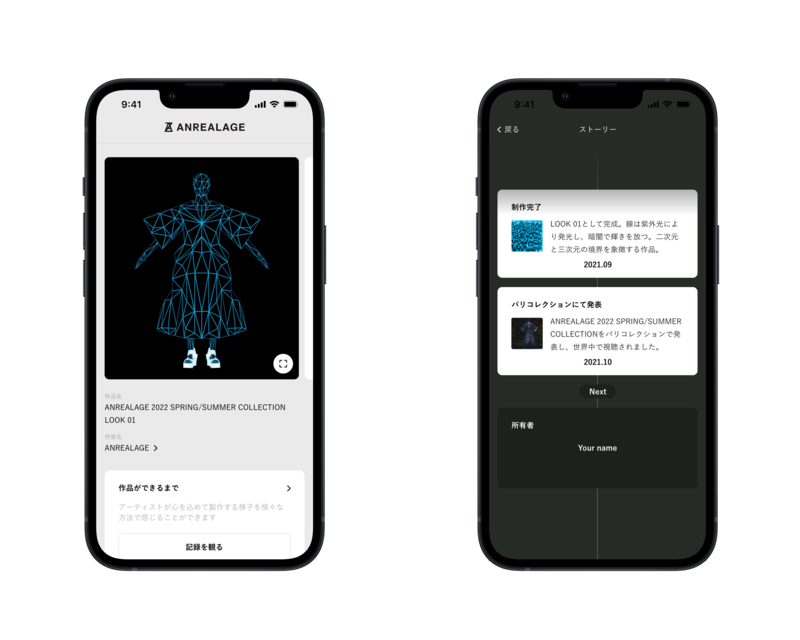 Viewing image of the work history that can only be viewed by the purchaser
Tanseisha's Value in NFT's Initiatives
1. Increase added value through content making
In addition to creating content by digitizing the real thing, we create expressions unique to digital. In addition, we will realize measures such as UIUX design and cooperation with real space to improve the added value of content.
2. Smooth transactions by NFT/sales planning
We register and issue NFT from the selection of blockchain according to various contents. In addition, we plan specific sales plans such as selecting the optimal NFT market and make up the market, and while respecting the workability of the content, we will lead to smooth transactions.
3. Realization of new projects through marketing and project management
We support the creation of relationships between customers and brands by utilizing NFT, and promotions unique to digital from planning to realization. We will demonstrate the project management skills we have cultivated in space creation in NFT projects.
About Tanseisha
As a "professional in creating spaces that move the mind", we are solving various social exchange spaces where people come and go, such as commercial spaces such as stores, cultural spaces such as museums, and event spaces such as exhibitions. We consistently support the process of creating spaces, from research and planning to design and design, production and construction, and space production and operation utilizing digital technology.
Company name: Tanseisha Co., Ltd.
Location: Shinagawa Season Terrace 19F, 1-2-70 Konan, Minato-ku, Tokyo 108-8220 (Head Office)
Established: October 14, 1949
Capital: 4,026,756,657 yen (as of January 31, 2021)
Listed : Tokyo Stock Exchange 1st Section (Securities Code: 9743 / Industry Name: Service Industry)
URL : https://www.tanseisha.co.jp
* The contents of the news release are current as of the date of announcement.
Please note that it is subject to change without prior notice.