FUWARI Co., Ltd. (Headquarters: Chiyoda-ku, Tokyo, hereinafter referred to as "FUWARI") is pleased to announce that it has started selling illustration works by AiHis and AiShe, 2.5D illustrator units that fuse AI and creators at the NFT marketplace "HINATA" operated by the company.
A new initiative called 2.5D Illustrator
The growth of AI will bring convenience to human life, but at the same time, there are still strong voices and backlash that human work will be taken over by AI. It is a well-known fact that human tasks are shifting from the field to management by AI, and that the rise of AI is already remarkable in the world of shogi and chess.
Similar voices have been around for a long time in the creator industry. If AI grows, there will be no need for illustrators.
Is that really the case?
​
On June 24, they made their debut at the NFT marketplace "HINATA" by AiHis and AiShe, the "2.5-dimensional" illustrators, which fuse the existence of two poles, an illustration generation AI, an illustrator.
They rewrite based on AI-generated illustrations or create works by reinforcing areas that are lacking in depiction.
It is by no means a matter of using AI to create works easily, but it is just a process of understanding "what AI wanted to draw" and compromising to give shape. Announcing that the works created in this way are a collaboration with AI is the activity concept of the two of them, and it leads to an expression of respect for AI.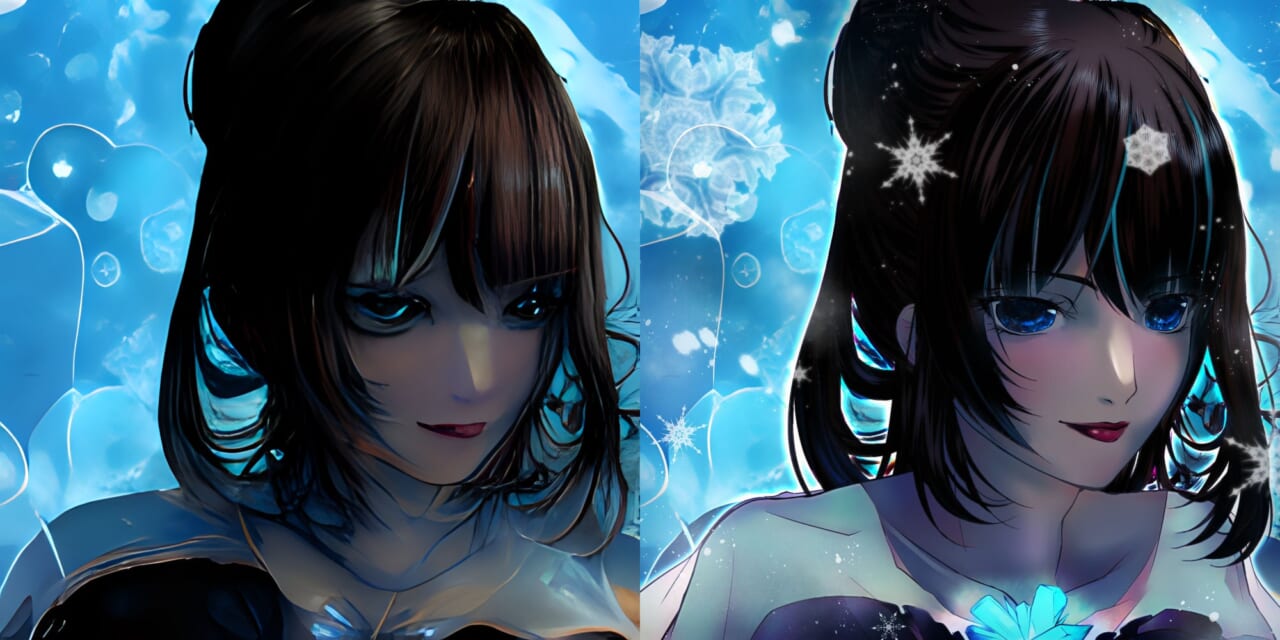 Image generated by AI (left) and rewritten work based on AI image (right)
While the illustrations generated by AI are full of imagination that is not bound by common sense, they have many fatal drawbacks, such as distorted character depictions. Therefore, in order to give shape to a work, it is essential to have a "human imagination" that can supplement information and infer the finished form even from incomplete descriptions. AI and collaboration can enjoy new creative activities based on AI ideas that are not bound by common sense.
Rather than being afraid of the growth of AI, I would like the joy of creating with AI to spread to more people.
Please pay attention to the future activities of the two people who say that they want to spread the concept of "2.5 dimensional" creators through their activities at "HINATA".
– 2.5D Illustrator Feature Article (https://www.official.hinata-nft.com/ai_illustrator/)
– List of AiHis works (https://hinata-nft.com/creators/aihis)
– List of AiShe works (https://hinata-nft.com/creators/aishe)

Why Choose HINATA ~2.5D Illustrator ×Kyo Yuzen~
At HINATA, we propose various collaborations to each creator with the aim of revealing new creativity through collaboration and building a community that transcends genres.
This time, the collaboration between Kyoyuzen and a 2.5D illustrator was realized, and it became an example that showed new possibilities for the fusion of traditional crafts and pop art.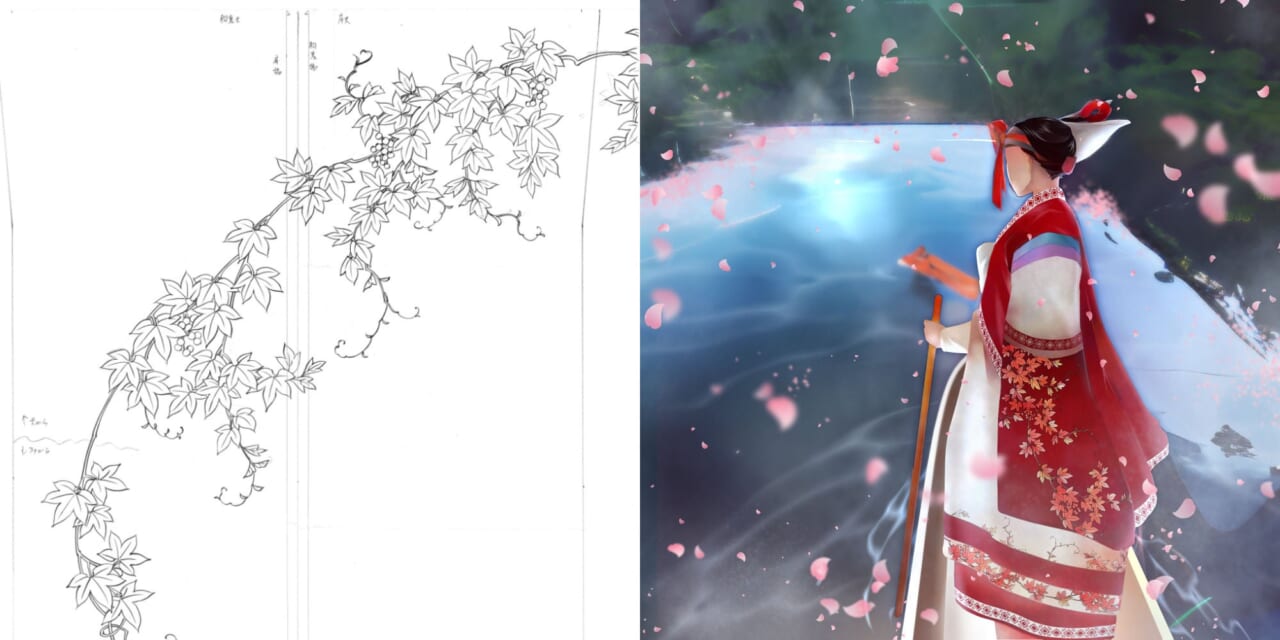 Draft used as a motif Visit Clothes "Flowing Water in the Four Seasons of the Rin School" Vol.03 (left) and illustrations created using the draft (right)
With the spread of NFT and blockchain technology, I think that many creators and artists will enter the NFT market in the future.
"HINATA makes you shine brighter" and "Only HINATA can do it." Aiming to be such a unique existence, we will continue to aim for a marketplace that is interesting for creators and makes them want to exhibit their works, not just a platform for buying and selling NFTs.
– Kyoyuzen Feature Article (https://www.official.hinata-nft.com/sekiya-sensyoku/)
​
To artists, creators, and everyone who creates works and content
At "HINATA", we are carrying out various initiatives to support the success of creators, such as collaboration between creators through NFT, special projects and feature articles for each creator, etc., and we would like to exhibit our works! I would like to challenge new creations through collaboration! We always welcome such creators.
The new digital world that NFT opens up expands your possibilities infinitely.
Want to take your creativity to the next level?
First of all, please feel free to contact us.
Contact: info@hinata-nft.com (HINATA Support Desk)

With the motto of "Sunlight for all creators", this is an NFT platform that supports all kinds of creatives.
In addition, we aim to utilize NFT technology as a more familiar and realistically linked entity.
In addition to digital art, illustrations, and photographs that are often handled in NFT, we have come up with a wide variety of projects that are not bound by the framework such as hotel membership rights and marriage certificates, and we have received many talks about technology provision and business alliances that are different from the marketplace. We will continue to propose fun and attractive ways to get along with NFT.
・NFT marriage certificate (https://www.official.hinata-nft.com/wedding-nft/)
・Resort Hotel NFT Membership (https://www.official.hinata-nft.com/voyan-resort-fuji-yamanakako/)
・Children's Cafeteria Donation NFT (https://www.official.hinata-nft.com/mu-su-bi/)