【Venue】Hankyu Umeda Main Store 9F Hankyu Umeda Gallery 【Period】September 21 (Wed) ~ 26 (Mon)
Focusing on the design of the "margins" of the obi designs left in Nishijin, Kyoto, we will exhibit art works using those digitally archived and hold the first sales event. Since 2014, Nishijin Weaving's long-established Hosoo has been working on a digital archive of approximately 20,000 strip designs as an idea source that can be used by the next generation as part of the "MILESTONES" project of Kyoto University of the Arts. In this exhibition, using these digital archives, synthetic designer/programmer Shoya Dozono will generate new designs and display them as installations with designs that the creative unit SPREAD has colored.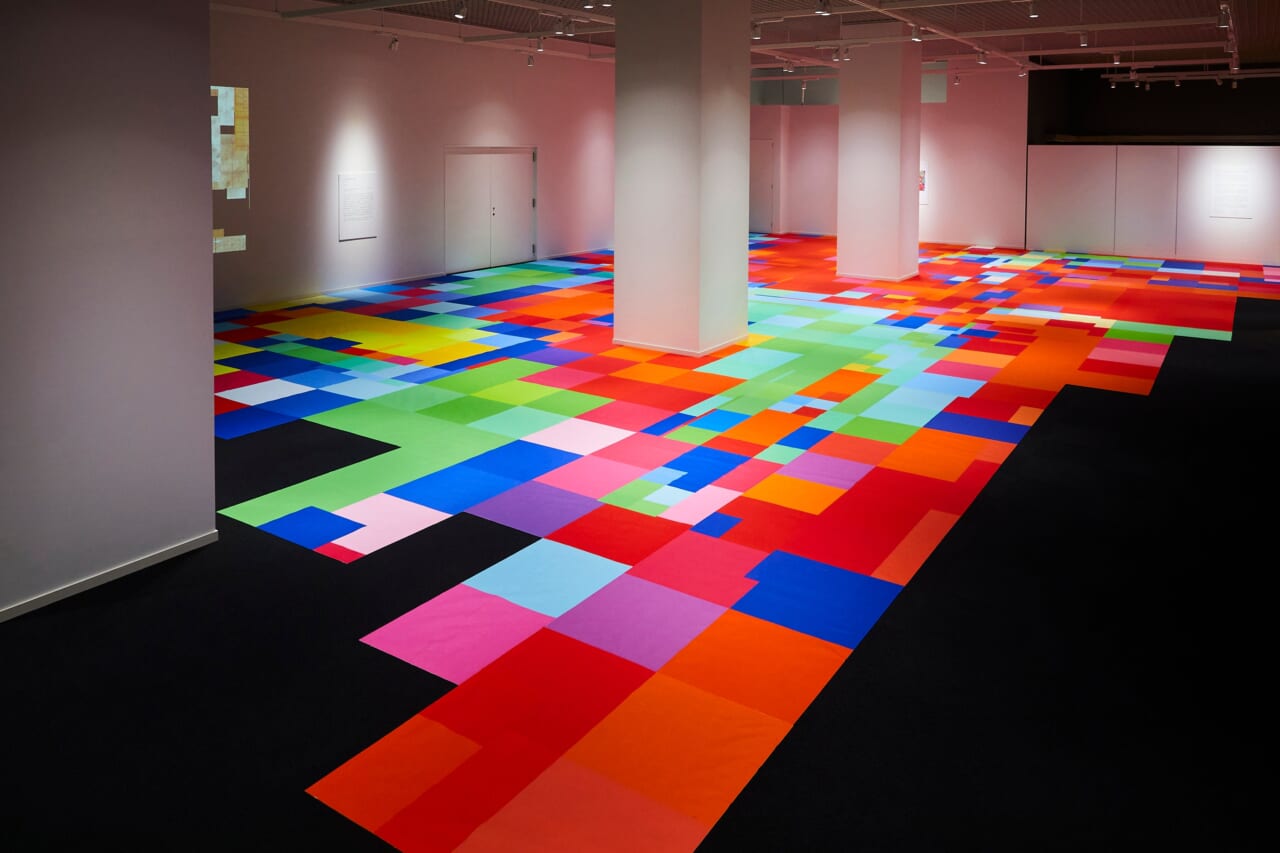 Image of the venue space
This vivid floor installation space reflects on the white walls, expressing that the margins are not leftovers.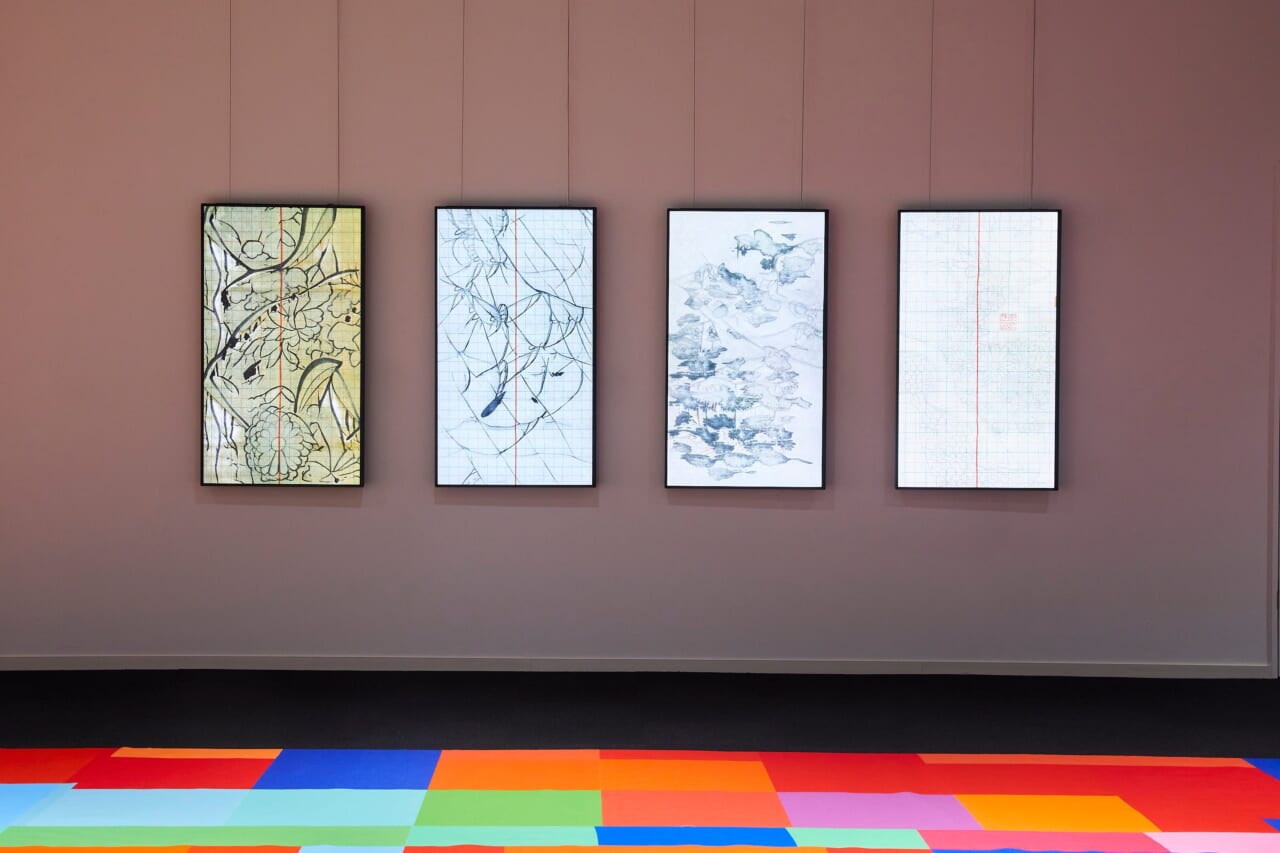 Exhibition image
The word "design" was coined as a translation of "design" in the Meiji period amid the modernization of crafts in Kyoto. Since then, creative activities based on designs have become popular among the public. Nishijin weaving is no exception, and the very first step in the process of about 20 divided labor is the creation of a design. The approximately 20,000 designs introduced in this exhibition are unfinished designs that correspond to drafts. We do not leave anything that is colored so that it can be passed down through the generations, leaving room for the color of the era to be added.
Band design
■ Part of the work 〈From left: original design, coloring, pixels〉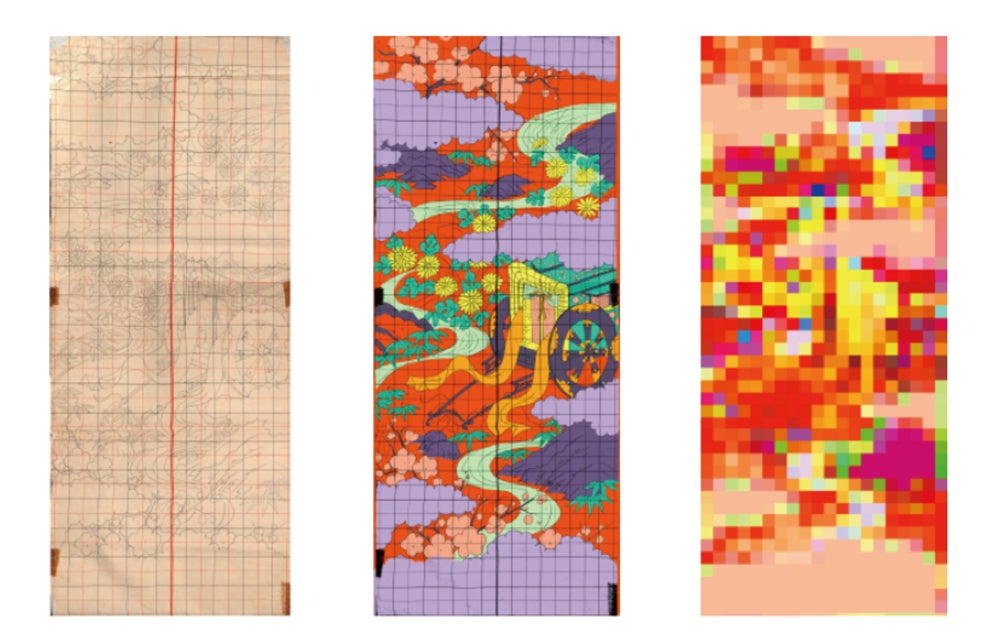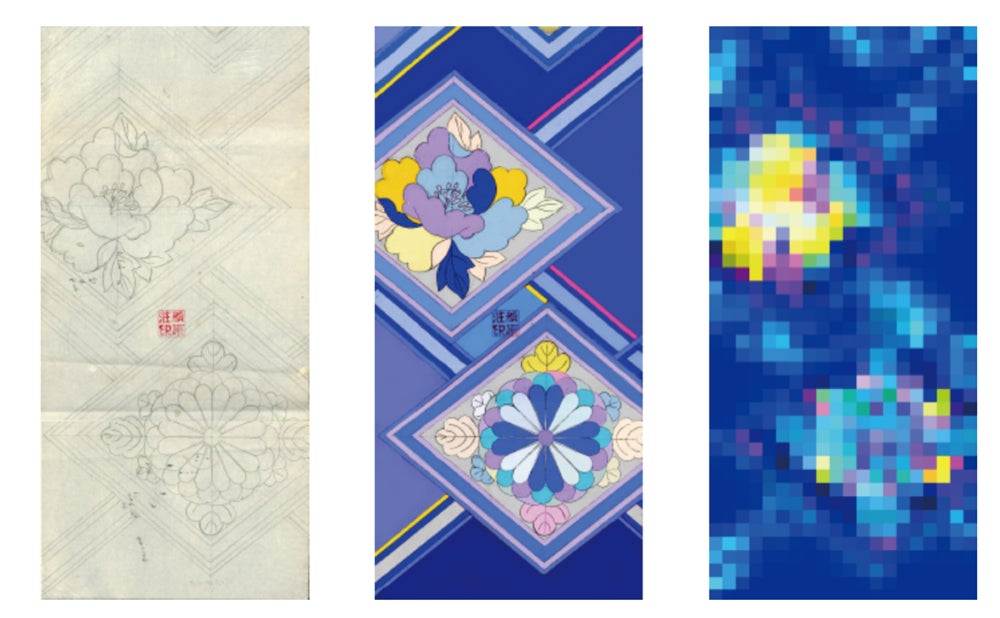 In this exhibition, we will sell 7 pixel art works using band designs, and we will receive orders for custom works that choose from 50 strip designs and 7 colors.
■Profile
『MILESTONES』
An industry-academia collaboration project with Kyoto University of Arts. It was established with the aim of preserving for future generations by digitally archiving about 20,000 traditional designs owned by Hosoo, and developing obi designs into new designs with the dynamic sensibilities of students. Under the leadership of Masataka Hosoo (president and representative director of the company), the participating students scan hand-drawn obi drawings that have been handed down from generation to generation by hand, one by one, and then digitally archive them. In addition, we are researching the meaning embedded in each design (such as Kichijo patterns and seasonal motifs).
"Computational Designer/Programmer Shoya Dozono"
Born in 1988 and lives in Tokyo. His activities focus on cross-disciplinary design and research using data, algorithms, and machine learning. His most recent projects include "4D DRAWING" (2021) co-written with Hiromasa Fukaji and joint research and development with Hosoo, a long-established Nishijin weaving company. He has received numerous awards, including Ars Electronica and the Japan Media Arts Festival.
"Creative Unit SPREAD" is a unit by Haruna Yamada and Hirokazu Kobayashi that fuses the thinking of landscape design that captures the environment over a long time axis with the graphic design method of conveying vivid impressions to the eye. Incorporating environment, living things, objects, time, history, colors, letters, and all kinds of memories, "SPREAD = Spread" Creative. His main work includes the "10th Anniversary of the Opening of the National Art Center, Tokyo" commemorative visual factory tour event "Yan Sanjo Factory Festival".
"Hosoo"
Founded in 1688, the first year of the Genroku period, as a weaver for the purveyors of the Great Temple in Nishijin, Kyoto. Nishijin weaving, Kyoto's pre-dyed textile, has been nurtured since 1,200 years ago with the overwhelming support of the nobility, the samurai class, and even wealthy townspeople. Currently, while inheriting traditional Nishijin weaving techniques such as obi and kimono, we have created unique textiles by adding innovative technology and timeless design sensibility, and are developing them for the luxury market in Japan and overseas. www.hosoo.co.jp
■ Simultaneous "Aesthetic Sense of "Nishijin"
◎ 9th floor Art stage Nishijin weaving with a history of 1,200 years. Introducing the beauty and charm of traditional art that has been handed down for a long time. Special exhibitions of long-established textile belts representing Nishijin such as "Umegaki Textiles", "Monya Iseki" and "Masuya Takao" and Nishijin Calling are on display.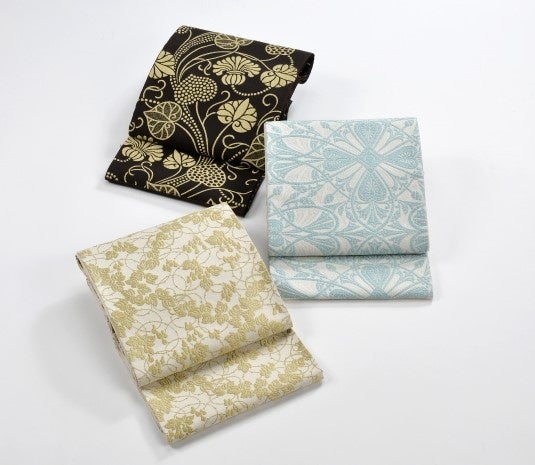 Click here for the "MILESTONE – Margin Design" homepage. https://bit.ly/3S7uyyk