Tan-Sha Co., Ltd. (Head Office: Minato-ku, Tokyo/ Representative Director: Takashi Takahashi/ hereinafter Tan-sha), which creates spaces for commercial facilities and cultural facilities, has concluded a business alliance agreement with Yume Kobo Co., Ltd. (Head Office: Kyoto City, Kyoto Prefecture / President: Kenichi Kiyama), an agent of Bamboo Craftsman Takeunsai Tanabe.
Since May 2019, Tan-sha has been operating B-OWND, a platform for Japanese art and craft works, aiming to expand the range of activities of Japanese "cultural leaders" artists and craftsmen and contribute to the promotion of Japanese culture and art.
Takeunsai Tanabe is known for his innovative activities, including works that fuse technology and traditional craft techniques, as well as the creation of huge installations. Mr. Takeshi Tanabe has been participating since the launch of the B-OWND service, and has been promoting the exhibition of installations in the head office of Tan⻘, and the creation of digital content that makes use of the exhibition together with the CMI (Cross Media Innovation) Center, which specializes in spatial production at Tan-sha.
Tan-sha has deepened cooperation with Mr. Takeunsai Tanabe, the fourth generation, and has reached this business alliance with an eye to promoting new initiatives by creating crafts and spaces in the future. In the future, Tan-sha will promote demonstration experiments and development to embody a new spatial experience with Mr. Takeunsai Tanabe, create a new experience value of space that combines the creativity, technology and technology of "craft" and "space", and promote co-creation projects that present the possibilities of the next generation of crafts through digital use.
Initiatives so far
[Installation at Tan⻘Company Head Office]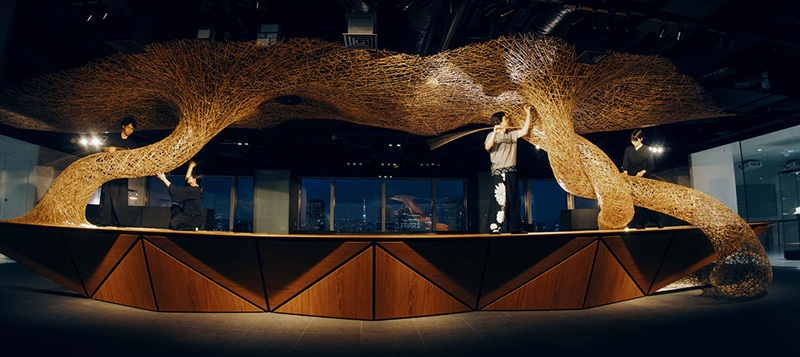 Installation work in production
In September 2019, we held an event "4th Generation Takeunsai× B-OWND "Installation by Bamboo – Gather-" at Tan⻘'s head office Creative Meets. By exhibiting works that take advantage of the characteristics of the reception area, we presented new possibilities of art in the office space.
[Mr content adaptation of installation works]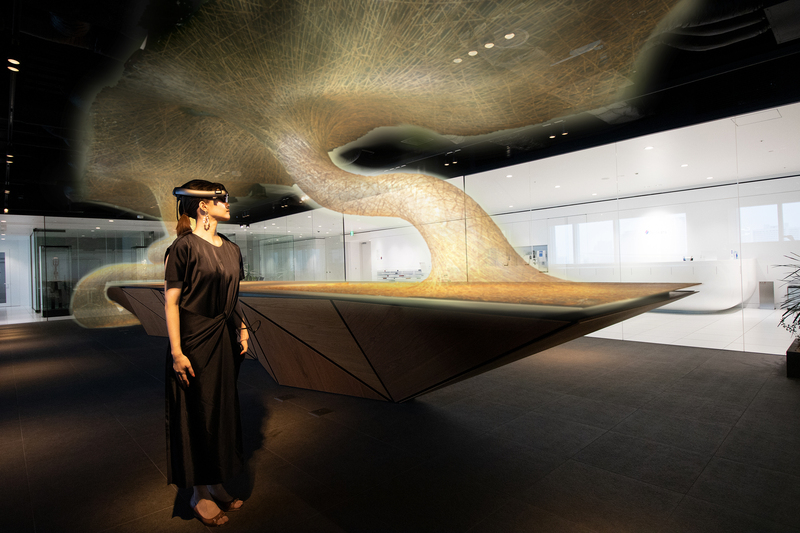 Image of MR Content Experience
In July 2020, the CMI Center of Tan-sha took the lead in creating a three-dimensional digital archive with NTT DOCOMO using the data taken from the 2019 installation, creating an MR (Mixed Reality*) that allows visitors to appreciate the exhibition space. The installation, which uses the entire space as a work, is difficult to relive only the recording of images and photographs, but by combining it with technology, we reproduced the exhibition with high accuracy and proposed a new cultural experience model with a sense of realism.
* MR (Mixed Reality): A technology that allows devices to grasp the shape of the real world and superimpose digital images on them.
Comment from Mr. Takeunsai Tanabe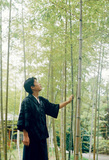 Mr. Takeunsai Tanabe, 4th Generation
We have decided to form a business alliance with Tan-sha. As technology progresses and a new era is approaching, art and crafts are changing dramatically. Through this business alliance, japanese-identity crafts will evolve and create new projects that combine creativity, technology, and technology.
< profile>
Born in Sakai City, Osaka Prefecture in 1973 as the second son of Takeunsai Tanabe. After graduating from the Department of Sculpture, Faculty of Fine Arts, Tokyo University of the Arts, he studied under his father, Takeunsai Iii. While inheriting traditional techniques from generation to generation, he develops large-scale bamboo installations at museums overseas.
Comment from Mr. Kenichi Kiyama, President and CEO, Yume Kobo Co., Ltd.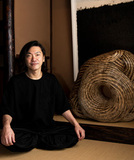 President, Yume Kobo Co., Ltd.
Mr. Kenichi Kiyama
In order to realize "tradition and innovation" that our contract artist, 4th generation Takeunsai plays, at a higher level, we have decided to form a business alliance. We are very pleased to be able to work together to realize Takeunsai's dream by utilizing tansha's vast experience and resources such as digital content and space production to create new value.
Comment from TanSha Co., Ltd.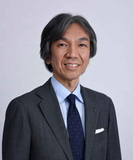 General Manager, Business Development Department, Planning and Development Center
Seiichiro Yoshida
Mr. Takeunsai Tanabe participated in the B-OWND project from the time of launch, resonating with the creation of works that inherit that tradition and continue to innovate, resonating with sustainable values, and launching a co-creation project. Together with Mr. Tanabe and Yume Kobo, we will disseminate new value connected by crafts, space, and technology to the world. Please look forward to this co-creation.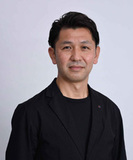 General Manager, Spatial Media Marketing Department, CMI Center
Tosenari Sawahata
It was an encounter with Mr. Takeunsai Tanabe who was among the first to focus on MR who improves the value of the viewing experience as a digital archive, and developed "4th Generation Takeunsai × B-OWND "Installation by Bamboo – Gather-" as digital content. By fusing space and technology, we will practice the creation of new value for crafts as a co-creation project.
About Tan-sha
As a "professional in creating spaces that move the mind", we are solving various social exchange spaces where people come and go, such as commercial spaces such as stores, cultural spaces such as museums, and event spaces such as exhibitions. We consistently support the process of creating spaces, from research and planning to design and design, production and construction, and space production and operation utilizing digital technology.
Company name: TanSha Co., Ltd.
Location: Shinagawa Season Terrace 19F, 1-2-70 Konan, Minato-ku, Tokyo 108-8220 (Head Office)
Established: October 14, 1949
Capital: 4,026,756,657 yen (as of January 31, 2021)
Listed : Tokyo Stock Exchange 1st Section (Securities Code: 9743 / Industry Name: Service Industry)
URL : https://www.tanseisha.co.jp
* The contents of the news release are current as of the date of announcement.
Please note that it is subject to change without prior notice.