Kagawa lacquerware : Mitsuro Watanabe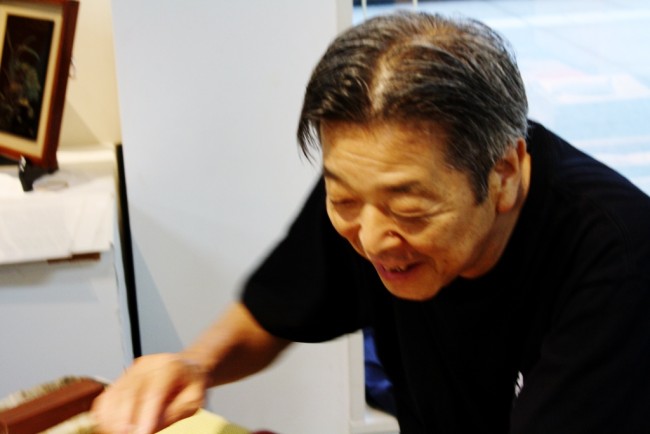 June 23, 2015 We visited Mitsuro Watanabe, who is demonstrating his production at Aoyama Square.
Basic knowledge of Kagawa lacquerware
Kagawa lacquerware began in the late Edo period when Tamakoya studied lacquerware techniques that had been introduced from Thailand and China, such as "Kinma" and "Zonsei", and created new techniques by adding ancient Japanese techniques to them.
Inheriting this technique, many distinctive lacquerware is produced, mainly in Takamatsu City in Kagawa Prefecture,
They are collectively called "Kagawa lacquerware".
It is the best in japan in the variety of things such as tables, decorative shelves, trays, tea saucers, confectionery vessels, etc.
Typical techniques are "Kinma", "Goto-nuri", "Zonsei",
"Choshitsu" and "Zokokoku-nuri" are all used, and
"Astringency" and "taste" increase in beauty, and the unique color tone of Kagawa lacquerware comes out.
Orders increase year by year not only from Kagawa Prefecture but also from all over the country, and it is attracting attention now.
-Biography-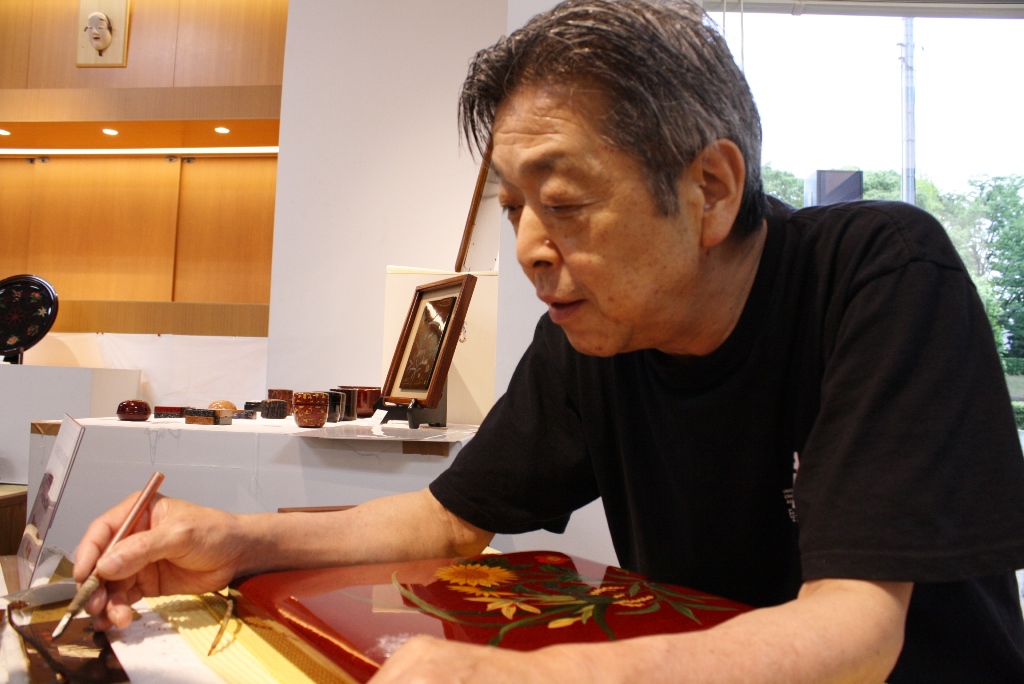 1949 Born in Takamatsu City, Kagawa Prefecture
1969 Joined Watanabe Lacquerware Shop Studied with His Father and Kazuo (Traditional Craftsman)
Representative of the company was appointed in 1989.
2001 Kagawa lacquerware designated by the Minister of Economy, Trade and Industry Certified as a Traditional Craftsman
-Awards-
2003 Kagawa Art Exhibition
2005 Selected for The Japan Traditional Craftsman Association Exhibition
2006 Kagawa Art Exhibition
2007 Japan Traditional Craftsman Association Exhibition Chairman's Award 2nd Seat
2008 Selected for The National Traditional Crafts Public Offering Exhibition
2012 Selected for The National Traditional Crafts Open Call Exhibition
It is natural that I took over the family business.
(Q) First of all, what made you decide to get into this profession?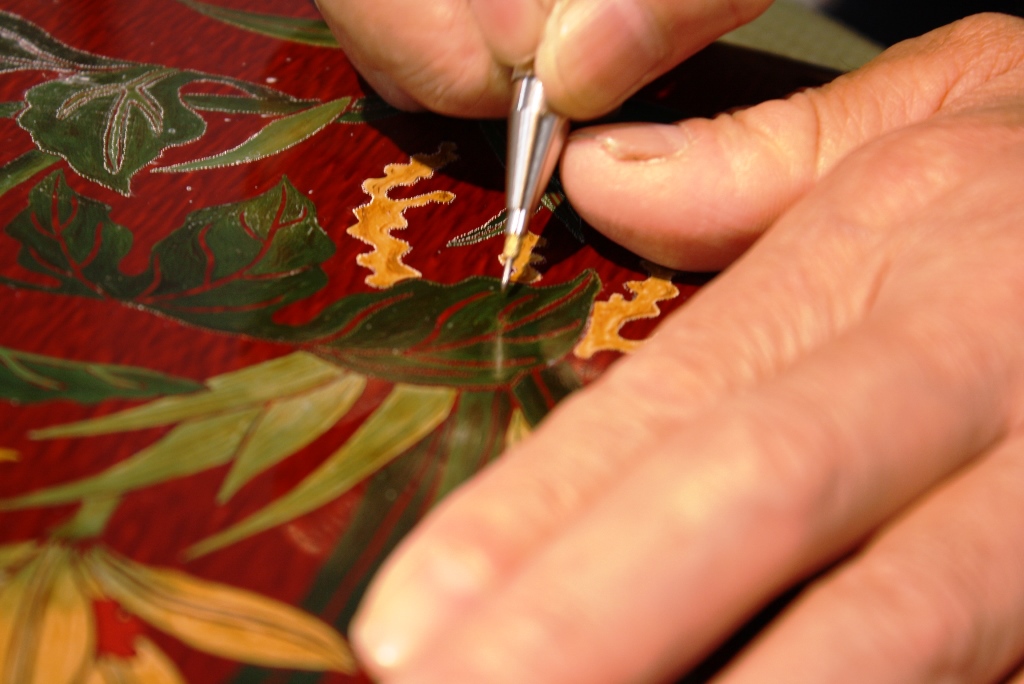 The main reason is that my father was a traditional craftsman of Kagawa lacquerware. I am the second son of four brothers, and all my brothers are salaried workers who have nothing to do with the craftsman.
(Q) Is that so? Was there any special reason why Mitsuro, the second son, took over the family business, not the eldest son?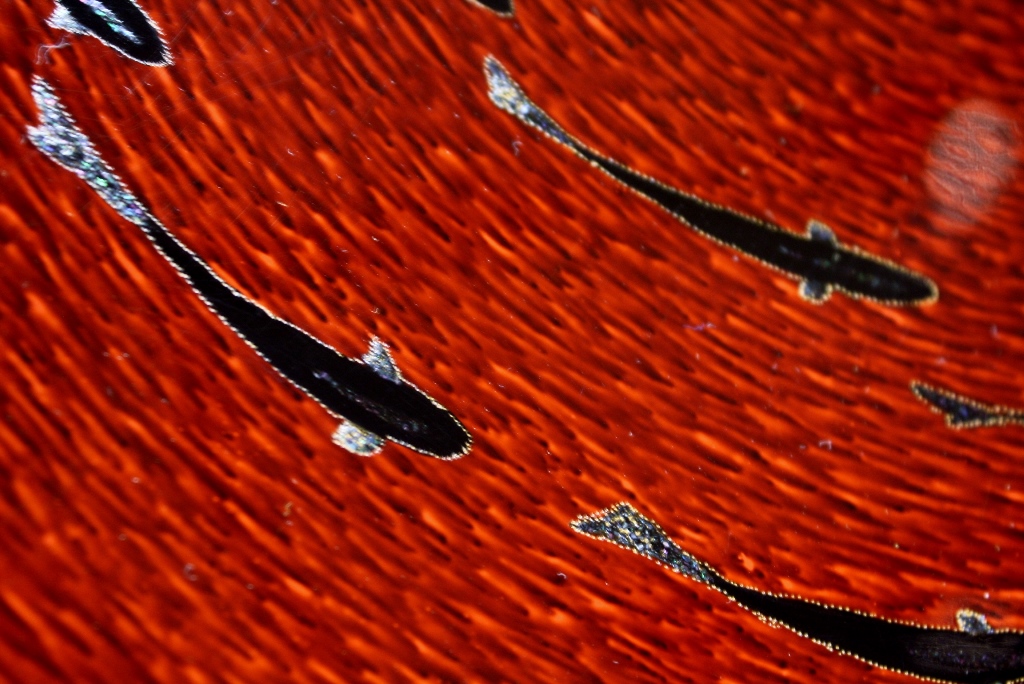 No, there is no particular reason, but I have always been a dexterous fellow among my brothers,
I've loved manufacturing since I was a child, so I think that I took over the family business as if it were natural.
(Q) Is that right? Then, kagawa lacquerware has five difficult names, and it is difficult for amateurs like me to understand (laughs), but Mr. Watanabe said that he is good at "Goto lacquerware". Please tell me why.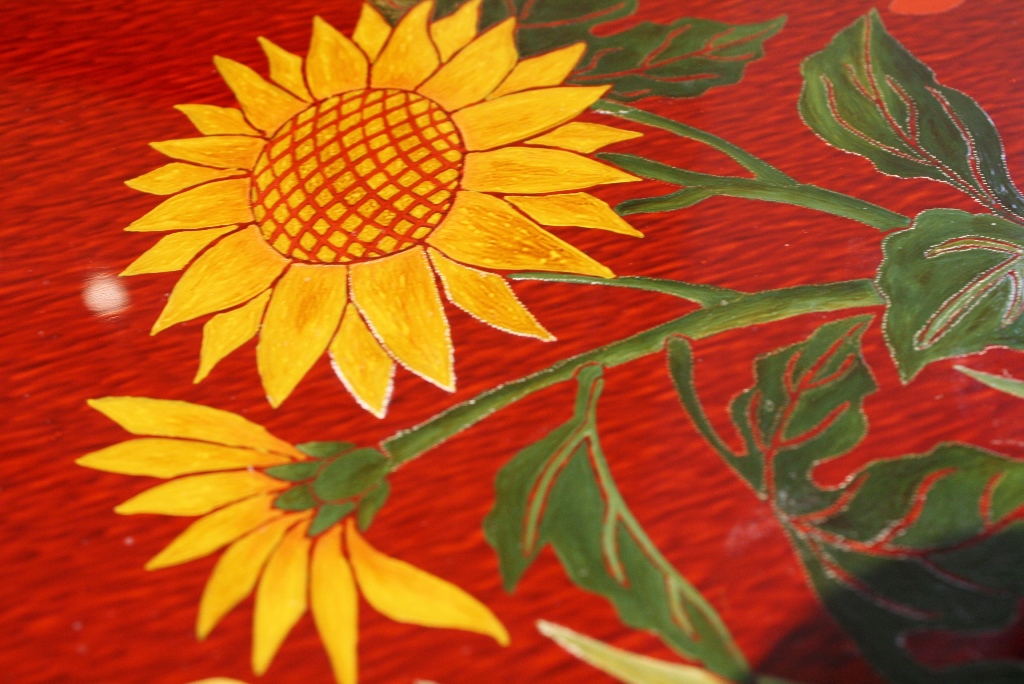 Let's see. There is no special reason for this, but the technique that my father, who is a traditional craftsman, was "Goto Nuri", so I was inevitably inherited.
However, in my case, I am making my own work by adding the technique of "Existential" while inheriting my father's technique of "Goto-nuri".
(Q) Eh? What do you think?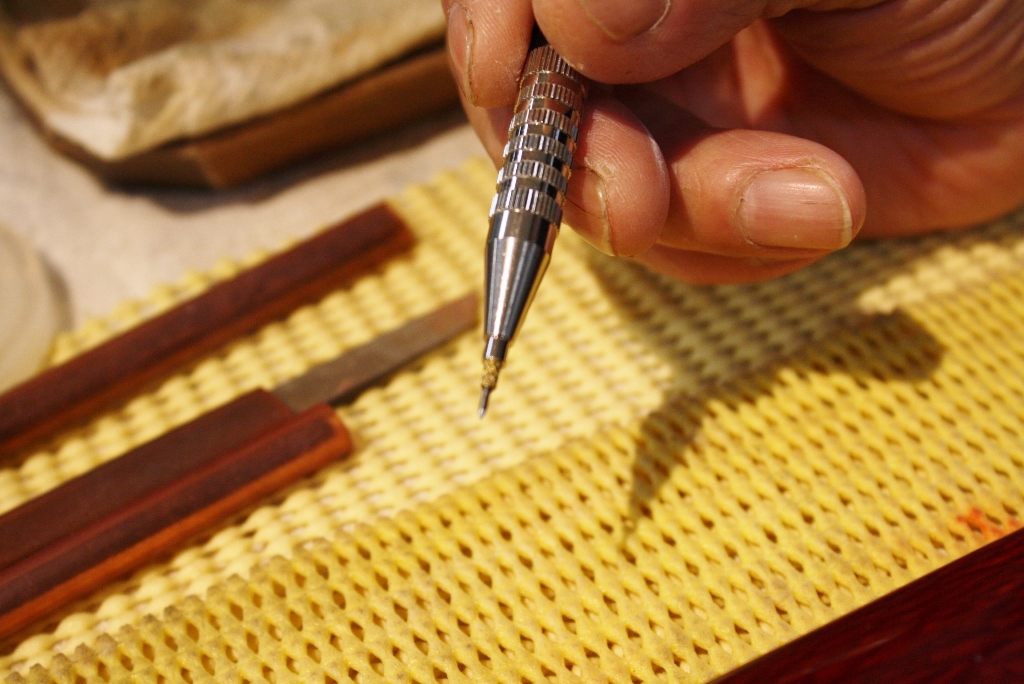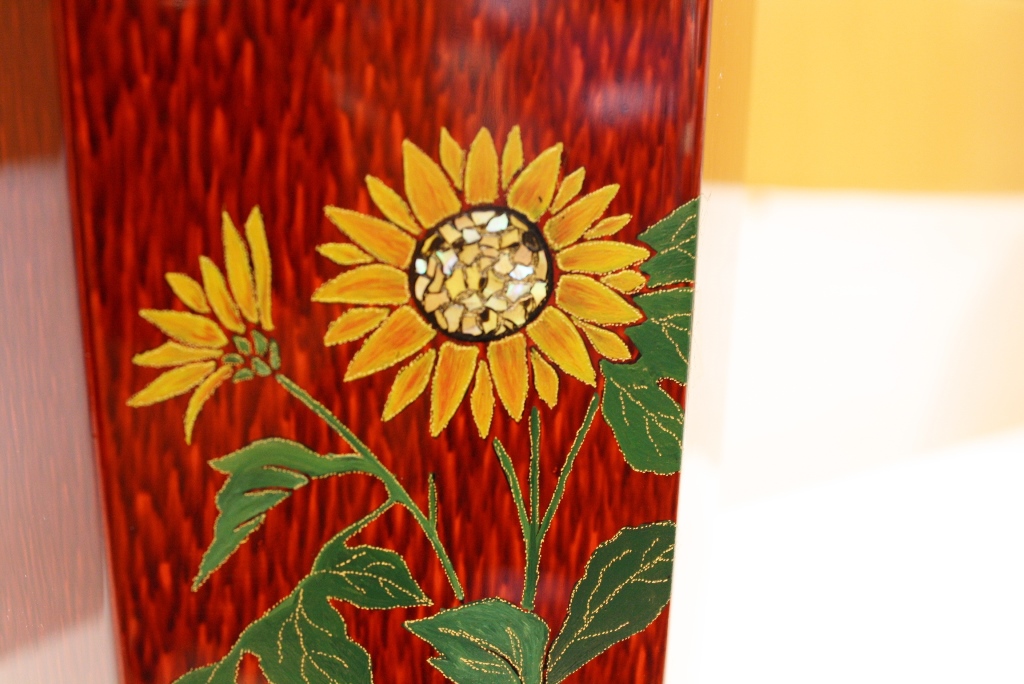 What I am creating in the production demonstration now is exactly what is called "sharpening and clearing point carving of Goto paint",
Goto-nuri is carved with a chiyoshi point carving.
Simply put, with this mechanical tool, I dot-carve the outline of the flower,
In the end, gold powder is polished with mixed lacquer and gold powder is embedded in the outline.
It may be a little difficult to convey in the photo.
We will be demonstrating the production until Wednesday, June 24 tomorrow, so I would like you to take this opportunity to see it directly.
Let's see! Earlier, female customers were asking questions quite enthusiastically.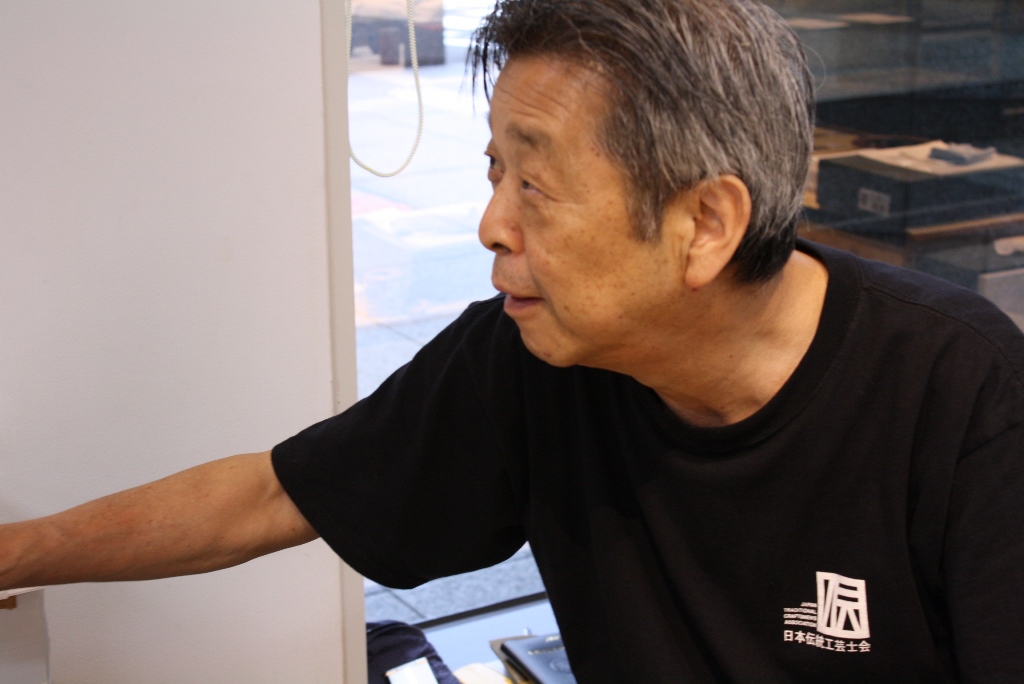 I'm doing a production demonstration here, so I would like you to talk to me and ask various questions.
Feel free to talk to us!
In the not-too-distant future, a father-son exhibition will be held
Mr. Watanabe, thank you very much for your talk today.
Mr. Watanabe's son is currently training to become the third generation.
The date of the father-son exhibition may be a not-so-distant future.
Mr. Watanabe has been holding an exhibition once a year at Aoyama Square, a traditional craft, and it has been more than 10 years.
It seems that they will exhibit and demonstrate production again next year.
This year's Kagawa Lacquerware Traditional Craftsman Mitsuro Watanabe exhibition is held until 17:00 on Wednesday, June 24.
If you come near us, why don't you come and see Mr. Watanabe's work?