Portable power supplies are now popular
In recent years, portable power supplies have become more and more popular, and their products are constantly iterating. With the expansion of battery technology and inverter technology, as well as the application range of portable power supplies, portable energy storage products can be used in outdoor scenes such as camping, fishing, RV travel, and sports. In addition, it can provide green power to various facilities such as smartphones, drones, shooting equipment, lighting equipment, etc. According to a related article, the number of outdoor participants in the United States has reached half of the total population in the United States, and the number of outdoor participants in China has grown rapidly in recent years, and now it has exceeded 400 million people. Currently, countries around the world are promoting clean energy to achieve carbon neutralization, which is undoubtedly a policy grace that has put portable power supplies on the high-speed line of development, and the portable power industry has more potential in the future.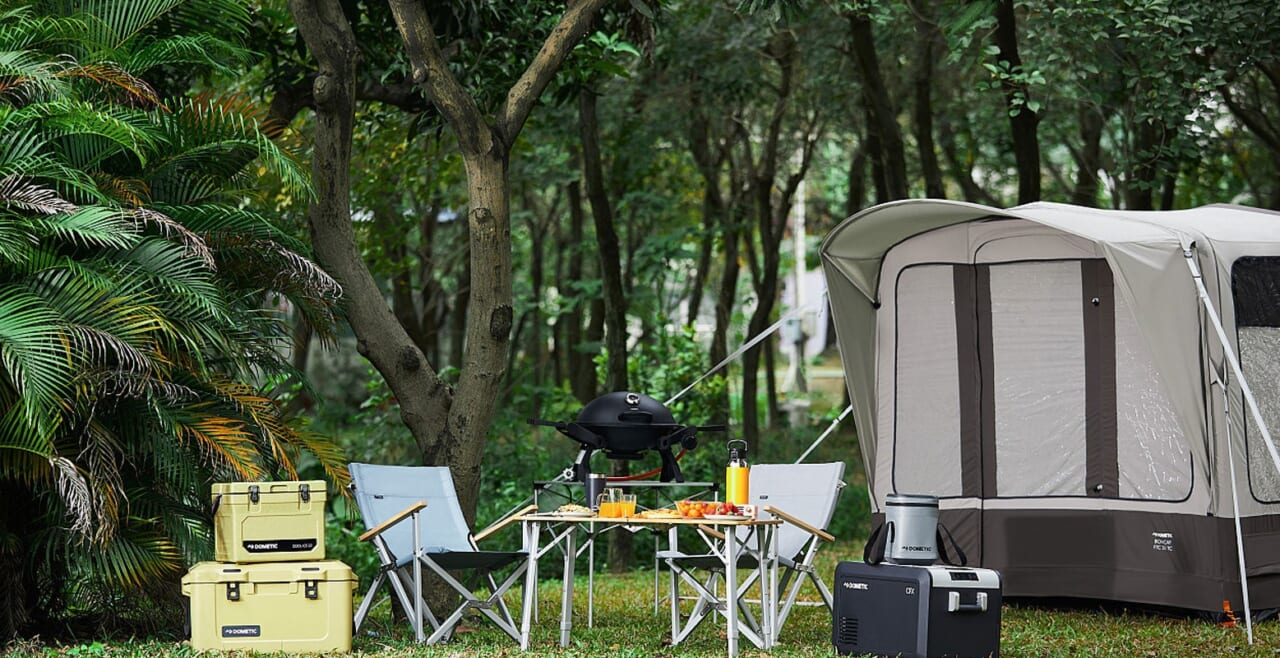 Portable power supplies have become a must for sophisticated camping.
The size of the industry is constantly improving
With global climate change, socio-economic development, energy system transformation, the trend of outdoor life familiar with nature, and the spread of intelligent electronic products, people are also demanding green power.
In addition, portable energy storage products are based on power demand such as outdoor travel and emergency power outages, and compared to power generation methods such as diesel generators, portable power supplies have advantages such as safety, green, quietness, and high cost performance, and it is a new product that can output AC and DC simultaneously and meet the needs of a wide-range market.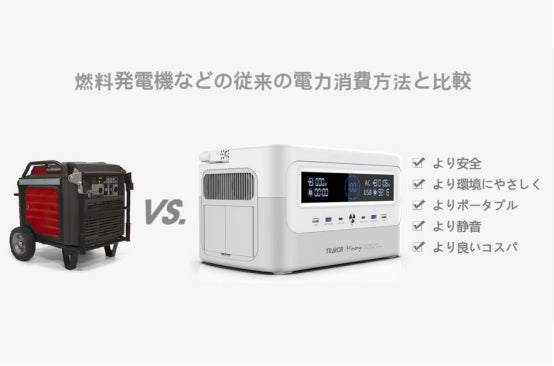 Portable power supply compared to diesel generators
If the brand represented by jackery broke the 1.0 era of portable power supply, the brand represented by EcoFlow created that 2.0 era,
Jackery, as one of the starting brands of portable power supplies, discovered business opportunities for portable power supplies and occupied the blank market for portable power supplies in an instant, so it naturally became a "first line rulemaker of item standards"; With design and effective brand advertising, it was gradually gaining a seat in the industry, especially in the field of fast charging technology, which was clearly rising from early products in the industry.

Advances in portable power supply products
Because portable energy storage products have high profit margins and a wide market space, the number of market participants and the size of the industry are both on a high-speed increase, attracting digital related companies and famous science and technology companies, and constantly entering the portable power supply products industry!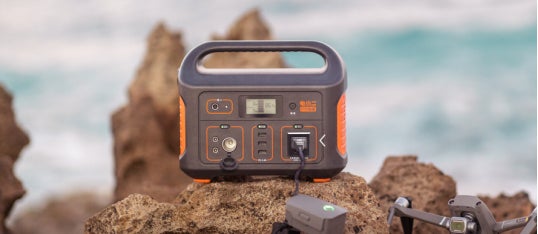 Portable Power Industry Rulemaker: jackery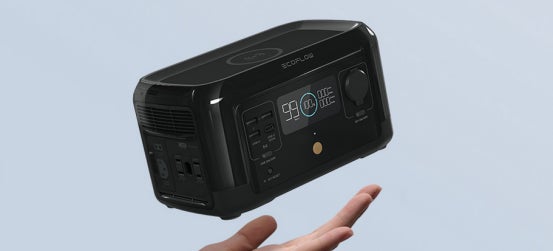 A brand leading the way in power storage technology for portable power supplies: EcoFlow
The rise of the dark horse climaxes again
The sudden arrival of portable power supplies also promoted the breakthrough of technology and crafts and the iteration of products in all portable energy storage industries. With the spread and development of various fast charging technologies, the amount of electricity storage of portable power supplies is increasing more and more, or the charging time has been shortened more and more, so consumers' purchases and usage frequency can inevitably increase. Early generations of products are more similar to mobile batteries that are larger than portable power supplies, the most common drawbacks are the charging time is too long, the design is too industrial style, so subsequent brands have offered simpler designs and updated faster fast-charging technologies, and with the maturity of technological development, new technologies and new brands are appearing one after another.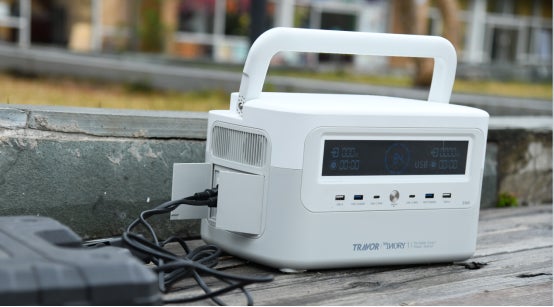 "Dark Horse" in the Portable Energy Storage Industry: TRAVOR
3. By following industry habits where C digital brands recruit opinions to customers around the world before official sales, I also try searching on famous crowdfunding platforms such as Kickstarter, Indiegogo, Makuake, Campfire: TRAVOR, The new generation portable power supply brand represented by zendure is very active in research and development of market application technology. Among them, technology R&D is rapidly iterating in areas such as charging time, power inverter technology, and auxiliary method, for example, portable power supply of TRAVOR, which has been pre-measured by Kickstarter and Campfire, achieved its goal within 72 hours of crowdfunding on Kickstarter, Indiegogogo, It sparked the starting invitation of platforms such as Campfire and coverage of the world's science and technology media. Its most core selling point is its more minority design and faster charging speed "charging up to 80 at 45 and only 70 minutes to fully charge", and three times the inverter technology, and according to advertising data judged by platforms such as Indiegogogo and Campfire, its charging speed has already become the world's no. 1 and has updated industry recognition.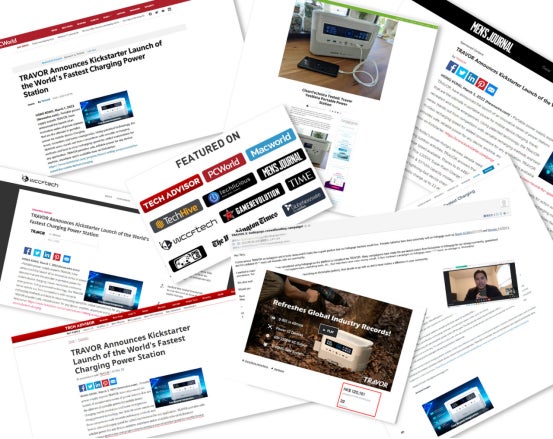 TRAVOR's portable power supply sparks advance invitations for each platform and coverage of the world's science and technology media within 72 hours of starting crowdfunding on Kickstarter
Travor, the dark horse of the industry, has not yet appeared, but it has already been seen on each net community platform. In addition to the rating videos of each social media favorite, there are also articles from each specialized media. Travor is not yet officially sold, but what makes a name for itself in the industry may be connected to the positioning of the frontline explorers in energy science and technology and artistic aesthetics. Unlike other portable power brands, it also has its unique design. TRAVOR overturned the aesthetic concept of traditional portable power supplies and grasped the wind of the tide with an ingenious design! In addition to core technology that emphasizes the user experience and the application of safer and more eco-friendly new technologies, TRAVOR is qualified to become a pioneer in the 3.0 era of portable power supplies.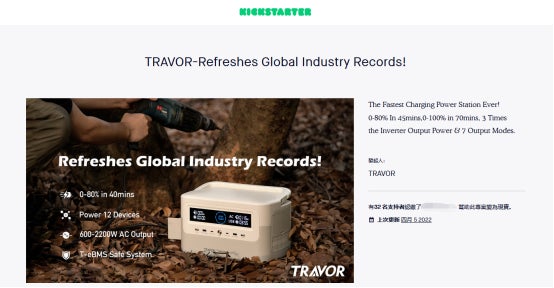 TRAVOR's portable power supply achieved limited evaluation on kickstarter
The industry is developing at a high peak.
The strong product advantage has made TRAVOR a hit as quickly as a dark horse, and for the later generation of the portable power supply industry, it has emerged and emerged in fierce competition in differentiated brand positioning and core technology iterations. For travor and the portable power industry as a whole on the brand side, it may be inspiring, market reaction maps market demand and is a thriving opportunity tip for the entire industry, but at the same time shows that the entire industry has undergone several years of high-speed development and is now turning to balanced development, upstream there is a leading brand with capital, There are many brands that subdivide the market in the middle stream, and there are many related industry brands such as mobile batteries downstream, and new market competition and ranking decision-making battle are starting silently! As with most competitions, the brand standings of the portable power industry must be full of many variables when it comes to the core technology competition from supply-demand balance competition and from product competition to brand competition. It's a challenging new course for jacoby, the pioneer of goods, ecoFlow, which was first benefited by technological innovation, and TRAVOR, which recently became a hit with the advantages of iteration technology.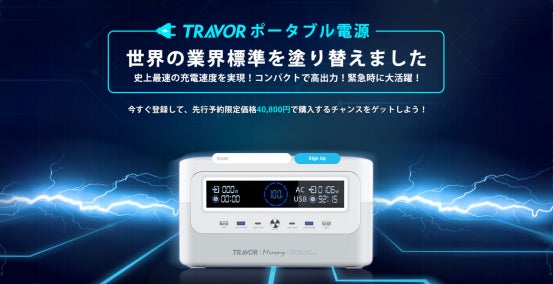 TRAVOR's portable power supplies are limited evaluation in Campfire
The official homepage of TRAVOR Portable Power Supply:
https://jp.travorenergy.com
TRAVOR Portable Power Supply Campfire Test Page: https://comingsoon.higizmos.com/travor-jp
TRAVOR Portable Power Supplies Successfully Crowdfunded on Kickstarter Site: https://www.kickstarter.com/projects/travor/setting-a-new-record-for-speed-the-worlds-fastest-charging?ref=dhwyoy&token=3869007e
TRAVOR's portable power supply is reported in Techadvisor: https://www.techadvisor.com/promotion/?prx_ro=s&prx_t=dVoHAAAAAA6vIPA
TRAVOR's portable power supply reported by wccftech: https://wccftech.com/sponsored-content/?prx_t=fVoHAAAAAAu10QA&prx_ro=s