Echizen lacquerware : Shomiki Matsuda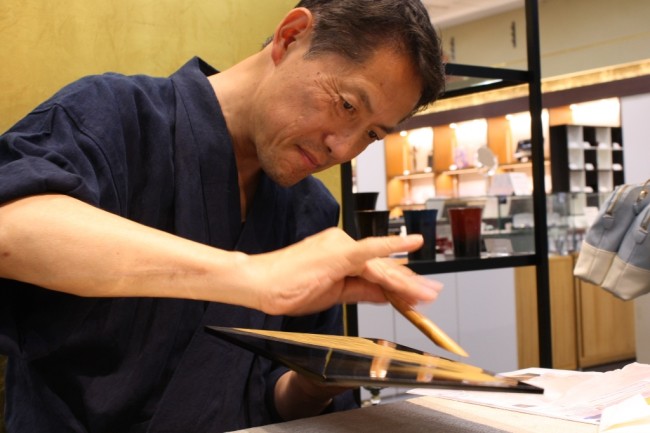 June 8, 2015 I visited Mr. Yoshimoto Matsuda, who is demonstrating at Aoyama Square.
Shokan Matsuda is a lacquer artist who draws on the tradition of Echizen lacquerware.
It is the third generation from Mr. Shuetsu, who created a unique matsuda makie technique that fuses Kyo makie and Aizu lacquerware.
In addition to inheriting tradition, we have also created new techniques for attaching lacquer to glass surfaces.
The beautiful wine glass with makie is Mr. Shomoto's masterpiece,
He taught us how this special technique came about.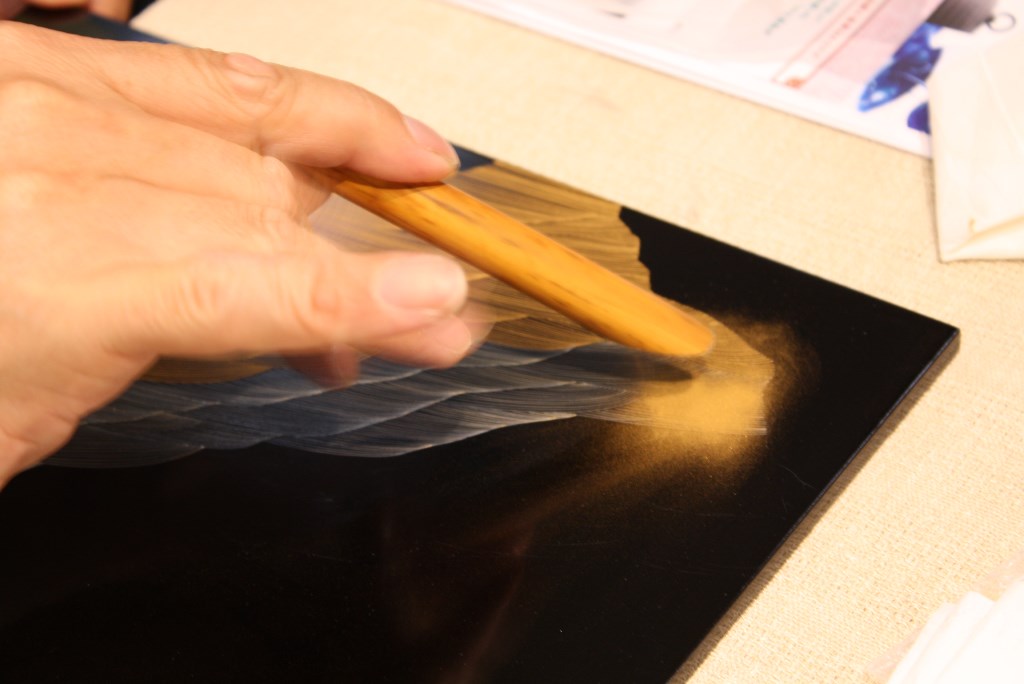 -Biography-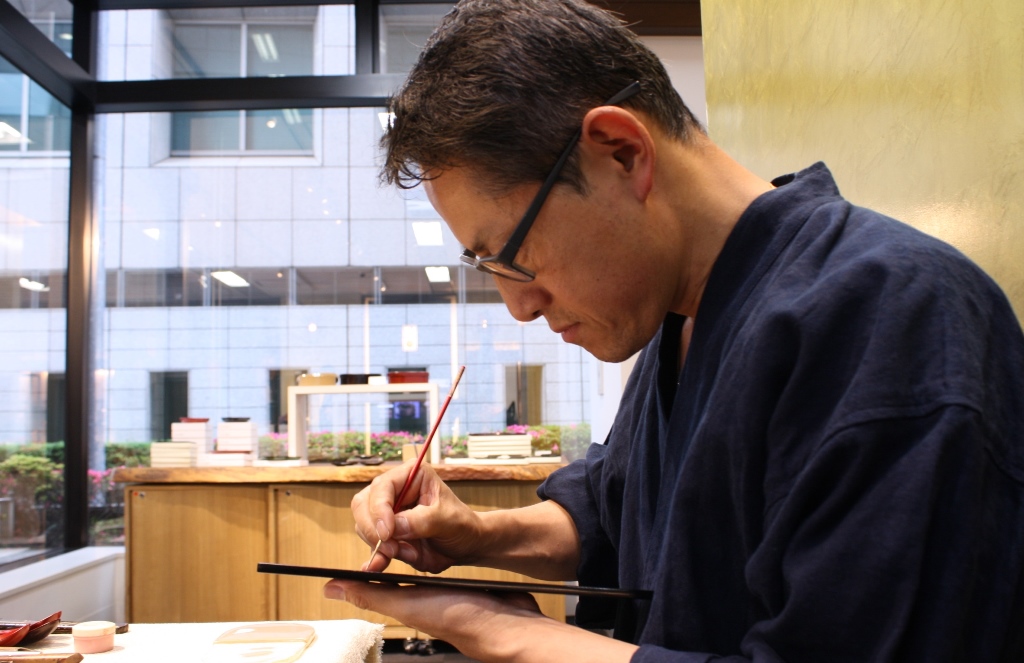 1965 Born in Fukui Prefecture
1986 Studied under Dr. Jotaro Kurefuji, Ishikawa Prefecture
-Awards-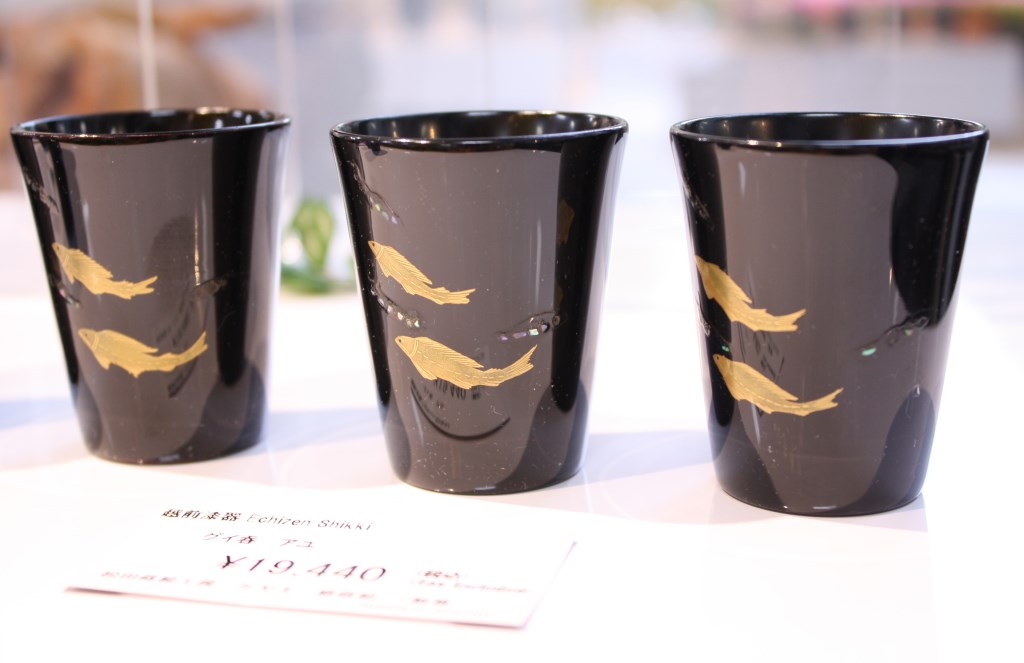 Heisei 1989
Yamanaka-cho Makie Exhibition Permanent Preservation Award and 4 other prizes
1990
・The 25th All Japan Lacquerware Exhibition Nikkei President's Award
1995
Governor's Award, Fukui Prefectural Art Exhibition
・National Lacquerware Exhibition Forestry Agency Commissioner's Award (parent-child joint work)
Since then, he has won numerous awards and has continued to this day.
(Q) Mr. Matsuda's grandfather and father are also lacquer artists, but do you have any brothers? Also, have you grown up with the awareness of "taking over the family business" since you were a child?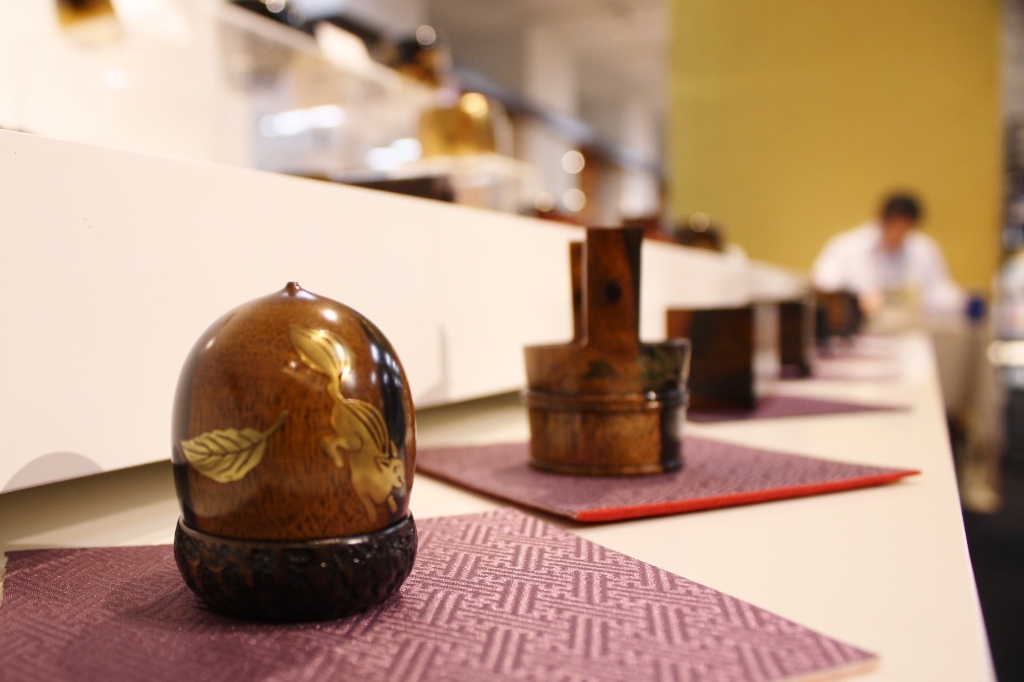 I have one older sister, but I was still a boy and the eldest son, so I wonder if it was from the time I became a junior high school student. I was "consciously" starting to help my father.
(Q) There was no particular rebellious period, and you naturally had a sense of "succession". After that, did you go well on that path?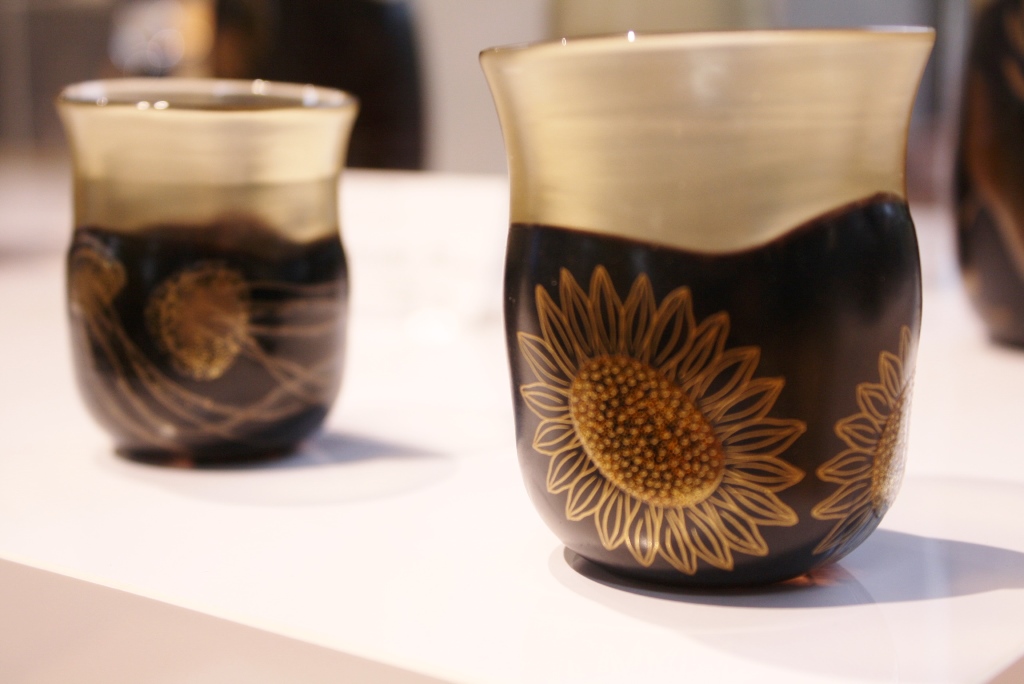 Until then, I had only touched on classic things from the environment, so after graduating from high school, I went to a design vocational school for two years.
Therefore, in order to cultivate "diverse senses" and "eyes", I learned vigorously from modern things that I could not learn in the environment until now.
(Q) Is what you learned at that time connected to the present?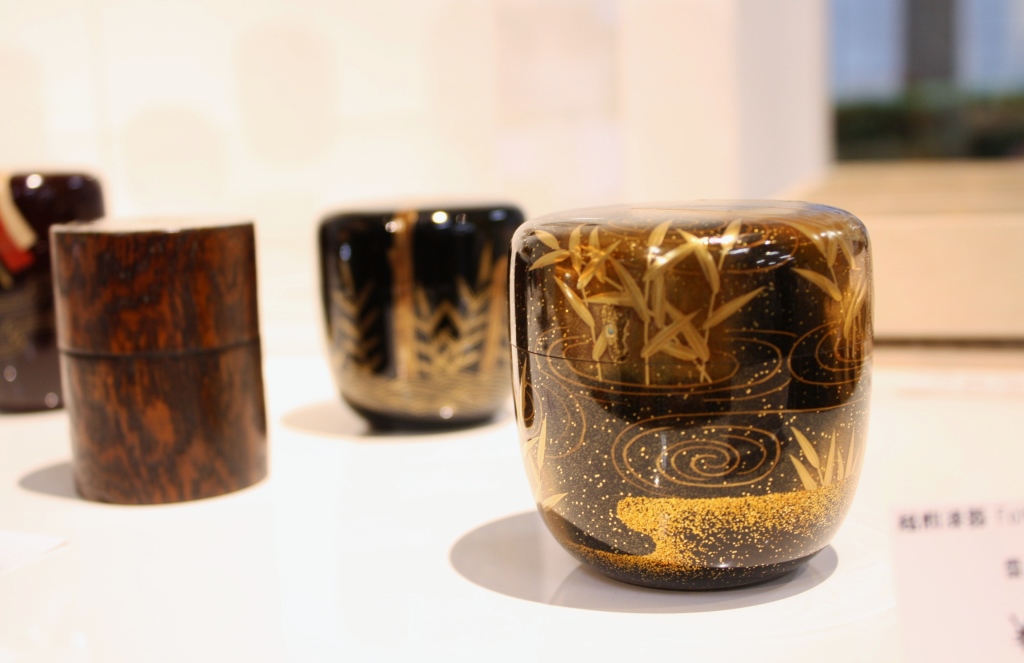 Yes, I think the feeling I absorbed at that time also had a big influence on myself afterwards.
After graduating, he studied the techniques of Yamanaka lacquerware for five years, and became able to develop original lacquer art that fused Echizen lacquerware, Kyo makie, Aizu lacquerware, and Yamanaka lacquerware, and he was making expensive tea utensils that he could work on carefully.
At that time, Japan was at the height of the bubble economy, and if you make good things, you can always sell.
(Q) After that, you finally returned to your parents' house and took over the family business, didn't you? Did you start well?
No, at times in the early 1990s, the bubble just burst, cheap woodland from China and other areas came out, and in no time the "expensive real thing" could not be sold, and in fact I experienced the ultimate period of zero income.
(Q) Are you sure?! So how was it then resurrected?
I started a soba restaurant with my mother because I could not live there.
After leaving my main business, I worked on it for a year.
By putting myself in a completely different world, I had seen it. When I leave my main business, I would like to thank the people who have been indebted to me so far. But I don't have one.
So, when I made chopstick rests and paperweights with all my heart on the base of stones that I can get anywhere, the idea is interesting! Why don't you sell this as your own work?
It is an event of the scale exactly from eyes to have been said.
Since then, we have also placed a work corner at soba restaurants and sold them.
There were many things that I saw by changing my life 180° for a year, and when I returned to my main business, I was able to greatly break my style and restart it.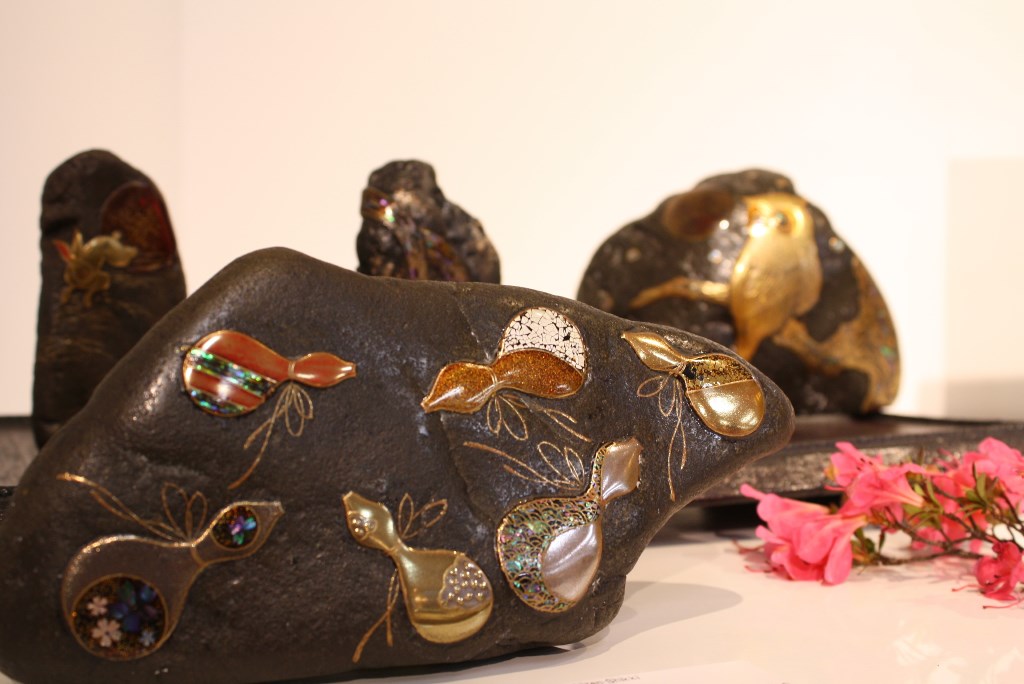 Instead of selling my work through a local wholesaler, I changed my style to having a studio in Tokyo and actively approaching it myself, and started makie experience.
I think that it became a better environment than before because the customer's reaction can be felt directly with the skin.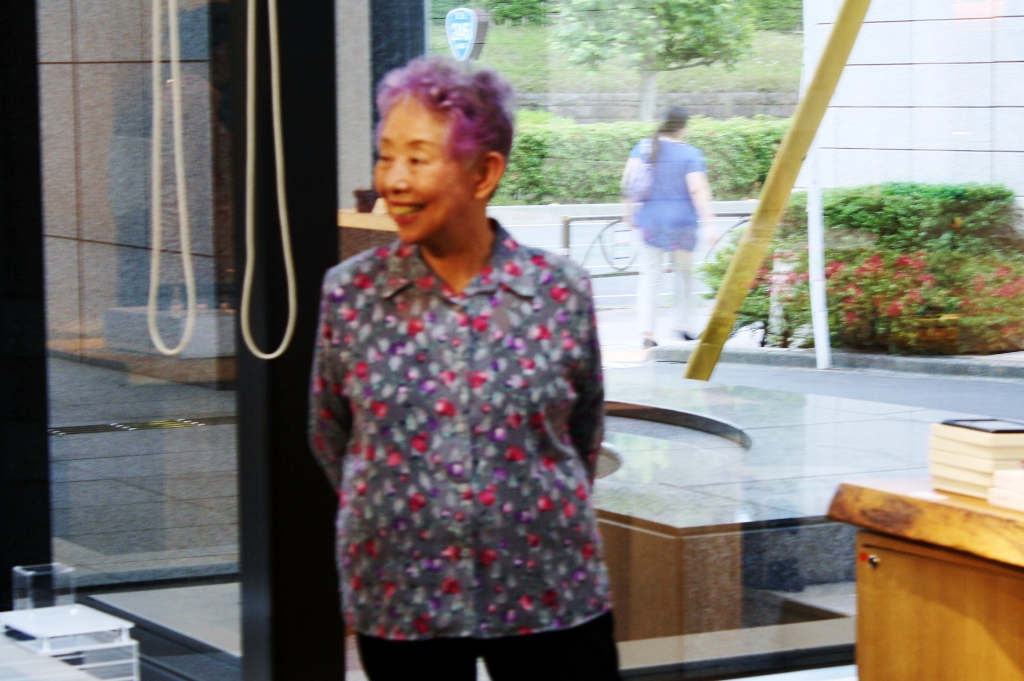 In addition, my mother, who has only worked behind the scenes such as packing and inspecting works, also learned customer service through the experience of a soba shop
Now he's a reassuring director and producer (laughs)
(Q) That's right. When your father is at an exhibition, he always talks to customers at the right time.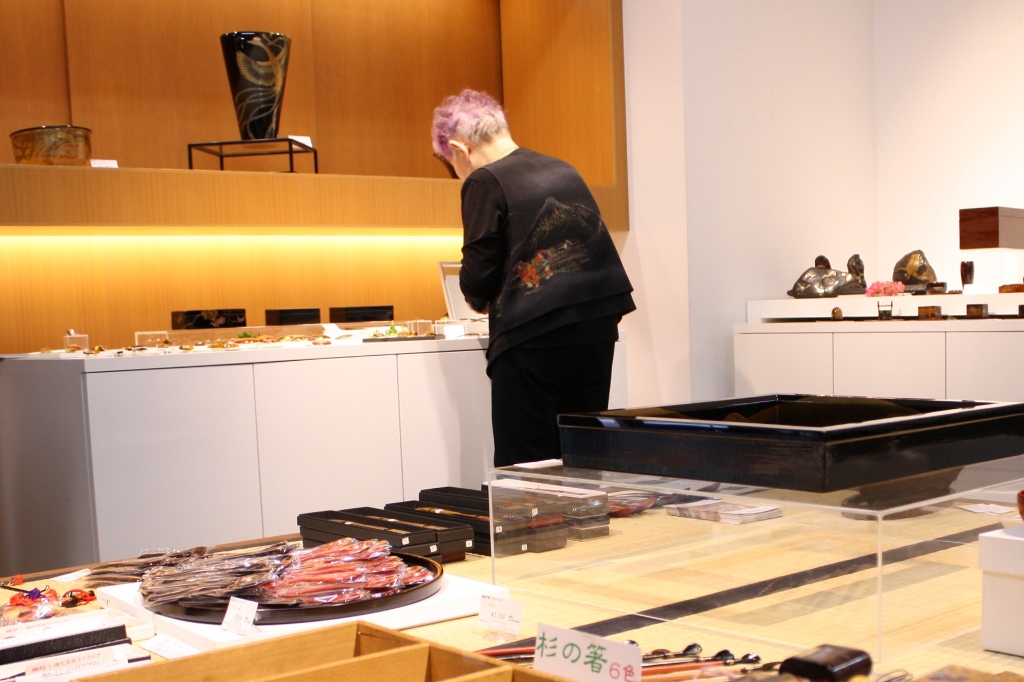 That's right.
My mother is now a reassuring sales manager that is indispensable to us (laughs)
(Q) Lastly, I heard that it is very difficult to apply maki-e to glass, such as wine glasses and cups. I heard that the reason is that lacquer does not adhere well to the surface because it does not absorb lacquer if it is a hard material. Could you tell us how you came to create this technology?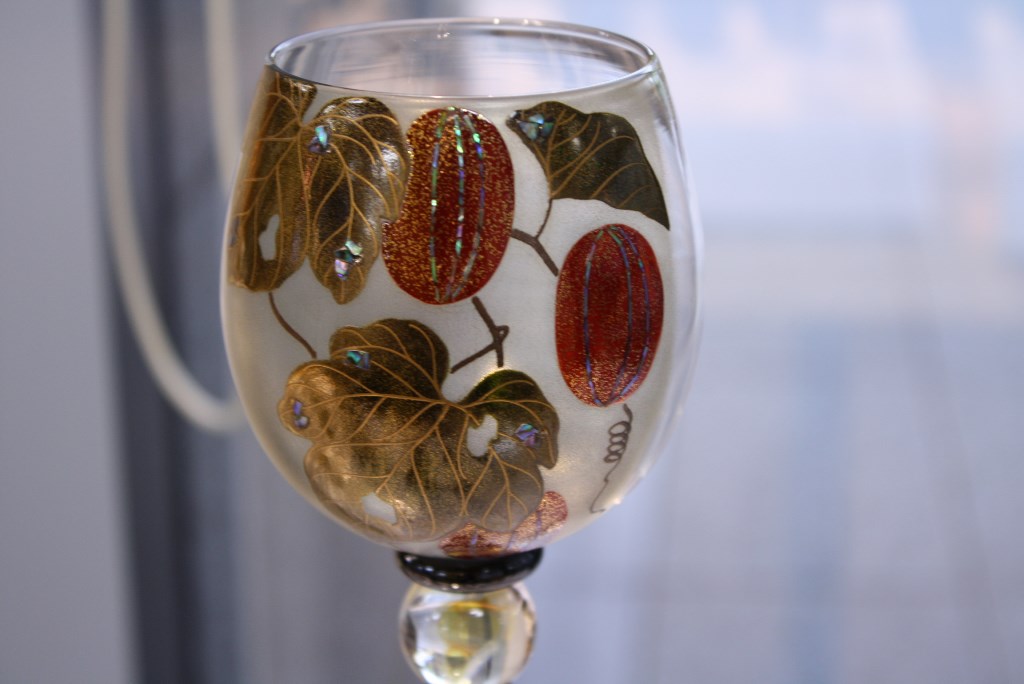 The trigger was that an authoritative person of the National Museum once told me, "If there is a craft with makie on the glass, I will put it in a souvenir shop."
At that time, I was lightly asserted that I could do it (laughs)
Actually, I will regret it immediately after I said it.
(Q)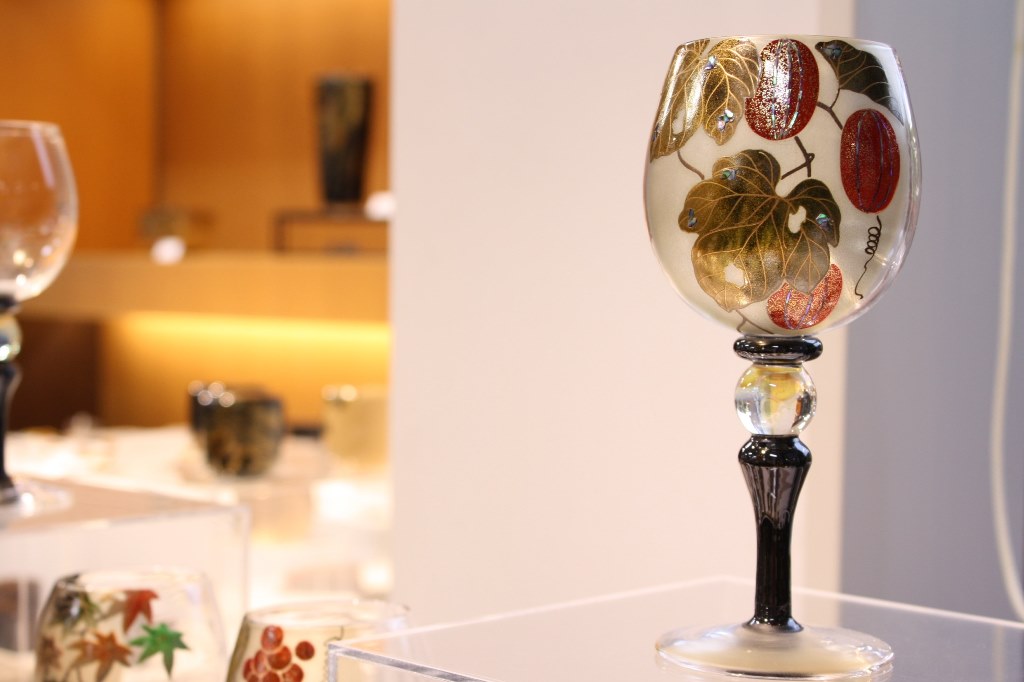 Naturally, it does not go so well because it is a difficult technology.
After that, I failed every day, and spent every day thinking about makie on the glass day and night.
Just as possessed, every day with a selflessness.
One day, A solution came out in my dream. No, is it the correct expression to say that it came down?
At that time, I thought scathingly that if I was crazy about human beings and struggled and continued to pursue something desperately, the answer would come down someday.
The aura at that time attracts people. Like when a child is concentrating on something.
Since then, my theme has always been "selflessly crazy".
I believe in the future of things created by "Selflessness", and I continue to cherange new things.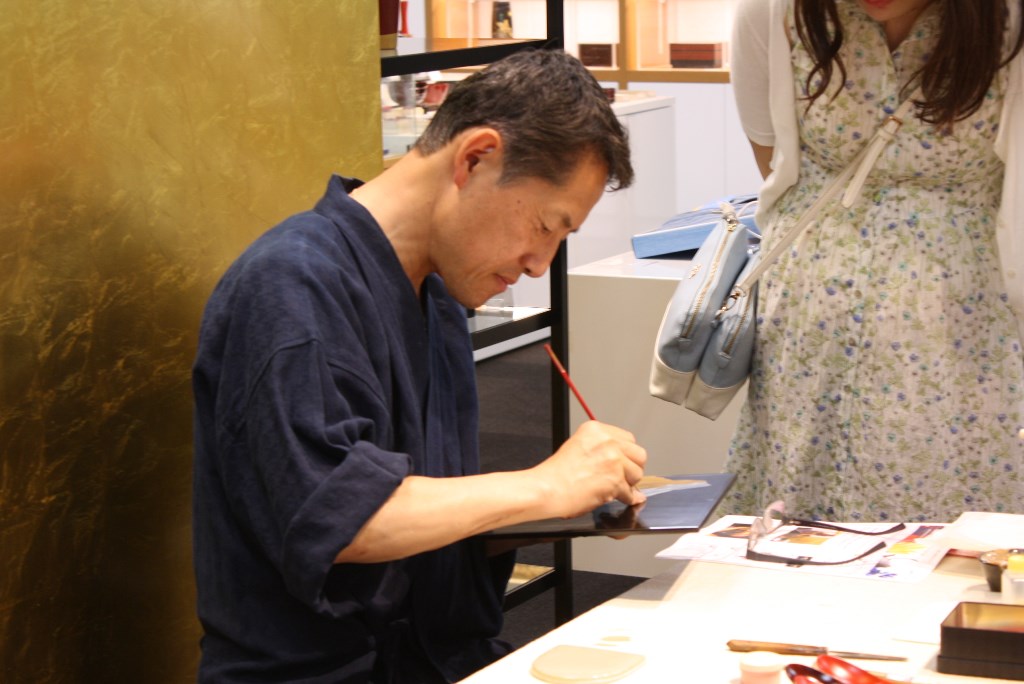 Mr. Matsuda, thank you very much for your wonderful talk.
The exhibition by the lacquer artist Yoshimoto Matsuda is until Wednesday, June 10. If you are coming near you, why don't you come and see the work of Mr. Matsuda who is "self-indulged"?
Makie brings "haru" to the human heart.
Japan's leading culture
Makie is from "Haru", and tools are decorated gorgeously.
It is not born there unless the sense of beauty works. It is a sense of beauty of the predecessor.
There is a culture that uses "gold", which is the longing of mankind, all over the world.
In Japan, "gold" was glued using "lacquer".
It was not just glued.
I drew the pattern with lacquer on my brush.
And, it is a translation processed into powder to express "golden" more finely.
In this way, the luster of "gold" and "lacquer" is combined
A splendid "makie" was completed.
Its luster was also consistent with the tastes of aristocratic society and samurai society, and it became an element that continued to evolve.
It has been nurtured in Japan for 1,500 years.
Among them, landlord such as Rinpa also liked to incorporate it, and it became a crafts representing Japan.
It is also called "Japan" overseas, and it is truly Japan itself.
In modern times, lifestyles have changed, and they are not suitable for the capital society, or they are decreasing.
However, it is painful to cut off for such a temporaryness.
It is a culture that represents Japan that brings "haru" to people's hearts.
With that thought, I would like to dedicate my life to makie.
That's what I think.
– Shomiki Matsuda –
Makie Studio Sachimoto's website "The Charm of Makie"
http://www.makieshi.com/category/makie_miryoku/