November 30, 2018 We visited Hiroki Ogura, who is exhibiting at a special exhibition in Aoyama Square.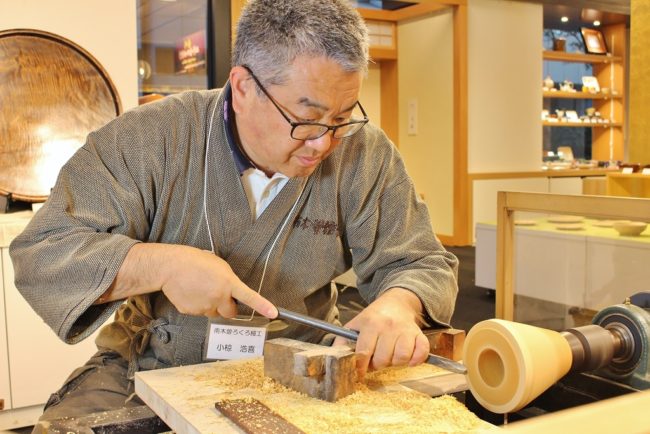 Nagiso Rokuro Zaiku: Hiroki Ogura
Nagiso Potter's Craft is a traditional craft of Nagano Prefecture. Sawn white wood is made, used for kiso lacquerware wood, and trays and bowls are made by applying the work as it is as Nagiso Potter's Potter's.
Mr. Ogura, who interviewed this time, is famous for making something a little different from other people.
Nagiso Potter's Work that was nearby as a family business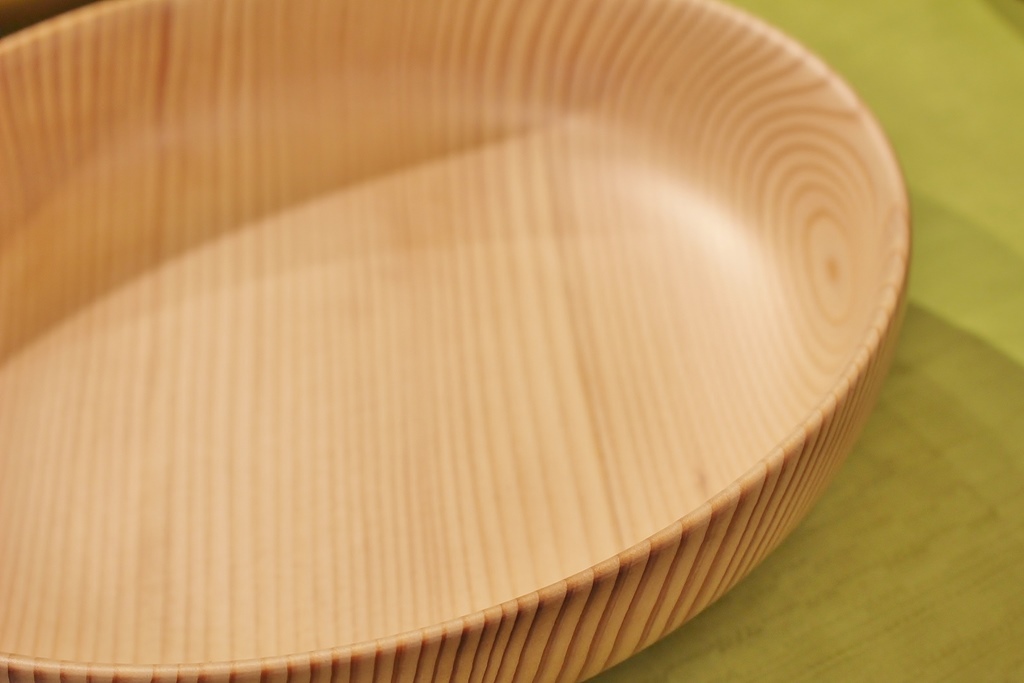 We've been together since we were kids.
At Mr. Ogura's house, Nagiso Rokuro zaiku was made.
It was a place called a house and a factory, so from the time I got a sense of mind, there was a Nagiso potter's work nearby, and I thought that I would become a person who makes this when I grow up.
There is no such thing as the idea that "There is something else quite good", and it is thought that it has seen nagiso potter's box work straight.
The training destination is Kagawa lacquerware
The trainees of Nagiso Potter's work are usually their parents' homes.
However, the Ogura family made Mr. Ogura go to the Kagawa lacquerware training. It is father's intention that it is better to know the outside.
Although Kagawa lacquerware had technical difficulties, he obediently digested the teachings in his own mind with the original positive feeling and acquires ability.
Japanese people who do not suit Japanese tableware
Changes in The Lives of Japanese
What I learned at my training destination was the basics of making wood and making things.
I was able to teach traditional things, but I was a good teacher in crafting, so it also led to polishing flexibility here.
Mr. Ogura has come to think deeply about what customers are really looking for.
Making things according to your current lifestyle
What do people want to use now? What will please people today? What are people looking for now?
As a result of continuing to think about such a thing, Mr. Ogura began to look closely at Western tableware, and began to make it thinking that he could change the wooden ground into its shape.
In such a way, Ogura's original work is born.
The birth of the Nagiso Potter's-style speaker
First of all, what you like is put into shape.
An original speaker created by Mr. Ogura.
Mr. Ogura, who was interested in speakers, thought that this could not be made with Nagiso potter's crop, and created it. The appearance has not changed since it was created, but it has changed when it comes to sound.
For example, in the middle of the night, I repeat trying to try the music that makes the sound clearer and better in the next day's day, but in most cases, the sound is worse than the current state or nothing changes.
However, it seems that the real inspiration occurs as the failure is repeated, and the improvement may succeed. In this way, the speakers are also evolving day by day, so you said that the current state is still not the final shape.
New products born in conversations with customers
a person-loving personality
There are other great things about Mr. Ogura. It is a place where you get along quickly with people you meet for the first time.
What surprised me when I was interviewing him was the content of laughing and talking about having eaten lunch with me, meeting with the customers who spoke to me when I was demonstrating.
There are many creators who demonstrate at the Takumi corner, but there are no people who immediately get along with customers they meet for the first time and go outside.
Because of mr. Ogura, I value conversations with customers.
The moment a new idea is born
Mr. Ogura, who continues to make not only traditional things but also those that are suitable for his current life, is inspired by conversations with customers.
For example, a customer told him that he wanted a coffee filter or a tea bottle for coffee beans.
Coffee is generally drunk in Japan, but putting it in a tea bottle is something different, and it is strange to leave it near a coffee maker.
So, if the Nagiso potter's crop made from sawn white wood has a Western-style shape, the customer's impression is that it seems to fit as a cup of coffee beans.
Mr. Ogura is positive about making it immediately.
Traditional crafts in trivial places
For cups and lights
Some people say that traditional crafts are no longer suitable for the world today. But is that really the case? It is Mr./Ms. Ogura to have the doubt.
In fact, mr. Ogura believes that customers are also looking for traditional crafts. However, there are no traditional crafts in the form that were used in today's daily necessities, so customers just don't buy them.
As with the coffee bean case, if you make the part laid under the glass cup with Nagiso potter's box work or the edge of the table light with Nagiso Potter's box work, you will be pleased.
Of course, it is not limited to Nagiso Potter's work. The same is true even with lacquer. Traditional crafts can be incorporated as a color of life.
Mr. Ogura's idea is that if you think flexibly, traditional industries will still grow.
Hiroki Ogura Exhibition of Nagiso Rokuro Zaiku
Mr. Ogura, who I interviewed this time, is demonstrating his production at Aoyama Square until December 5th at the Takumi Corner "Nagiso Rokuro Zaiku Ogura Hiroki Exhibition".
During that period, music on the nagiso potter's-crafted speakers is also playing.
In addition, I usually am at "Keyaki Kobo Kanekin Ogura Basin" in Nagano Prefecture, so it may be a good idea to visit when you stop by Nagano Prefecture.