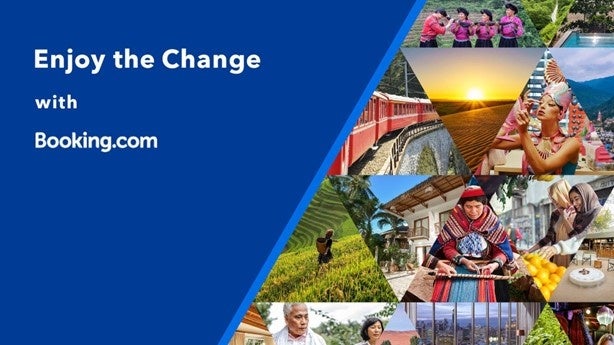 【Japan announcement on June 16, 2022】
Booking.com Japan Co., Ltd. (Headquarters: Minato-ku, Tokyo, hereinafter referred to as "Booking.com"), the Japanese subsidiary of Booking.com, one of the world's largest accommodation reservation sites that provides a wide variety of accommodation facilities, travel experiences, and seamless means of transportation during travel, with the corporate philosophy of "Freedom for all people to experience the world more closely", supports the challenge of new things. As the second part of the #EnjoytheChange" project, we will carefully select five accommodation facilities in Japan where you can realize the importance of mental and physical health through your stay and discover new values, and introduce them together with the latest word-of-mouth scores.
In a 2022 travel survey* conducted by Booking.com, 74% of Japanese travelers said that "travel leads to happiness (wellness) more than any rest or relaxation", suggesting that the demand for wellness tourism is increasing. Wellness tourism is a journey to become aware of the health of the mind and body, to discover new things and develop oneself, and to gain vitality for tomorrow through refreshing activities, healthy meals, and interaction with locals at the destination. **
Masashi Arakawa, Professor at the Faculty of International and Regional Innovation/Graduate School of Tourism Sciences, University of the Ryukyus, and Representative of the Wellness Research Field, stated as follows.
"We have been advocating the importance of living a wellness lifestyle for a long time, but I think that more people than ever before are realizing the importance of it due to the impact of the new coronavirus infection. Travel and lifestyle go hand in hand, and it has been proven that they can have a positive impact on people through their experiences. The essence of travel is wellness. Now is the time to realize the essence of wellness through travel, and I hope that new habits will be born that color everyday life."
Recommended place to stay: Celebration inn Kichijo CAREN (Higashi-Izu-cho, Shizuoka)
https://www.booking.com/hotel/jp/kissho-caren.ja.html
A festive inn where you can enjoy 17 hot spring tours such as open-air baths and rock baths overlooking the sea Kichijo CAIREN is a new sense of "Japanese resort" where you can enjoy a resort stay while being a hot spring inn. At this ryokan where you can spend a blissful time and enjoy kaiseki cuisine that makes full use of fresh Izu near seafood, why not reward your body and mind?
(Score 8.6 out of 10)

Recommended places to stay: Good Nature Hotel Kyoto (Kyoto, Kyoto)
https://www.booking.com/hotel/jp/good-nature-kyoto.ja.html
GOOD NATURE HOTEL KYOTO, which became the first hotel in the world to receive the WELL Certification (v1), which recognizes buildings that take into consideration the environment and health, in 2020, is the perfect accommodation for travelers who want to experience wellness tourism. In the green wall of the courtyard that reproduces the vegetation of Kyoto and the comfortable space designed using natural materials, why not participate in activities that lead to the wellness offered by the hotel, such as yoga and meditation, and discover a new self.
(Score 9.0 out of 10)

Recommended places to stay: okcs Retreat Setouchi Aonagi (Matsuyama City, Ehime Prefecture)
https://www.booking.com/hotel/jp/setouchi-retreat-aonagi.ja.html
With 7 rooms and all-suites, okcs Retreat Setouchi Aonagi is a small luxury hotel renovated from a museum designed by Tadao Ando. In a place where nature, history, and culture are connected in Setouchi, why not spend time looking at the sea, feeling the wind and light, freeing yourself from the stress and evil thoughts of your busy days and reconsidering yourself. In addition, this hotel, which received the highest ranking in the "Michelin Guide Hiroshima Ehime 2018 Special Edition", allows you to enjoy spas, pools, golf, art appreciation, etc. as you go.
(Score 9.4 out of 10)

Recommended accommodation: Infinito Hotel and Spa Nanki Shirahama (Shirahama-cho, Wakayama Prefecture)
https://www.booking.com/hotel/jp/hotel-green-hill-shirahama.ja.html
Infinito Hotel and Spa Nanki Shirahama features the hot spring of the traditional famous hot spring described in "Nihon Shoki" and "Manyoshu", "Gyoko no Yu" source. Because the hotel is located on a high hill, you can spend a relaxing time overlooking the majestic sea of Shirahama in an open-air bath with a sense of openness. It is also recommended to take a bath while watching the sunset on the horizon. In the attached Italian restaurant, you can enjoy a meal that fuses Japanese and Italian using plenty of local seasonal ingredients. There is also a library on site, so you can spend a relaxing time reading.
(Score 8.5 out of 10)

Recommended place to stay: JR Kyushu Hotel Blossom Hakata Chuo (Fukuoka City, Fukuoka)
https://www.booking.com/hotel/jp/jr-kyushu-blossom-fukuoka.ja.html
Located a 2-minute walk from JR Hakata Station, JR Kyushu Hotel Blossom Hakata Chuo is a recommended accommodation facility when sightseeing in Fukuoka. The lobby is designed using Hakata weaving and traditional handicrafts, and visitors are sure to feel warm. At the attached restaurant "Feast Dining Nanatsu no Hana", you can enjoy a buffet-style meal based on the concept of "Please come and eat healthy". Why don't you enjoy the creative cuisine using fresh ingredients of the Kyushu region to your heart's content and recharge your energy with a nutritionally balanced meal?
(Score 8.4 out of 10)

*The 2022 Travel Survey survey was conducted by Booking.com among adults who plan to travel on a business trip or for leisure or leisure within the next 12~24 months. A total of 24,055 respondents from 31 countries and regions (including Argentina 501, Australia 1,003, Belgium 500, Brazil 1,001, Canada 500, China 1,000, Colombia 1,007, Croatia 1,001, Denmark 508, France 1,002, Germany 1,000, Hong Kong 1,005, India 1,000, Israel 502, Italy 1,003, Japan 1,002, Mexico 500, Netherlands 501, New Zealand 501, Peru 500, Russia 1,000, Singapore 1,005, South Korea 1,002, Spain 1,002, Sweden 501, Switzerland 501, Taiwan 504, Thailand 500, United Kingdom 1,000, United States 1,002 , Vietnam's 501 people) were eligible. The survey was compiled in August 2021 in an online survey.
** Arakawa (2017). Wellness Tourism ~Trip to Third Place~Fragrance Journal, Inc.
###
About Booking.com
Founded in Amsterdam in 1996. As part of Booking Holdings Inc. (NASDAQ: BKNG) and for safe travel days, we have set forth the corporate philosophy of "Freedom for everyone to experience the world more closely", and we will provide customers around the world with memorable experiences and efficient transportation. And we offer one-stop reservations for a wide variety of accommodations, from hotels to vacation rentals. It boasts the largest number of accommodation facilities in the world, with more than 28 million listings. Of those, more than 6.5 million are accommodation facilities such as inns and private lodgings. Service is available in 44 languages and customer service is available 24 hours a day, 7 days a week.
For company information, please refer to "Press Room".
https://news.booking.com/ja