viviON Co., Ltd. (Location: Chiyoda-ku, Tokyo, Representative Director: Kohsaku Akashi) is pleased to announce that as the 10th installment of the regional support project "EMOCAL" that disseminates attractive "sound landscapes" that can only be heard in those areas to the whole country, two ASMR videos from Ube City, Yamaguchi Prefecture, "The Sound of Tea Roasting a Pot" and "The Sound of Scraping Stones with a Polishing Machine".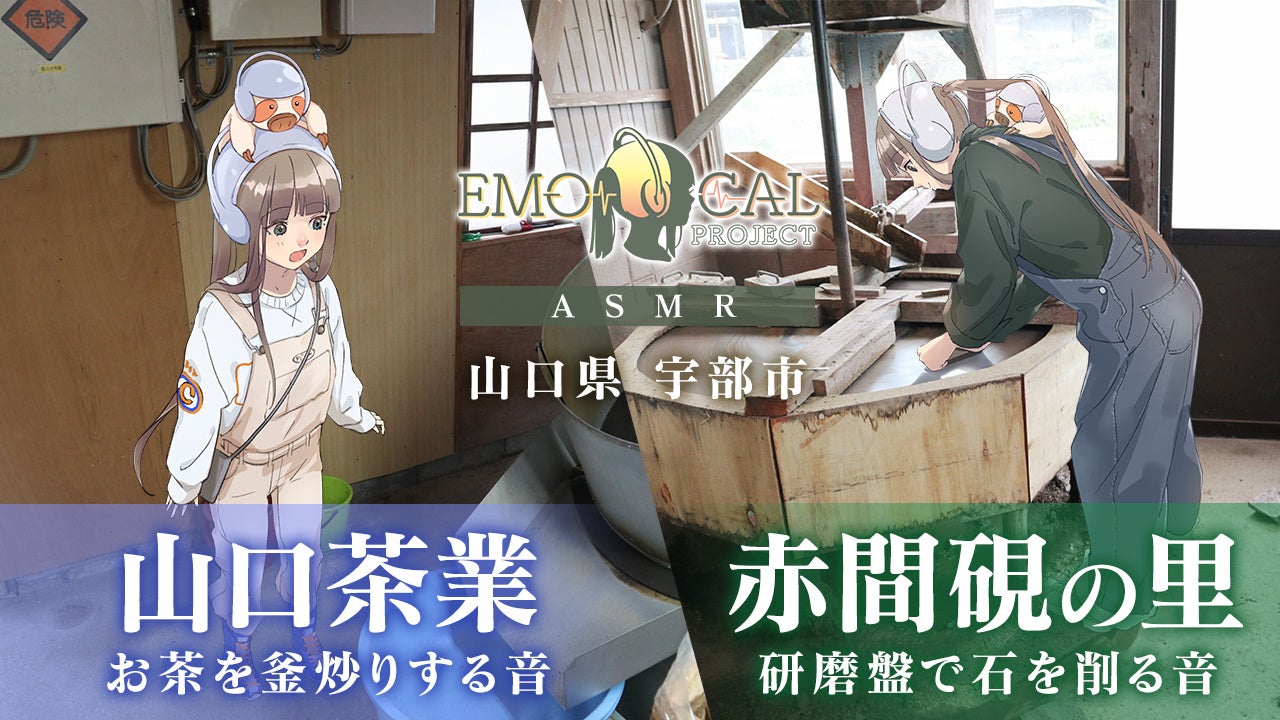 SPECIAL PAGE OF EMOCAL:https://catchystuck.jp/emocal/
"EMOCAL" by ZOWA's original label CatchyStuck is a regional support project that disseminates the charm of each region nationwide through ASMR videos using "sound landscapes" of each region.
We regard the "sound" heard in each region as an asset of the region, and we are working on the production and publication of ASMR videos with two thoughts: to help local people with tourism after the corona has settled, and ASMR fans to enjoy digital tourism and sound tourism while experiencing the charm of the region.
So far, we have delivered the charms of Shibukawa Ikaho Onsen in Gunma Prefecture, Noto Town in Ishikawa Prefecture, Sado City in Niigata Prefecture, Aki City in Shimane Prefecture, Matsuyama City in Ehime Prefecture, Shizuoka City in Shizuoka Prefecture, Odawara City in Kanagawa Prefecture, Chichibu County in Saitama Prefecture, and Ibusuki City in Kagoshima Prefecture.
This time, as the 10th part of the project, we will release a new video related to Ube City, Yamaguchi Prefecture.
Videos can be viewed on various video services such as ZOWA, YouTube, and Niconico Video.
The stage this time is Ube City, Yamaguchi Prefecture – a landscape of crackling sound where tea and ink, and the city's specialty products are born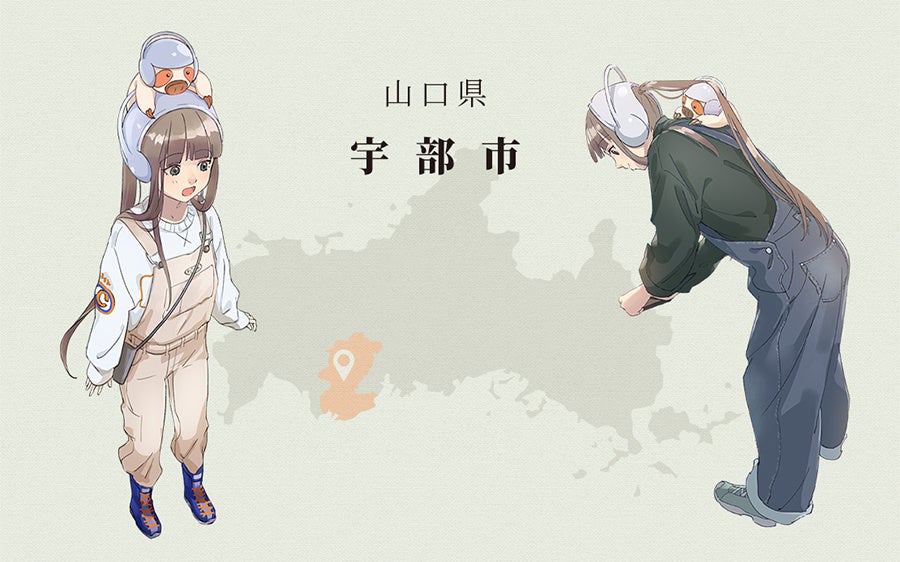 Ube City, Yamaguchi Prefecture is located in the southwestern part of the prefecture, facing the Zhou Bund (Seto Inland Sea).
Since the Meiji Era, it has developed as a coal mining city, and has formed one of the leading seaside industrial zones in Setouchi.
On the other hand, the hilly area north of the central part of the city is full of rich nature and inhabits various animals and plants, and since it faces the sea to the south, it is also blessed with mountains and seafood.
Tokiwa Park in the city is also focusing on arts and cultural projects, such as the UBE Biennale, an international competition for outdoor sculpture, and can be said to be a city in harmony with nature, culture, and industry.
Yamaguchi Tea Industry "The Sound of Stir-roasting Tea"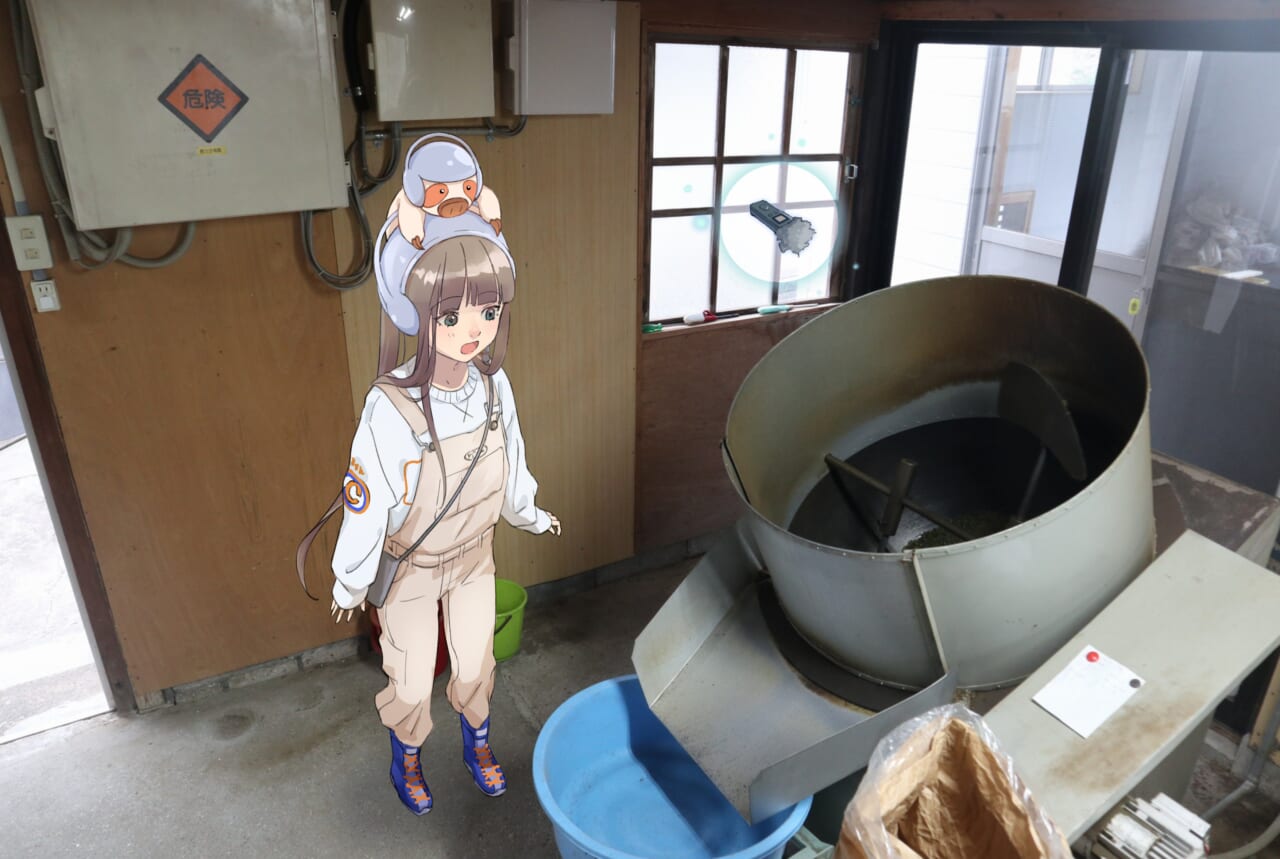 One of Ube City's specialties "Ono tea"
The soil where Ono tea grows is characterized by a long period of old age and a thin soil quality in terms of geological formations.
Its soil quality brings a deep richness and sweetness to the tea leaves, and creates a taste unique to this land.
Freshly picked tea leaves are placed directly into an iron kettle and stirred and fried at 350°C ~ 400°C to create a tea with a mellow and gentle flavor.
Currently, the method of steaming tea leaves has become the mainstream, so domestic kettle-roasted tea is rare – the sound of roasting in the kettle is also a rare "sound landscape".
This time, with the cooperation of Yamaguchi Tea Industry Co., Ltd., we will release the sound of roasting tea in a kettle.
The actual roasting of the kettle is done only for a few minutes while watching the state of the tea leaves, but we made it into a video of about 1 hour so that it is easy to enjoy as an environmental sound ASMR.
As you listen to the sound of the kettle moving repeatedly, the sound of each roasted tea leaf moving and rubbing in the cauldron, you will be able to imagine the aroma and taste of tea.
ZOWA Edition https://zowa.app/play/21040
YouTube version https://youtu.be/ndo3vryv2UA
【Cooperation】
Yamaguchi Tea Industry https://www.onocha.com/
Ube Film Commission http://www.ube-film.com/
Ube Convention and Visitors Association https://ube-kankou.or.jp/
Akama no Sato "The Sound of Scraping Stones with a Polishing Board"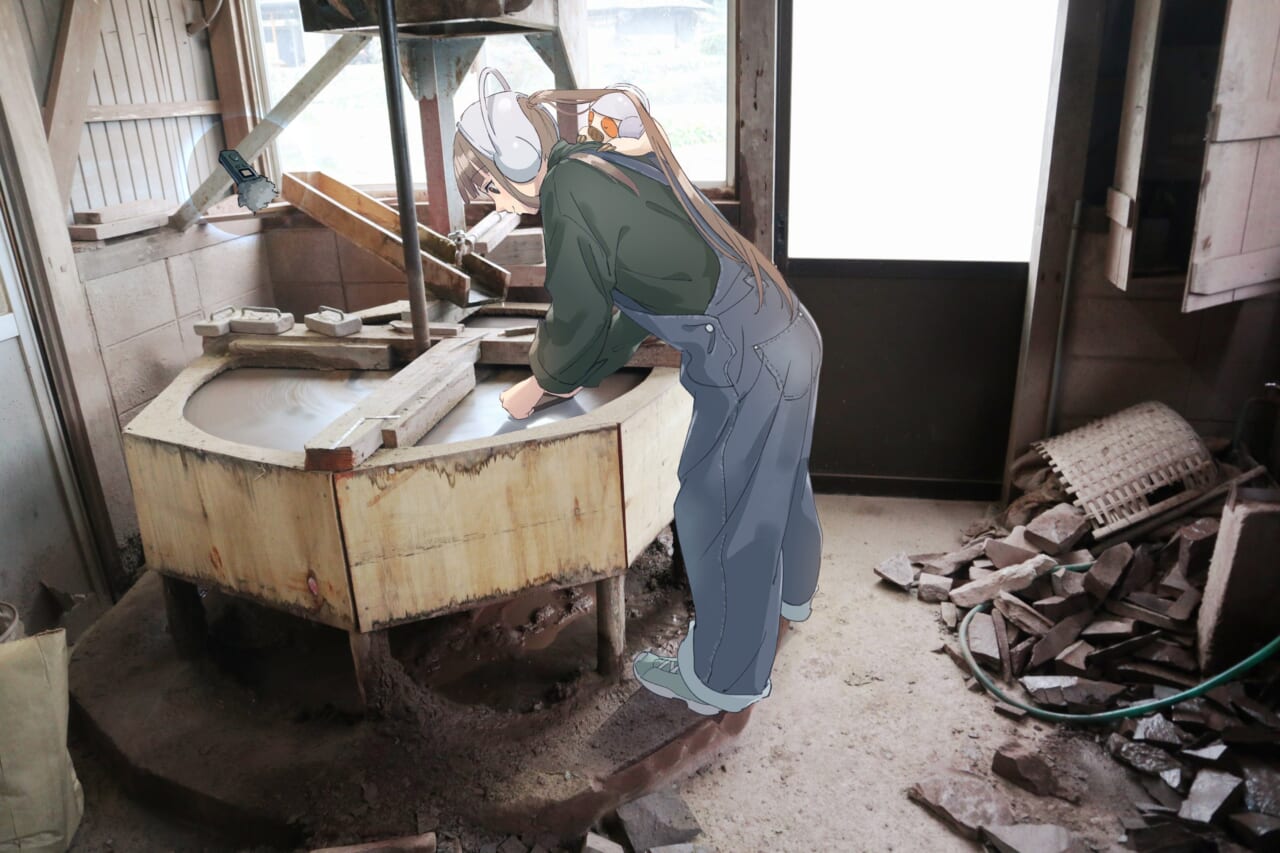 Akama 硯 is a jade made only in the cities of Ube and Shimonoseki in Yamaguchi Prefecture.
Its history is old, and it is said that it was dedicated to Tsuruoka Hachimangu Shrine in Kamakura in 1191.
It is made using Akama stone produced in Yamaguchi Prefecture, and it is also known that the ink craftsman himself quarries in the mine.
Akamaishi is finer than other stones, contains a lot of quartz, feldspar, and iron fine particles necessary for inking, and has high practicality because polishing the ink produces a good ink solution.
In addition, there is also a feature that it is strong in stickiness, and since it is difficult to chip even if it is worked, three-dimensional sculpture is possible, so the craftwork that expresses the skill of a skilled craftsman on the surface of the ink is also one of the charms of Akama ink.
Akama Ink, which excels in two characteristics, practicality and artistry, was selected as a nationally designated traditional craft in 1976.
This time, we visited the village of Akama Stone and recorded the sound of cutting Akama stone flat with a polishing machine before carving the inside of the ink.

ZOWA Edition https://zowa.app/play/21041
YouTube version https://youtu.be/_i9ubptskEA
【Cooperation】
Yamaguchi Prefecture Akama Jade Production Cooperative
Akama no Sato
Ube Film Commission http://www.ube-film.com/
Ube Convention and Visitors Association https://ube-kankou.or.jp/
Ube Film Commission (Ube Convention and Visitors Association) Comment from Eri Murata
◆Please tell us the background of your participation in the "EMOCAL" project.
I thought it was a good opportunity to let as many people as possible know about Ube City, so I participated.
◆Please tell us how you chose Yamaguchi Tea Industry and Akama Jade no Sato in this video
In the Ono district in the northern part of Ube City, there is a tea plantation called "Fujikawachi Tea Garden".
It is rare to find a tea garden where tea plantations are gathered in one place, and since there is no such tea garden in other prefectures, it is said to be "one of the largest tea gardens in western Japan", and more than 90% of the tea produced in Yamaguchi Prefecture is produced in the Ono area.
In addition, since the rough stone of "Akama Ink" is sticky and easy to craft, the elegant jade with a beautiful pattern is popular as a favorite item that doubles as a practical use.
It is not factory production, but craftsmen carefully handmade one by one, and in 1976 (Showa 51) it was designated as a nationally designated traditional craft.
In order to convey the charm of such special products "tea" and "Akama ink" representing Ube City, we chose Yamaguchi Tea Industry and Akama Bamboo Sato.
◆ What do you want viewers to pay attention to?
Producers and craftsmen are making "tea" and "Akama ink" with emotion.
From the recorded sounds, I hope that not only the comfort but also the thoughts and warmth of the craftsmen and producers who are carefully produced can be conveyed.
◆Please tell us about the charm of Ube City as a whole
Ube City is located in the southwestern part of Yamaguchi Prefecture, has a mild climate with relatively little rainfall, and is blessed with mountains and seafood because the hilly areas in the north are overflowing with rich nature and the southern part faces the sea.
Centered on Lake Tokiwa, one of the largest lakes in Yamaguchi Prefecture, Tokiwa Park, which has an amusement park, zoo, botanical museum, etc., has been the venue for the UBE Biennale (Contemporary Japanese Sculpture Exhibition), the world's oldest international competition for outdoor sculpture, which has been held once every two years since 1961.
Not only in Tokiwa Park, but also all over the city, there are many sculptures, and the whole town looks like a museum.
Ube City is popular as a city of greenery, flowers and sculpture where you can feel close to art.
◆How has tourism changed compared to before Corona?
Before the spread of the new coronavirus infection, we held big festivals and many events, and many participants and tourists came from inside and outside the city to play, but after the coronavirus, it has become difficult to hold large-scale events like before.
Online events, tours for small groups, etc. are held in a slightly different form than before.
◆Please tell us what you expect from post-corona tourism through EMOCAL
I hope that as many people as possible will be interested in Ube City.
There are many wonderful sounds other than "Yamaguchi Tea Industry" and "Akama Ink" that were taken up this time,
Please come and play to the site to hear the sound of "Ube City"!
To commemorate the release of the video, we held a Twitter campaign!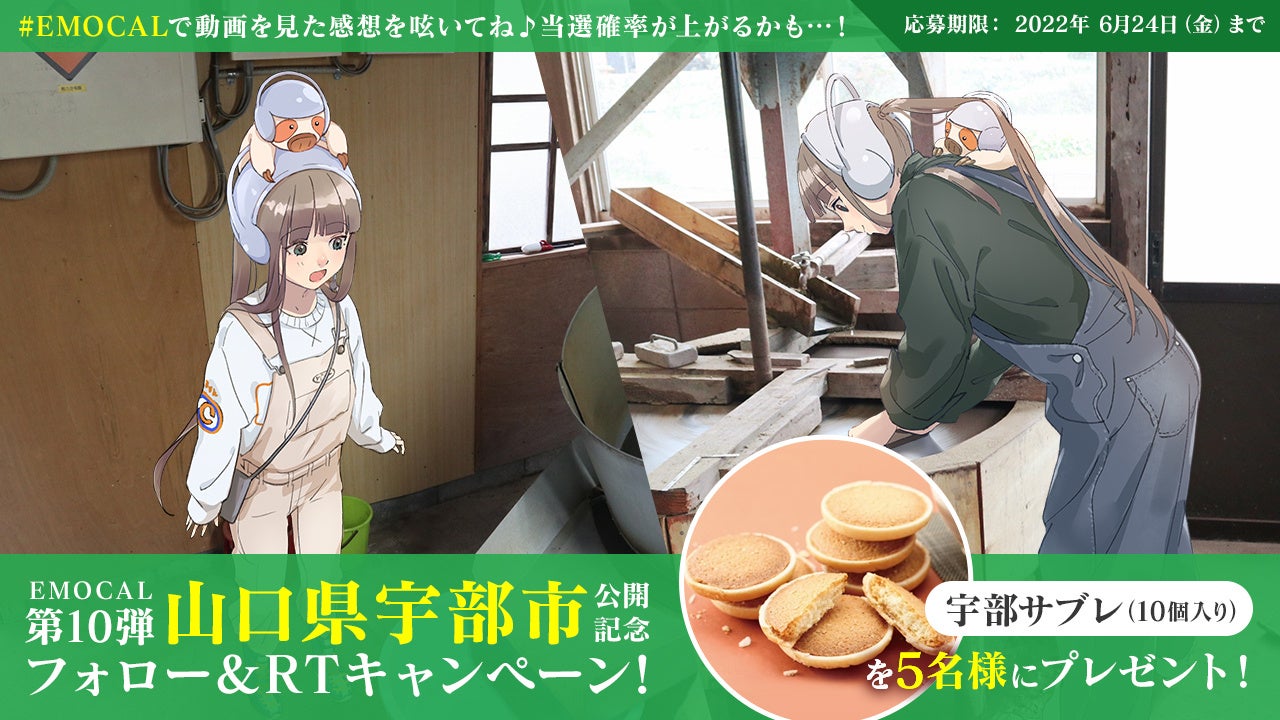 In commemoration of the release of the 10th video of EMOCAL, 5 people will be presented with a candy "Ube Sabré (10 pieces)" baked using rice flour from Ube by lottery!
Details will be announced on the official Twitter https://twitter.com/CatchyStuck.
Period: June 17 (Fri) ~ June 24 (Fri), 2022
To local governments, companies, and organizations that want to disseminate the charm of local communities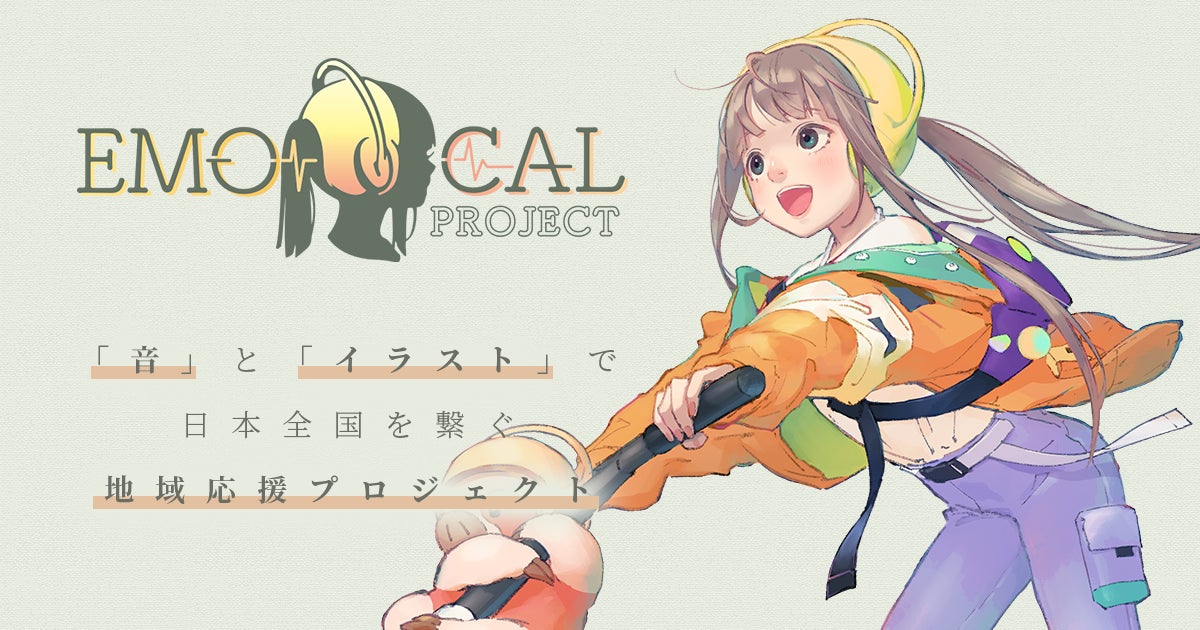 In order to realize the appeal of a more diverse region through "EMOCAL", we are looking for information on "sound" unique to that region.
The people who know the charm of the region better than anyone else are the people who live there. If you want to showcase local industries, products, crafts, culture, history and landscapes, please send us information to EMOCAL.
Please take this opportunity to listen to the "sounds" around you anew and consider using them.
Based on the "sound" information you have received, we will prepare a drawn down illustration of the key character Chico of the project and ZOWA will produce an ASMR video free of charge.
When releasing a video as "EMOCAL", we will also introduce information on related places and stores to help with public relations activities.
We will share the completed video and the illustration data of the drawn down Chico, so you can use it for subsequent advertising activities.
If you are interested, please contact us from the inquiry button installed at the bottom of the official page.
EMOCAL OFFICIAL PAGE https://catchystuck.jp/emocal/
* Regarding the sound information you applied, we do not promise all recruitment or ASMR video conversion. Thank you for your understanding.


Name: Regional Support Project "EMOCAL" Read: Emo-Karu
Official Page: https://catchystuck.jp/emocal/
Video Publisher:
ZOWA  https://zowa.app/rtist/105393
YouTube  https://www.youtube.com/c/CatchyStuck
Niconico Movie https://ch.nicovideo.jp/catchystuck , etc.
Planning and production: ZOWA (viviON Co., Ltd.)
Rights Statement : © viviON, inc./ZOWA/CatchyStuck/EMOCAL Project