July 21, 2015 We visited Yoshihiro Naitaki, who is demonstrating his production at Aoyama Square.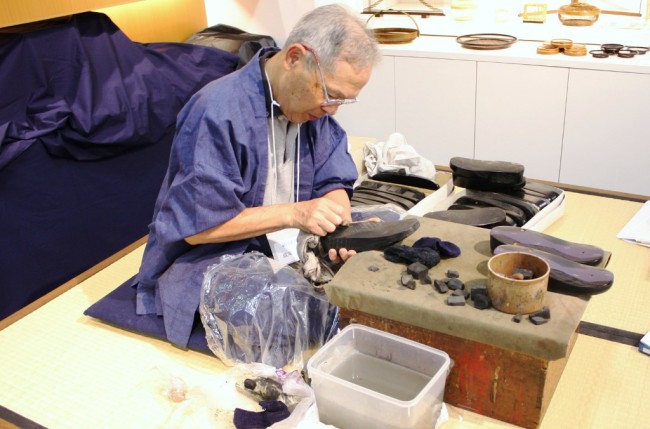 Takumi who continues to paint Suruga-nuri geta: Yoshihiro Naritaaki
Suruga Nuri Geta is a traditional craft with an attractive unique world view composed of unique designs and beautiful colors transmitted to Shizuoka. In addition to being used as footwear for everyday use, there is a presence that some people decorate the house as ornaments.
Paint geta with a favorite one by one
There is fun to make while talking with customers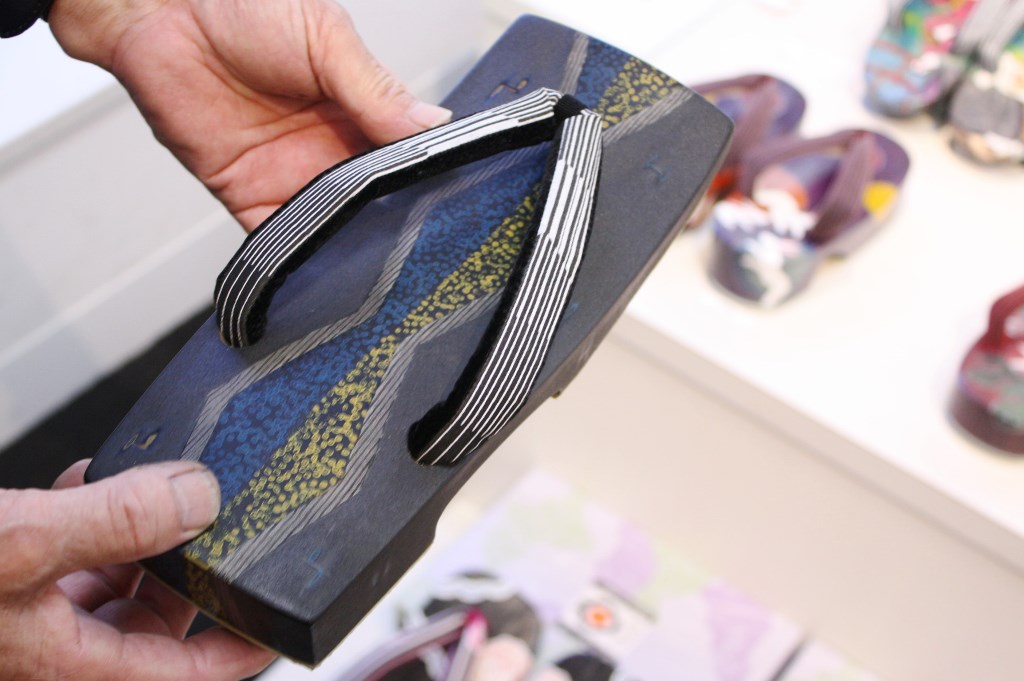 This geta was made with someone who was a fan of me when I participated in the event.
It is also good to create paint geta by thinking about design by yourself, but Mr. Naritaki says that it is fun to make it while discussing each other's opinions such as "What about this?", "How about this?", "If so?" while listening to the customer's request.
When I made it with that person, I made one color instead of blue and yellow, but I thought that it might be interesting to try increasing the color several years after that, so I tried designing.
In addition, this geta is particular about how to apply, and it seems that the landlady of a footwear shop in Asakusa who is discerning also purchases it.
Suruga nuri geta requested for wedding gifts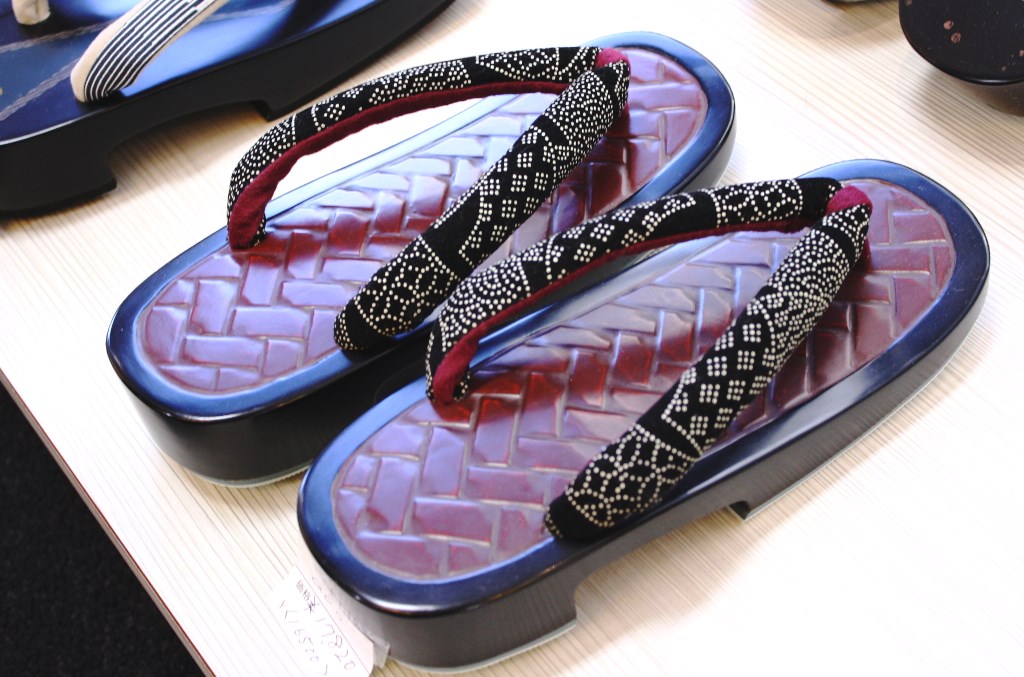 This paint geta is a product that was requested as a gift when a former royal family gets married.
Even now, I make it by hand one by one, and it is simple and chic, but it is a wonderful footwear that is not inferior even if it is the design of the time.
At that time, he made more than 100 pairs of this paint geta, and when he was asked, it became clear to this paint geta.
Paint geta with the thought of the craftsman softly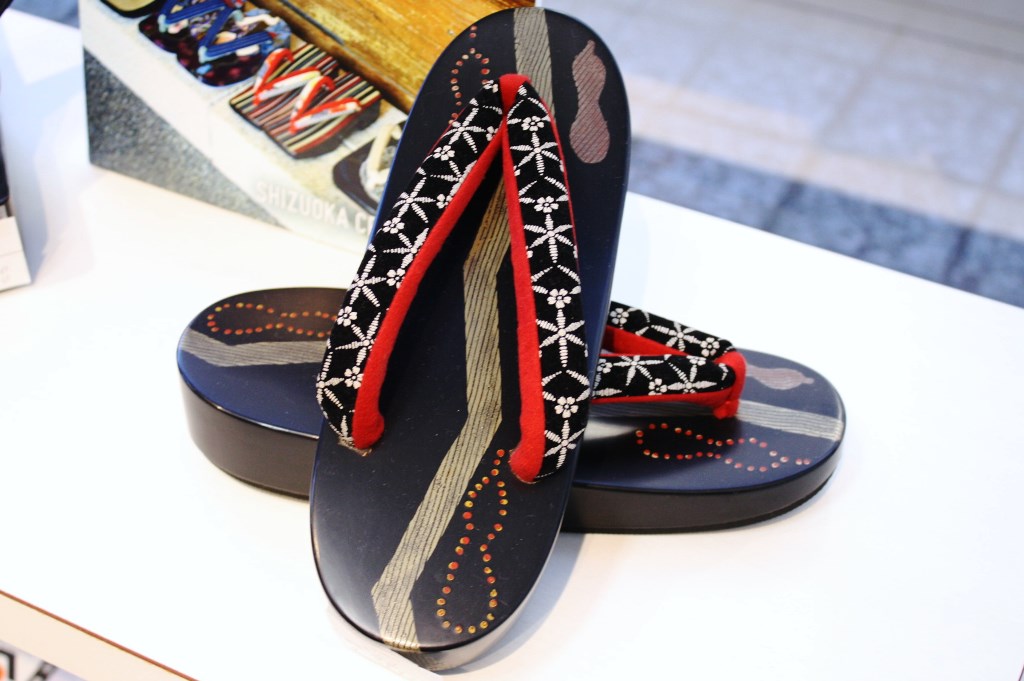 This paint geta is painted with three pictures of gourds on each pair, and a pair of six gourds are drawn. It seems that Mr. Naritaaki's thoughts are hidden there.
What kind of thoughts do you think are put in?
The hint is "6 gourd tan".
The answer is "mubi-so-sakusai"
Six gourds, that is, "mubiyo" with "gourd".
In addition, health also has the meaning from the foot, and it seems to have thought about this paint geta.
Unique Suruga-nuri geta that you can't see elsewhere
It is very popular with young girls!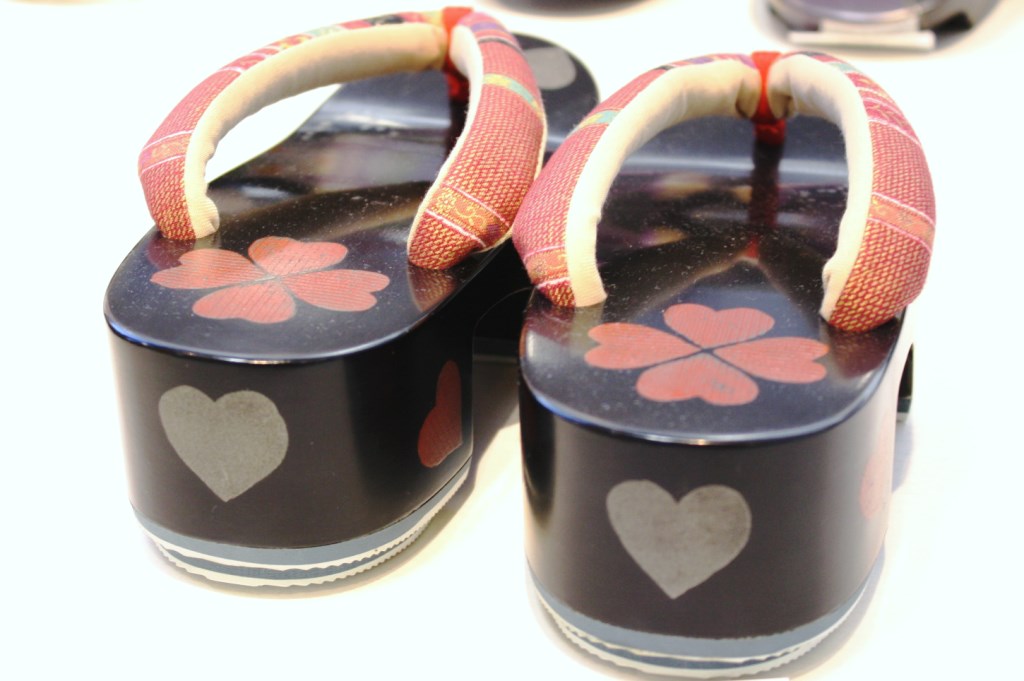 A heart-patterned paint geta that a man did not think.
It seems that it was talked about among female college students who came to see the production demonstration. If it is such cute geta, it seems that female college students can wear it without discomfort.
There's a lot of smear geta…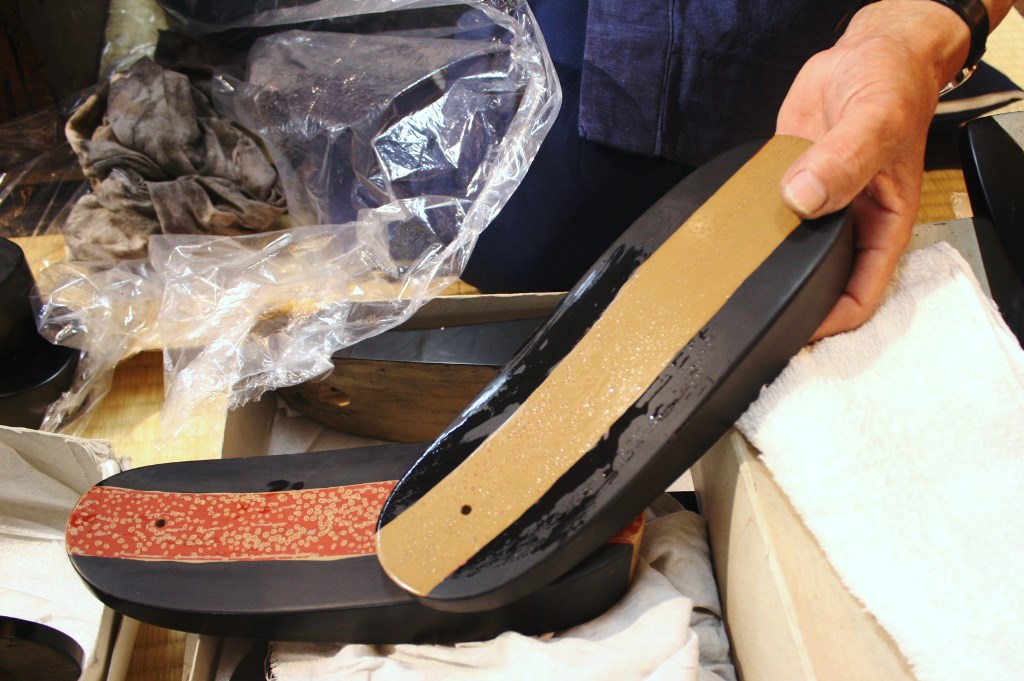 Do you see the tsing?
In fact, after applying red and ocher lacquer, the goldfish food is sprinkled, and the next day it is said that such unevenness can be made by taking food and rubbing it.
Mr. Narutaki's commitment is the heel part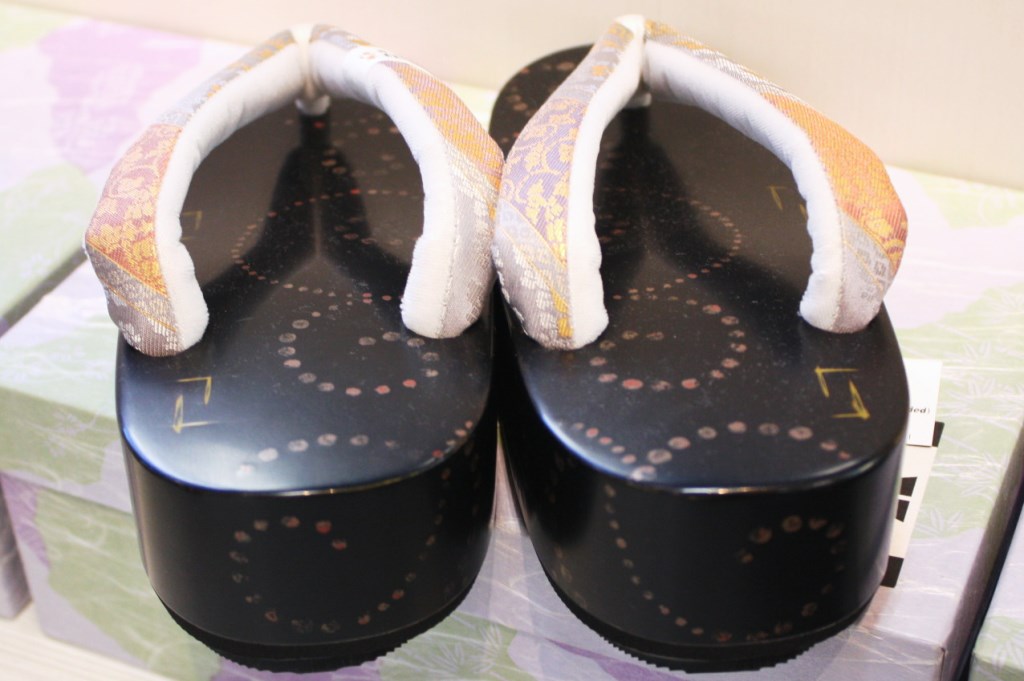 Did you notice?
It is usual that ordinary geta becomes invisible when you wear it, but Mr. Narutaki's paint geta has a design that can be seen even if you wear it by putting a pattern on the heel part.
The only problem is that there is no successor.
Currently, there are only five craftsmen doing paint geta in Shizuoka. Moreover, the five of them are over 60 years old.
Mr. Narutaki said that he wanted to do this job while he was healthy, but there is only one thing that bothers me.
It means that there is no successor.
Although it is a waste that Suruga-nuri geta in Shizuoka will disappear as it is, it seems that it can not be strongly recommended to young people. Because now, it is difficult to make a living only by applying geta.
When Mr. Naitaki was young, he kept making paint geta in the workshop and gave his works to merchants in Shizuoka and sold them.
However, the times changed, and the number of merchants in Shizuoka became small, and the person who gave the paint geta disappeared.
Now I'm doing steady sales activities by going on business trips myself, participating in events in Tokyo, Kanagawa, etc., and making fans of my own paint geta.
The people who talk at the event are from the general public to shops such as retail. In addition, when a request comes directly from the general public, even if you live anywhere in Japan, Mr. Narutaki himself seems to deliver it directly.
Why don't you pick up such a unique and carefully selected paint geta of Mr. Naritaaki once?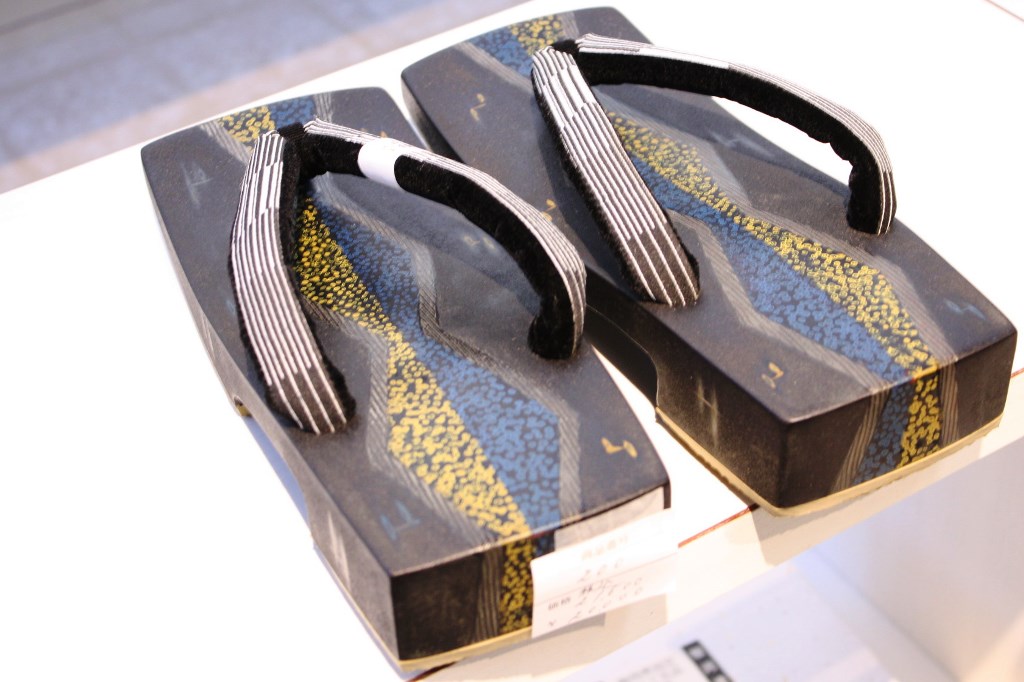 Shizuoka Nuri Geta Industry Association
〒420-0047
9-22 Seikancho, Aoi-ku, Shizuoka City
TEL:054-253-4917
If you want to contact me directly…
TEL:054-285-5931